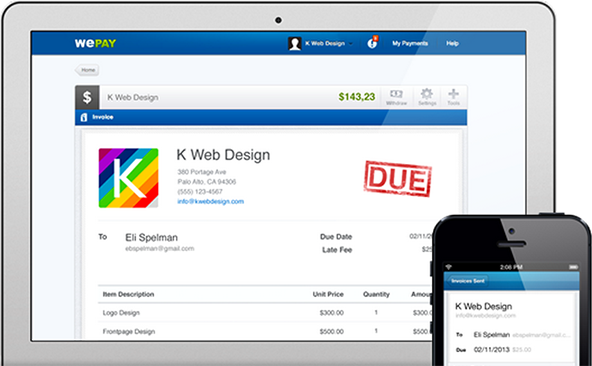 When Rich Aberman attempted to collect the dues for his brother's bachelor party from 14 friends a few years ago, the process turned out to be much more complicated than he imagined and it took longer than he thought it should have. Sensing an opportunity, two years later he co-founded the company that was to solve future bachelor party organizers' money collection problems. WePay, as the start-up was named, would make it easier for groups of people to collect and track money, and for group members to make payments.

Well, that was back in 2010 and since then WePay, which has managed to fly somewhat under the radar of many payment industry observers, has nevertheless grown to become a bona fide PayPal competitor, boasting 250,000 merchants, according to the company's website. This past week, the payment processor upgraded its system by adding a virtual terminal and an invoicing feature to its toolkit, which reminded me that we too haven't covered the company since shortly after its launch. Clearly, it was time to take another look at it.

WePay's Online Invoicing and Virtual Terminal

The news is that WePay has launched an app for iOS devices, which enables users to send invoices to customers and accept their payments. Invoices can be customized and itemized and can be scheduled to be automatically sent on a recurring basis: weekly, monthly, quarterly, or annually. Users can then track their invoices from within their WePay accounts and send payment reminders, as needed. There is even an option for a late fee to be added, if deemed necessary.

Credit card payments are processed through the app's virtual terminal, which in itself is not exactly a novelty, but it's been around ever since the dawn of e-commerce, as an integral part of each online merchant account's payment gateway package. Virtual terminal is the web-based equivalent of the point-of-sale (POS) credit card processing machine, which we are all so familiar with. It performs precisely the same function, with the only meaningful difference being that that, rather than "reading" the customer's payment information from her credit card's magnetic stripe or chip, the virtual terminal collects the data from a form, which is filled out by the merchant in a web browser. In that respect, a virtual terminal-processed payment resembles an e-commerce one, except that in the latter case the payment form is filled out directly by the customer.

Regarding WePay's pricing structure, there are no set-up or monthly fees and sending invoices is also free. The user is charged payment processing fees at the rate of 2.90 percent plus $0.30 for credit and debit card payments and 1 percent + $0.30 for bank account payments.

How WePay Compares to Square and PayPal

Refreshingly, WePay's mobile app is not just another Square clone. In fact, the start-up's other co-founder and CEO Bill Clerico makes it a point to emphasize in the press release that his company's latest offering does invoicing and credit card processing "without requiring any extra hardware or a dongle". Yet, he tells BetaKit.com's Erin Bury that each approach has its advantages:
If you're charging hundreds of cards a day, you need to have the hardware, it's the only way you can keep up with that velocity of charges. But for service providers they're only charging a handful of cards in a given day, not having hardware is actually an advantage.

Well, I, for one, am struggling to follow Clerico's reasoning. I just don't think there can be any doubt that in a face-to-face payment acceptance environment, a swiped transaction is hugely preferable than a key-entered one. For one, swiping the card is a much faster way to get a payment processed than is key-entering the transaction information, even as it eliminates the possibility that the cardholder's name would be misspelled or the account number wrongly inputted, which would result in a declined authorization. Moreover, swiped transactions are processed at lower interchange fees, reducing the processor's operating costs. Moreover, Square, as well as most of its clones, also has a built-in virtual terminal, to be used when a swipe is not an option. So the sole advantage of WePay's latest offering over Square seems to be its invoicing function.

On the other hand, when compared to PayPal, WePay has an advantage in its lower pricing. PayPal also offers a virtual terminal service, complete with an invoicing function, however, the package costs $30 per month, plus the per-transaction fees, which are comparable to WePay's. And for the type of users targeted by WePay — the likes of independent contractors, designers and marketing professionals — who will only be using the service a couple of times per week, these $30 are a deal breaker.

The Takeaway

So I do see a market for WePay's new service, although it is one that overlaps with Square's and PayPal's and WePay will have to fight very hard to carve a chunk of it for itself. But WePay has already proved that it can stay its ground, so I do like its chances. The company's virtual terminal is a well-designed and competitively-priced product and the start-up has managed to build a solid brand name, which will surely help in its marketing efforts.

Oh, before I wrap this up, I have to note that I wasn't able to find a single reference to the group-payment concept on WePay's website. Clearly, the start-up has decided that bachelor party organizers' money collection issues have been resolved once and for all and no longer warrant any special attention.

Image credit: WePay.com.