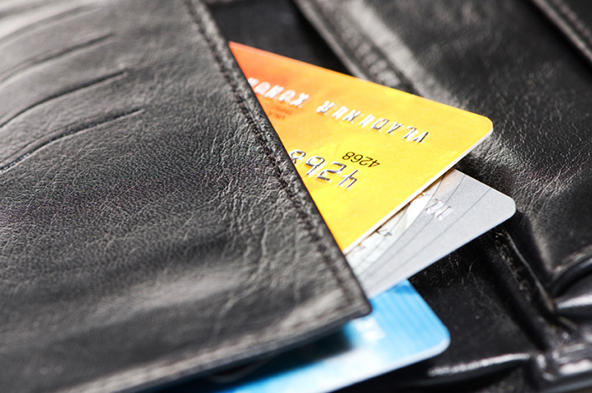 I have always been very skeptical about horror stories involving villainous credit card companies and victimized consumers who just happened to somehow dig themselves into a $30,000-deep whole of credit card debt, for no fault of their own. Sure, bad things like illnesses, injuries and unemployment do happen to people and force them to spend more than they can repay for a given period. On the whole, however, spending beyond one's means is a choice, not a necessity and the Great Recession has provided the evidence to support this proposition.

Let's take a look at the data, as they relate to consumer credit card use.

Consumer Credit Card Debt Down 18.4% since Lehman Collapsed

This one is perhaps the most striking piece of evidence that consumers can indeed get a grip of their credit card use, if they choose to do so. Even as unemployment soared to near 10 percent, and it is still at 8.8 percent at the time of writing, Americans kept on chipping away at their outstanding credit card balances.

Since the Lehman collapse of September 2008, the total outstanding amount of revolving credit, mostly credit card balances, has increased only once, in December of last year, according to the Federal Reserve.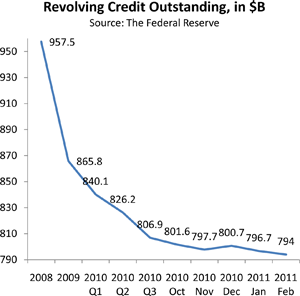 For the period Americans have shed $179.6 billion of credit card debt, bringing the grand total down from $973.6 billion to $ 794.0 billion, a fall of 18.4 percent. On a per-family basis, each U.S. household carrying?ácredit card debt, of which according to the Fed there are 54 million, has reduced its debt burden by $3,326 for the period. Of course this doesn't mean that the debt level of each of these households has fallen, but this is where another piece of statistics can help.

Late Credit Card Payment, Defaults Fall to Record Levels

Credit card charge-offs (or defaults) have fallen dramatically since they peaked in the aftermath of the financial meltdown. The current level is 7.35 percent, according to Moody's, a credit ratings agency, and it is expected to drop below 7 percent in the second quarter, as a consequence of continuously falling delinquency rates.

The ratio of credit card payments late by 30 days or more — the delinquency rate — has now fallen for 17 months in a row, according to the same Moody's report. Its level for March was 3.79 percent. Even more impressive is the rate of payments late by 30 – 59 days. According to Moody's, this so-called early-stage delinquency rate has fallen to 0.98 percent in March of this year, the lowest level since measurements began in early 2000.

8 Million Americans Quit Credit Cards in 2010

It turns out that not only are Americans quickly slashing credit card debt, but an increasing number of them are turning away from credit card use altogether. More than 8 million U.S. consumers have stopped actively using credit cards in 2010, according to a report by TransUnion, one of the three national credit reporting agencies.

"In 2009, well over 70 million consumers did not have an active, general-purpose bank issued credit card. During the course of one year, more than 8 million additional consumers joined these ranks, making it one of the fastest growing consumer segments," said Ezra Becker, vice president of research and consulting in TransUnion.

The Credit Card Takeaway

There are other factors that have contributed to the falling use of credit cards in the post-Lehman world, which are beyond the control of consumers. For example, issuers tightened up their underwriting policies, closed accounts and slashed the credit limits of others. Some of these changes were prompted by the introduction of tough new regulations through the CARD Act of 2009.

Yet, there was and still is plenty of credit available on pieces of plastic that consumers consciously are choosing not to use. This is good news. Of course, non-credit-card debt is on the rise again, according to the Federal Reserve, more than making up for the hard-won gains on the credit card front, but that is a topic for another post.

Image credit: Spreets.com.au.