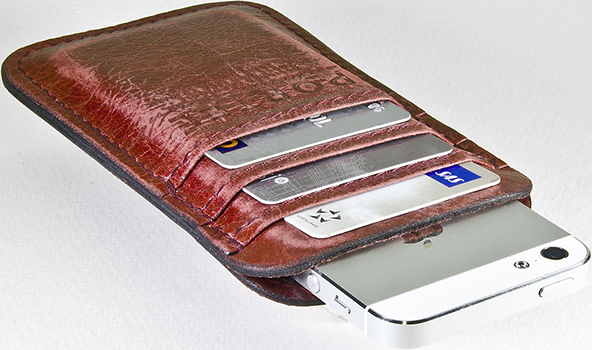 Americans are far more likely to be current on their car payments than on their credit cards or mortgages, even as the delinquency rates of the latter two debt categories continue to fall; each digit of your credit card number has its own significance; the mobile payment war is waged on multiple fronts. These are just a few of the interesting and curious statistics that are represented in various graphic forms in the fourth edition of our new column — The Month in Numbers.

We are having a lot of fun with our monthly column. The number of new credit card-related infographics, videos, slideshows and plain graphics produced each month is truly mindboggling and picking the best of them is no simple task. While trying to do our best, we continue to rely on your help, so keep sending us your suggestions!

So here are our picks for March 2012.

1. Americans Pay down Auto Loans before Credit Cards and Mortgages

We already knew that in the post-Lehman world Americans were more likely to be current on their credit card payments and behind on their mortgages than vice versa. According to the latest TransUnion data, however, auto loans take precedence over both of these debt categories. Here is the gist of the report: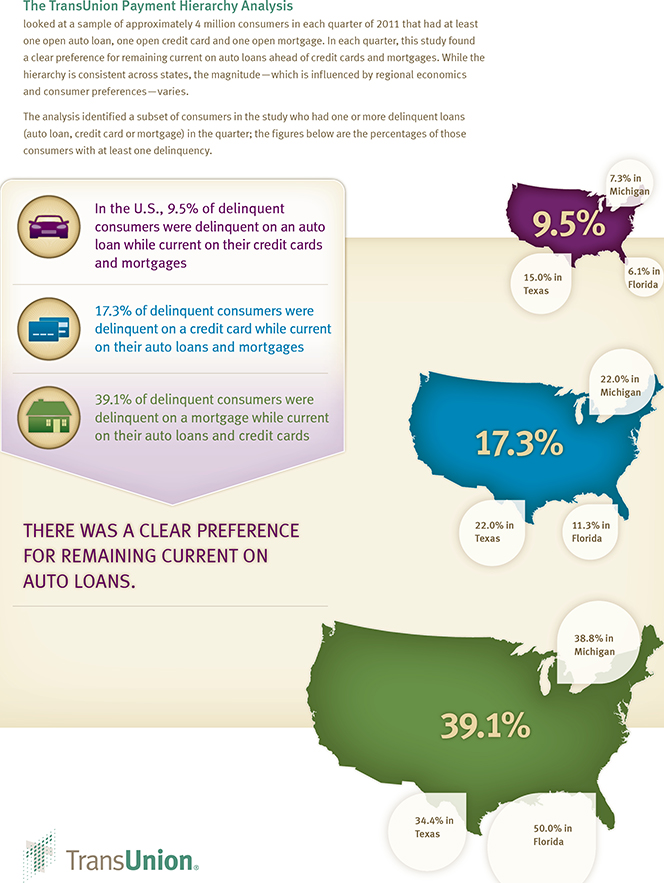 2. U.S. Credit Card Delinquencies Fall to Lowest Level Ever

Americans have been continuously improving their credit card debt repayment habits ever since the financial crisis struck in September 2008. The delinquency rate measured by Moody's in February — 2.86 percent — is the lowest one ever recorded by the credit ratings agency. Here is the post-crisis trajectory of the U.S. credit card delinquency rate: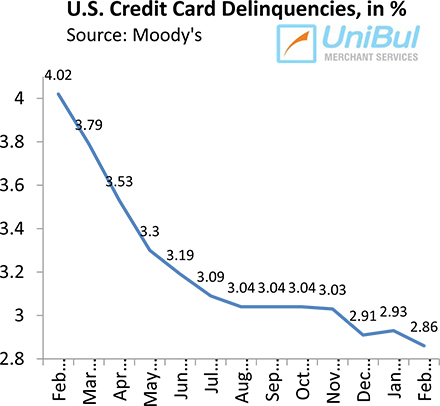 3. PayPal Takes on Square

There is a new Square-like credit card processing service and its name is PayPal Here. Jack Dorsey's company has a huge lead over its new competitor, but we like PayPal's offering better.
4. Student Guide to Credit Cards

The good people at Credit Donkey have created yet another great infographic. This one aims to help college students find the best credit cards available for them and, if that is not an option, lists the alternatives.

5. What's in Your Credit Card Number?

Mint.com is "cracking the credit card code" in an amazing infographic that tells you all you need to know about the meaning of your credit card's account number. Take a look and you'll learn a lot.

6. Payment Wars: The Battle for Your Wallet

The guys at Vouchercodes.co.uk have done a lot of work to put all of the major mobile payments players and their products in one infographic. However, the result is truly amazing and the effort is greatly appreciated.

7. Busting Credit Score Myths

Credit Sesame is quickly becoming a regular at this column. Their latest infographic is devoted to busting credit card myths – ten of them! If you are not sure if, say, checking your credit report will hurt your score or whether a higher income will help improve it, you'll find the answers below.

8. Americans Continue to Pay down Credit Card Debt

The total amount of consumer credit card debt in the U.S. fell following four consecutive monthly increases (the first time that has happened since the fall of Lehman Brothers), according to the latest Federal Reserve data. Just one look at the chart below tells you all you need to know about the level of tolerance Americans' have of credit card debt in the post-crisis world.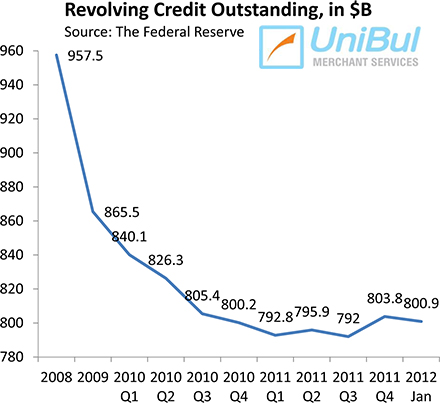 Image credit: Etsystatic.com.