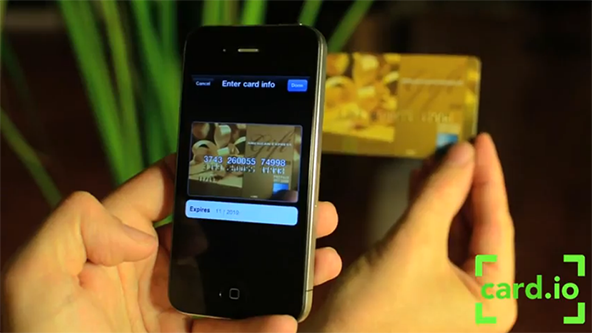 There is a new entrant in the market for mobile credit card acceptance which, though increasingly crowded, is being dominated by Square. Unlike the brainchild of Twitter creator Jack Dorsey, which allows everyone to accept credit card payments through a small swiping device attached to the user's phone, Card.io does the trick by scanning the card.

We haven't tested the new service yet, so I can't comment on its performance and reliability. However, I do like the idea behind it and that's what I will focus on in this post. That and how it stacks up against Square, because if it is to have any chance of success, Card.io must convince its potential users, many of whom are already using Square, that switching to the new m-payment provider makes sense.

How Card.io Works

Here is the part I like the best about Card.io: it doesn't put any new hardware into your pocket. All you need to accept credit cards is your phone, with support currently available for Apple and Android-based devices.

Once you've signed up for the service and have downloaded the app, accepting payments is incredibly simple. You launch the app and hold your customer's card to your phone's camera for a second or two until it captures the image (that is the equivalent of the swiping of a card through the Square reader). Then Card.io "reads" the account information from the image, you enter the payment amount and submit the transaction for processing.

Card.io supports acceptance of all major U.S. card brands. There are no set-up, monthly or cancellation fees and the transaction rate is 3.50 percent + $0.30 for all brands and types of cards.

Card.io vs. Square

As many of Card.io's potential users are already Square customers, what will determine the newcomer's future is how successfully it measures up against the market leader. Or rather, how that is perceived by consumers. I think that there are three major factors that will feature in anyone's comparison of the two rivals: pricing, convenience and security, perhaps in that order. Let's take a look at each one of them.

Pricing. Card.io's per-transaction rate of 3.50 percent + $0.30 is higher than either of the two tiers used by Square: 2.75 percent for swiped transactions and 3.50 percent + $0.15 for key-entered ones. Perhaps Card.io can lower its rate if it finds it difficult to attract users, however the start-up operates from a higher base rate than its rival, which limits its options. What I mean is that, while Square's swiped transactions are classified as "card-present," all of Card.io's transactions are "card-not-present." The significance of this classification is that, while Square's cost of processing, say, a Visa rewards card would be 1.65 percent + $0.10, the equivalent cost for Card.io would be 1.95 percent + $0.10.

So the pricing advantage goes to Square.

Convenience. Well, Card.io has dispensed with all peripheral hardware, while Square users need to carry the little reader everywhere and try not to lose it.

Provided the scanning process works quickly and reliably, the advantage here goes to Card.io.

Security. Square had its share of security and fraud scares early on, but it handled each crisis very well and all these troubles are now behind Jack Dorsey and company. Card.io is likely to face similar challenges, but the good news for the start-up is that Americans are now quite comfortable with the idea of accepting card payments with their phones, so the newcomer will be given the benefit of the doubt.

I would score the security component of our comparison chart as a tie. Yes, Square is backed up by a strong safety record, but there are no reasons to think that Card.io will be any less secure than its rival.

The Takeaway

So the idea behind Card.io does have its merits and I will not be surprised at all if the start-up is successful in implementing it. In fact, I do hope that they will achieve that, as I really like the simplicity of their solution.

However, the start-up's success, or lack thereof, will be decided by how favorably its service compares to Square's, as perceived by users. Of course, to be able to make a comparison, potential users must first learn about Card.io, so how much the newcomer can spend on promoting itself may prove at the end to be the deciding factor.

Image credit: YouTube / Card.io.