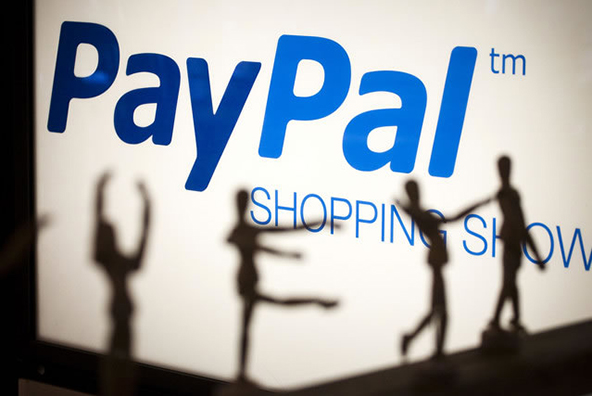 PayPal "has the highest brand preference" among mobile payments service providers, according to a new survey by GfK, a market research company. eBay's subsidiary enjoys high levels of trust and consideration among consumers and is also helped by the fact that many of its customers have already used PayPal's traditional services from their phones and perceive the leap to proximity-based (e.g. NFC-based) mobile payments as a much less risky affair.

The Results: PayPal Leads, Visa and MasterCard Follow

An established specialist in the processing of payments generally (as perceived by 21 percent of the respondents) and boosted by high levels of familiarity with its services (30 percent), PayPal is trusted by 17 percent of the surveyed to be facilitating their mobile payments.

Visa and MasterCard, the two biggest payment processing brands in the world, trailed PayPal as the next most likely brands to be trusted with mobile payments processing, followed by Apple, Nokia and Samsung. Mobile carriers, who have been making big investments in NFC-based mobile payments, were at the bottom of the list. Here how the researchers interpreted these results:
These three brand examples [Nokia, Apple and PayPal] show that whilst financial brands have built up high levels of trust, mobile-based brands such as Nokia and Apple, and relatively new financial brands like PayPal, have the potential to quickly disrupt this seemingly comfortable position.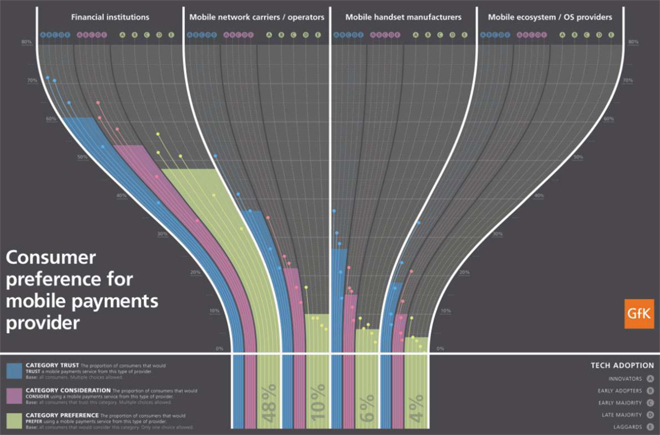 62% of Consumers Find Mobile Payments Appealing

GfK's survey finds that globally 62 percent of the respondents find mobile payments appealing, with considerable variations between countries. Leading the scoreboard were the Chinese, 82 percent of whom were found to be open to the new m-payment options. Here is the full scoreboard for the surveyed countries:
China — 82 percent.
Brazil — 73 percent.
Spain — 72 percent.
U.S. — 58 percent.
Germany — 56 percent.
Italy — 54 percent.
U.K. — 51 percent.
France — 42 percent.

Additionally, mobile payments' appeal varies among certain groups. Predictably, smart phone owners are more likely to find mobile payments appealing (at 72 percent) than the average respondent. Support was even greater among younger consumers aged 16 – 24 (75 percent) and innovators / early adopters (74 percent).

The biggest determinant for mobile service preference is trust, the survey found. Financial institutions, as a category, enjoy the highest level of trust among potential m-payment users, followed by mobile carriers, handset manufacturers and mobile ecosystem / OS providers.

The Takeaway

Cooperation between key players is the quickest way to mobile payments adoption, the study concludes.
Financial brands add a layer of trust that mobile brands have not yet nurtured in the financial world. Mobile carriers have a well-rehearsed customer support network and the connectivity infrastructure to make proximity based payments fast, reliable and secure. Mobile handset and OS providers have developed strong mobile brands, and have already made the use of services and payment of items via the mobile phone a simple, integrated and common behaviour. By tapping into all of these strengths, a mobile payments solution would quickly gain momentum with consumers and put an end to continued delays NFC based services have received in recent years.

Indeed. Moreover, on the question of "customer ownership," which is at the heart of an ongoing dispute between BlackBerry maker RIM and several mobile carriers, the GfK researchers advise that no one brand should own the relationship. This is our view as well, which we have elaborated on in multiple articles. How realistic such approach is, however, is another matter entirely.

Image credit: Jatrgovac.com.