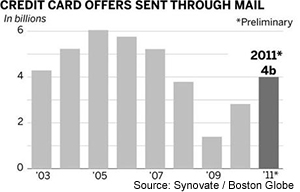 The number of new credit card offers mailed out to American consumers in 2011 was the highest one since 2007, the Boston Globe tells us, citing data released by Synovate, a market research firm. Card issuers sent out a grand total of four billion credit card mailings last year, three times as many as they did in 2009, we learn.

These new numbers don't come as a surprise, as the perceived improvement in the economy was bound to restore the issuers' interest in handing out new credit. What is surprising at least to me, however, is how far some issuers are willing to go in doing so. As we've pointed out before and as the Globe notes, some of these new mailings come with incredibly attractive sign-up incentives. So good are some of them that I don't remember ever before seeing better ones. This exceptionally high quality also prompts the question whether the issuers are really that desperate to sign up new customers or are they forced to be so generous, because we are just not interested in what they have to offer.

Citibank, Chase Lead the Way

It turns out that, even as the number of credit card mailings last year was quickly catching up with its pre-crisis levels, not all big issuers were equally aggressive in filling up Americans' mailboxes. In fact, the number one mailer – Citibank – sent out more than five times as many new credit card offers as the number six bank on the list – Bank of America. Here is the full standing:
Citibank – 381.6 million.
Chase – 304.5 million.
American Express – 94.1 million.
Capital One – 91.3 million.
Discover – 88.4 million.
Bank of America – 74.1 million.

In all, the six biggest U.S. credit card issuers were responsible for just over a billion credit card offers in 2011 – a quarter of the total.

What Would It Take to Convince Americans to Accept these Offers?

Quite a lot, if the sign-up bonuses on offer are anything to judge by. Here is the sample chosen by the Globe:

Chase, for instance, is offering 50,000 bonus points – good toward roughly $625 worth of travel rewards – for signing up for its "Sapphire Preferred Card." Capital One offers 1.5 percent cash back on purchases plus a one-time $100 bonus for its "Cash Credit Card." Citibank is marketing a "Platinum Select MasterCard" with zero percent interest for 21 months.

There is much more that can be added to this list. I personally received several letters from Chase last year offering various amounts of cash-back payable after I made the first purchase and I did accept an offer with a $250 bonus. The card also features a rewards program giving me up to three percent cash-back on purchases. I've received similar proposals from American Express and Citibank and some less generous ones from Capital One. Bank of America and Discover are the only members of the big-six club who are yet to send me a pre-approved offer.

The Takeaway

There is no question that U.S. issuers are now more keen on expanding their credit card portfolios than they've been at any time since well before the financial crisis struck and there is a good reason for their enthusiasm. The news from the economy has been mostly positive lately and Americans are beginning to spend more freely once again, as the Federal Reserve data are telling us. Moreover, debt repayment discipline is very high, as evidenced by levels of credit card delinquencies and defaults that are at an all-time low, as well as a record-high monthly debt repayment rate.

These numbers have so much emboldened issuers that they are once again going after sub-prime borrowers in earnest. In the first half of 2011, 5.4 million new credit cards, out of a total of 18 million, were issued to sub-prime borrowers, according to data from Equifax, a credit reporting agency that defines sub-prime as a credit score below 660. The numbers for the second half are unavailable yet, but are sure to be even better.

Yet, I think that the sign-up bonuses and rewards programs on offer provide the best indication of just how eager issuers are to attract new customers. But it also makes you wonder. I'm really tempted to think that if it takes that big of an incentive to convince us to open up a new credit card, we must no longer want it as badly as we used to. But then credit card spending is on the rise again, so even if it is real, this new fad may pass soon enough. We'll see.
Learn how to lower your card acceptance cost
Learn how to accept credit and debit cards at the lowest processing costs. The Payment Card Acceptance kit contains a video and an e-book:
Video – Card Acceptance Best Practices for Lowest Processing Costs (18 min).
E-Book – Payment Card Acceptance Guide (19 pages).