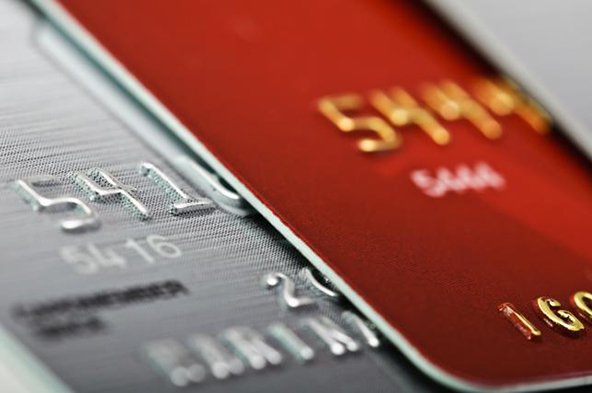 Credit card spending in the U.S. is growing at an accelerating rate, according to the SpendTrend report for June, released by First Data, a big payment processing provider (and a UniBul Merchant Services' partner).

First Data's report comes on the heels of the Federal Reserve G.19 release for May, which showed the largest increase in U.S. consumer revolving credit — comprised predominantly of outstanding credit card balances — since June of 2008, before the financial crisis began.

U.S. Credit Card Spending Up 10.7%

Credit card spending volume in the U.S. grew by 10.7 percent in June, compared to the same month a year ago, the fastest growth in over a year, according to the report. The aggregate transaction count also increased for the period, by 6.8 percent. SpendTrend tracks changes in same-store consumer spending in the First Data network.

The aggregate volume growth across all spending categories tracked by SpendTrend — credit, signature debit, PIN debit, EBT cards and checks — was 8.8 percent, up from 6.6 percent in May.

Here is how each of these categories did in June:

| | | | |
| --- | --- | --- | --- |
| June Transaction Growth | Change | June Dollar Volume Growth | Change |
| Credit | 6.8% | Credit | 10.7% |
| Signature Debit | 8.8% | Signature Debit | 8.5% |
| PIN Debit | 1.5% | PIN Debit | 6.0% |
| Check | -12.3% | Check | -12.6% |
Credit Card Charge-offs, Delinquencies Still Falling

Even as spending has been rising, credit card charge-offs fell again in June, by 0.13 percent, according to data from Fitch Ratings, a credit ratings agency. At 7.29 percent, the June rate is the lowest one since early 2009, 35 percent below last year's level and 37 percent lower than the peak of 11.37 percent recorded in September 2009.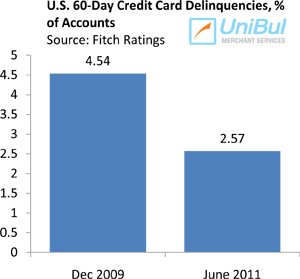 Delinquencies also fell to new record-lows. Late-stage delinquencies — credit card payments overdue by 60 days or more — fell by 0.18 percent in June to 2.57 percent, a 36 percent drop on a year-over-year basis and the 17th consecutive monthly decline, according to Fitch. The June delinquency ratio is the lowest one since August 2007 and is 43.39 percent below the high of 4.54 percent reached in January 2010. Early-stage delinquencies — payments overdue by 30 days or more — also fell, by 0.21 percent to 3.33 percent, the report said.

The Takeaway

What the latest credit card data show is that, even as spending is rising, consumers continue to make payments on time. In fact, the Fitch report shows that the monthly payment rate — the proportion of their card accounts' outstanding balances consumers are repaying at the end of each monthly cycle — has risen in June by 1.36 percent to 21.40 percent, 24.30 percent above the historical average of 16.20 percent.

So a strong argument can be made that, on average, Americans are now using credit within their means. Of course, new credit is nowadays offered mostly to consumers with very high credit scores. A recent report showed that about 60 percent of all new credit card offers in the U.S. are mailed to Americans with credit scores of 720 or higher. These are also typically higher-income consumers who have managed to keep their jobs during the downturn (a layoff often results in a lower credit score, as consumers begin to use more credit and are less able to pay it back). Yet, this is a welcome development, as affluent consumers were much less disciplined in the pre-crisis years.

Image credit: Thepulsefm.blogspot.com.