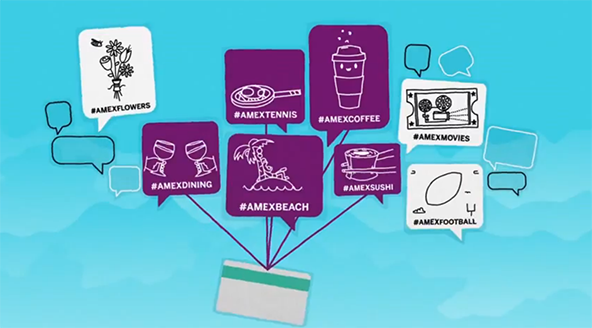 Card issuers are trying hard to figure out how to use social media to their advantage and their efforts are producing some really interesting ideas. Just yesterday we wrote about Barclays' new crowdsourceable card, which I think has a great potential, although it is far from certain that it will prove a success at the end. Today it's the turn of American Express, but the largest U.S. credit card issuer by spending volume is testing a totally different strategy.

AmEx has started a Twitter campaign that turns participating cardholders into marketing agents for the company. In exchange for a promotional tweet about a discount at some merchant, the card issuer rewards its customers by allowing them to get the discount they tweeted about. And these deals are quite separate from any rewards program that may be linked to the participant's card. So really, why not take advantage of it?

How Does It Work?

If you are an AmEx cardholder, you can register with the program on the issuer's website. During the registration process, your card is linked to your Twitter account (prepaid and corporate cards are ineligible) and the set-up is completed.

Then, whenever you see a deal you want to take advantage of, you would tweet a promotional message announcing a discount at a particular merchant. In return, you would be allowed to use this discount for yourself, but only if you make the payment with the American Express card you registered with the program. The daily deals are listed in the "Favorites" tab of American Express' Twitter account. Here is a sample of today's deals: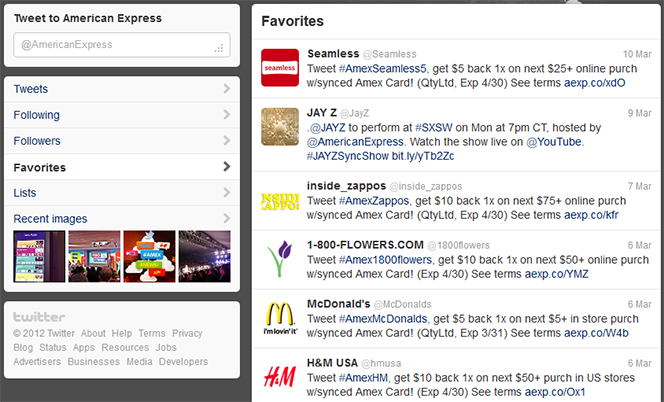 Registration and participation in the program is also available through the cardholders' Foursquare and Facebook accounts.

Once you have tweeted about the deal (including the applicable #hashtag), AmEx would send you an @reply message to confirm your enrollment in it. To redeem your reward, you wouldn't need to enter any special codes at the checkout of the store whose deal you tweeted about. Instead, you would make the payment using your AmEx card and would get the discount in the form of a statement credit.

What Should We Make of It?

I do like what AmEx has done with this program. To earn a reward, I am only asked to tweet about a deal I'm interested in. Now, if I found a particular deal appealing, I would probably want to tell my friends about it anyway, so I have no problem at all serving as an advertiser for American Express. Chances are that I would have shared my discovery, even if I wasn't required to do it.

As for a downside of participating in the program, I just can't find one. During the registration process, I'm not giving American Express anything they don't already have. After all, they already know my name, address, SSN, email address and, of course, all of my credit card account information. What else could I possibly give them that they don't already know?

The only possible negative that I can think about would be a torrent of unsolicited emails about deals you are not interested in. But during the registration process you can opt not to receive such emails and, even if they came your way anyway, you should be able to unsubscribe and send them to your spam folder. So I don't think that this should be an issue.

The Takeaway

I did sign up for the program and tweeted about the Zappos deal you can see in the snapshot above. I love Zappos and shop with them all the time anyway. They never offer coupons, so that is my chance to get a discount on my next purchase (in addition to the cash back I will get from my AmEx rewards program).

Just as is the case with Barclays' crowdsourceable card, we don't know how successful AmEx will be with its own social shopping idea, but I like their chances. It's just too good of a deal not to take advantage of.

Image source: American Express.