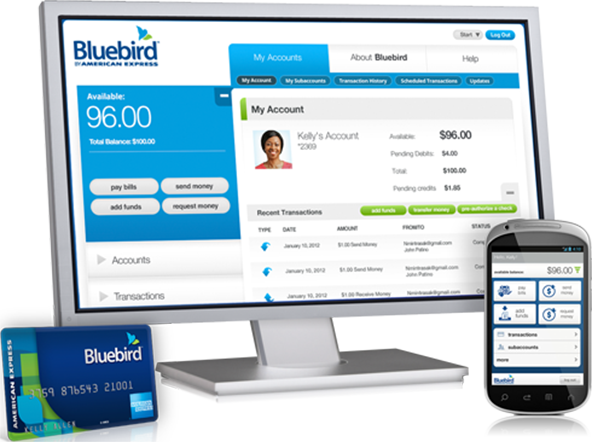 Back when I initially reviewed Bluebird — the prepaid card issued jointly by American Express and Wal-Mart — in October of last year, I noted the obvious — that is was by far the best prepaid card ever offered to American consumers which, unlike any of its predecessors, was a real alternative to checking accounts. So my advice was that, "unless you still write paper checks to pay your bills, you should seriously consider replacing — or supplementing — your existing checking account with Bluebird".

Well, the checking account caveat no longer applies — last week American Express announced that Bluebird customers can now add checks to their prepaid accounts, into which they can deposit funds of up to $100,000 annually. Moreover, Bluebird accounts are now eligible for FDIC insurance. Oh, and whereas checking accounts are not an option for consumers whose names are on the ChexSystems, Bluebird is available to everyone. So the upshot is that many unbanked consumers, who are prepaid cards' most avid users, may now have a better checking account than their "banked" counterparts who are still relying on the more traditional option.

The News

Here is what American Express is telling us about Bluebird's new features. First, the FDIC insurance coverage:
Funds in all permanent Bluebird Accounts will now be eligible for FDIC insurance, which allows members to arrange for direct deposit of U.S. government payments. Temporary account funds will not be FDIC insured.

Temporary are Bluebird accounts that have not been registered with American Express. When a consumer purchases a "Bluebird Account Set Up Kit" for $5 at a Wal-Mart, she can deposit up to $500 into it and start using the temporary prepaid card at any merchant that accepts American Express cards. In order for her to use all Bluebird features, the cardholder needs to register her account. During the registration process, the cardholder provides American Express with her personal information and, once her email address has been verified, the issuer will send her a permanent Bluebird card, with the cardholder's name on it, to take the place of the starter card. Once the permanent card has been activated, all funds placed into the Bluebird account are insured.

And here is what AmEx has to say about Bluebird's new check feature:
Bluebird Members will have the ability to order Bluebird checks that they can use to pay bills and make purchases without worrying about insufficient funds or incurring overdraft fees because a Member's funds are set aside during the pre-authorization process.

The pre-authorization process serves the purpose of verifying the availability of sufficient funds in the Bluebird account to cover the check amount and it's a fairly straightforward procedure. The account holder can obtain an authorization approval online, over the phone or through the Bluebird mobile app and will then write the authorization code on the check, before giving it to the payee. Users can get their first book of 50 checks at no charge.

Why Are AmEx and Wal-Mart Doing It?

Bluebird is virtually fee-free — the only fees that can be applied are the $26 charge for ordering a check book, after using the original free set of checks, and the $2 fee for using the card at an ATM that doesn't belong to the 22,000-strong MoneyPass network. So the joint issuers are not making money from the prepaid program itself, that much is certain. In fact, I remember a prepaid issuer commenting that the only way to make a prepaid program profitable is to charge a monthly fee. But that is not the objective of either American Express or Wal-Mart. In fact, this is one of the rare cases when the platitudes surrounding a new product launch provide an accurate reflection of the reality. Here is what Dan Schulman, group president, Enterprise Growth at American Express, had to say about Bluebird's latest additions:
When we launched Bluebird last October, we were focused on serving the tens of millions of Americans who are not well served by the traditional financial services industry. The unbanked, underbanked, and the unhappily banked are beset by onerous fees and numerous inconveniences.


Bluebird is designed to help make their everyday financial lives easier, more convenient and less expensive. Today's announcement, which reflects feedback from consumers, advocacy groups and government officials, represents the next set of enhancements that further distinguish Bluebird from other financial services options.

That is all true. In fact, The Washington Post tells us of one consumer advocate who "applauded American Express for insuring Bluebird accounts without being prodded by regulators, a sign, he said, that the industry is evolving and responding to consumer demands".

Then again, American Express and Wal-Mart are not running Bluebird out of altruistic motives. Prepaid cards in general, and Bluebird in particular, allow AmEx to tap into a previously unserved market. And the cost of running a prepaid card program is more than offset by the revenues AmEx is collecting from the merchants accepting these cards in the form of transaction processing fees, which typically vary from 2.4 percent to 3.5 percent.

As far as Wal-Mart is concerned, Bluebird is designed to make it more convenient and cheaper for the unbanked — one of the retailer's most important constituent customer groups — to manage their finances. And every dollar that doesn't go to pay for a monthly fee of an old-fashioned prepaid card or for a check-cashing service will go elsewhere — and at least some of it will end up being spent at Wal-Mart. Moreover, the retailer's image can only benefit from Wal-Mart's association with what is an incredibly consumer-friendly financial product.

The Takeaway

Bluebird is now much better than most checking accounts and any other prepaid card currently available and consumers are quickly figuring it out. The Washington Post tells us that, "[i]n the six months since Bluebird debuted, more than 575,000 customers have signed up, placing more than $275 million into their accounts." I expect that the new features will further speed up the adoption rate.

Image credit: Bluebird.com.