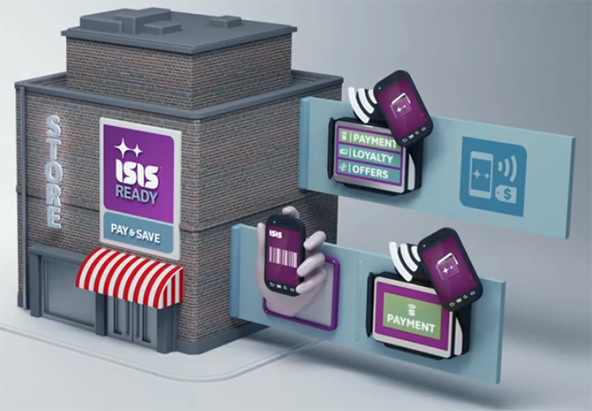 After a couple of years of fitful product development, multiple strategy adjustments and many delays, Isis—the mobile payments platform developed by mobile carriers Verizon, AT&T and T-Mobile—was finally launched with much fanfare in Austin and Salt Lake City as a pilot this past October. Since then the first impressions and reviews have been accumulating and they haven't exactly been ecstatic.

Evidently Isis' management has also been underwhelmed by the initial response, so much so that they have now decided on desperate measures. This morning we learn that Isis has extended for two more months its subsidy to consumers using the mobile wallet to pay for their transit fares in Salt Lake City. Yet, it doesn't seem as if the strategy is actually producing the desired effect and I can't help but being reminded of all the commentators who have been arguing, ever since the first mobile wallets appeared, that this is merely a solution in search of a problem. Well, Isis' experience in Salt Lake City will do little to dissuade them.

Isis Will Pay for Your Ride

Here is what the NFC Times reports this morning:
Isis Mobile Wallet users in and around Salt Lake City are tapping for transit fares with their NFC-enabled mobile phones more than 600 times a day and that number is climbing, said the Utah Transit Authority.


The riders aren't tapping to pay, however, because fares are free with the Isis wallet since the mobile operator joint venture launched its pilot in Salt Lake City, along with Austin, Texas, in October. Isis recently extended the offer for free rides on the transit authority's trams, commuter trains and buses for two more months, through March 30.

Jerry Benson, the Chief Operating Officer of the Utah Transit Authority (UTA) is, of course, happy with Isis' decision and is "convinced" that NFC is "probably the best opportunity to move people from cash to contactless (electronic payments)". He reminds us that UTA has tested contactless payments before, but the results have failed to rise to the expectations:
We thought, in January 2009, everybody, probably a year later, would have contactless credit cards. That didn't happen, so we had to adjust to be flexible. So mobile payments is a great new way to get a payment device in everybody's hands.

Yet, Benson is forced to acknowledge that the impact of Isis' free-ride strategy has been negligible:
Still, the contactless bank card transactions combined with the Isis wallet transactions account for fewer than 1% of total transactions on trams, trains and buses, Benson said. Even with the growing Isis wallet transactions, he doesn't expect that to top 2%.

I just don't see where Benson's optimism comes from. After all, even these modest results have only been achieved, because consumers have been getting their rides for free. Isis would hope that consumers would keep using their mobile wallets even after the free program is discontinued, but what is there to guarantee that they would? And even if they did keep using Isis, the total number of transactions would still be negligible.

Isis Far Behind PayPal, Google in Consumer Awareness

PayPal is the undisputed leader in the digital wallet category, according to a new report from comScore, an internet analytics company, with close to half of the survey's respondents saying that they had used it. Only 12 percent of consumers said that they had used a different digital wallet and only one percent claimed to have used Isis. Here is the full table: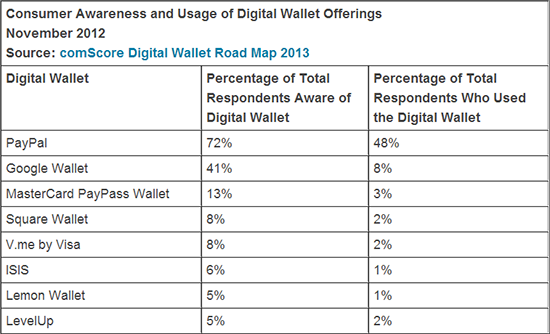 As you can see, only two other digital wallets have scored worse than Isis in the consumer awareness category and only one—the Lemon Wallet of which I had never heard before—has been used by the same share of the respondents; all others have scored better on this count.

But here is the passage in the comScore report that I found most revealing:
One clear barrier to use of digital wallets is that the concept is often difficult to convey and prone to misinterpretation. Even after being asked to review the websites of particular digital wallets, respondents across all wallet brands still scored an average of just 45 percent in terms of demonstrated level of understanding.

This result is sure to provide further ammunition to the doubters of the digital wallet concept. For my part, I just can't see what could be so difficult to understand about a digital wallet: you store your credit card in it and then use it for payment instead of the card itself. So I'm tempted to read the result as a rejection on the part of consumers of the need for such a service: they may not be seeing the point in it. Whether I'm right or wrong, this is not good news for Isis and its competitors.

The Takeaway

As I've noted before, long before its launch, Isis has been haunted by a "spectacularly botched initial design and a series of embarrassing launch delays". Now that the service has been live for a few months, there are no signs that consumers are warming up to it and it's difficult to see the trend changing anytime soon. Isis is only supported by a limited number of merchants in two cities and a rapid expansion would be difficult and costly, not least because there are very few merchants whose point-of-sale (POS) terminals support the near-field technology (NFC) on which the wallet is based. To make matters worse, Google Wallet, which is suffering from the same problem, has managed to make more headway than its rival.

Yet, even though things aren't looking good for Isis—they never have—I remain optimistic about the future of the mobile wallet concept. Placing all of my credit and debit cards, and potentially much more, in my phone just makes too much sense for it not to gain traction at some point. The more interesting question is who will end up dominating the market. It is unlikely to be Isis, but it will be someone.

Image credit: YouTube / Isis.