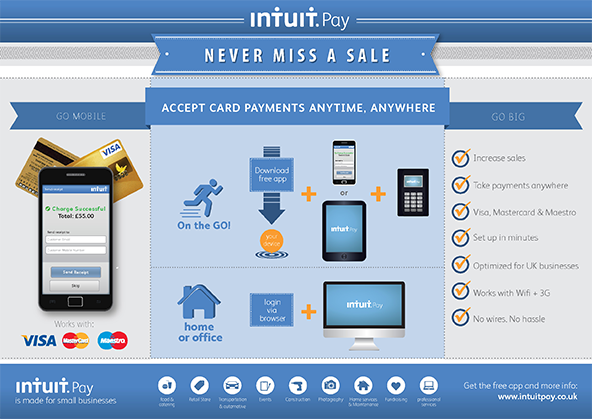 Intuit has just launched a pilot mobile card acceptance program in the U.K., the company tells us in a blog post. Intuit Pay, as the service is called, enables users to accept credit and debit card payments through a mobile phone-connected chip-and-PIN card reader, as well as on the service provider's website.

Intuit is the first major U.S. mobile payments provider to enter Britain and its progress will surely be closely monitored by domestic rivals Square and PayPal, which undoubtedly have similar ambitions to expand across the pond. Of course, the U.K. m-payments market has been fought over for some time — mPowa and iZettle are perhaps the two most prominent contestants, although emu has arguably made the biggest splash so far by offering its service for free. Still, the arrival on the scene of a big American opponent is sure to spice things up and so I decided to take a look at Intuit's offering. There are fewer details available about the new service than I would have liked, but whatever I have seen has left me underwhelmed. Let me explain.

What Is Intuit Pay?

Intuit Pay enables users to accept Visa, MasterCard and Maestro credit and debit cards in one of two ways:
Mobile: similarly to iZettle, to accept cards for payment, users will need to download the Intuit Pay app and connect their smart phones to a chip-and-PIN card reader. Intuit stresses that the reader is "Bluetooth-enabled", which seems to indicate the mode of connection to the smart phone.
Online: payments can also be processed through the user's computer, after logging into her Intuit Pay account.

A marked difference between iZettle and Intuit Pay is that the latter's mobile version does not support key-entered payments. So, if a card's chip cannot be read, the payment cannot be accepted.

On the other hand, Intuit does have the advantage in securing Visa's benevolence, which its Swedish rival has so far been unable to procure. As a result, Intuit users can accept Visa cards in a straightforward card-present fashion. In contrast, the world's biggest payment network forced iZettle — for reasons unknown to this blogger — to accept its cards through an incredibly convoluted, e-commerce-like type of process. But the difference between the two processors runs deeper than that.

A Tale of Two Business Models

Although it is not explicitly stated, there are strong indications that Intuit Pay, similarly to the processor's U.S. version, provides users with stand-alone merchant accounts. Indeed, it would have been odd if the company had entered the U.K. with a completely different business model. But there are differences, as it is to be expected. To begin with, Intuit's U.K. users cannot accept American Express and Discover. Whereas Discover cards are not widely used in Europe, American Express is quite popular, so the lack of support comes as a surprise, especially considering that most of Intuit's rivals offer AmEx acceptance.

Then there is the chip-and-PIN reader, which Intuit designed for its U.K. launch. I don't really think that this is much of a difference — it's more like a hardware tweak. But I had to mention it all the same, because every time I compare a European Square clone to Jack Dorsey's original, someone — including an iZettle representative — will comment that the copycat's ability to accept the type of cards that is the standard in their place of operation is somehow a big deal. It is not, and I hope that Intuit Pay will put an end to this argument. The hardware is the least of a U.S. processor's concerns when deciding on whether or not to launch in an oversea market.

The biggest difference between Intuit's American and British versions is that the latter offers no uniform pricing. In fact, no pricing details are to be found anywhere on Intuit Pay's website, none whatever. Needless to say, that puts the processor at a huge disadvantage against its rivals, all of whom are offering Square-like pricing terms (with the notable exception of emu, as noted above). I have no idea why Intuit should have decided to keep its pricing under wraps, as there is nothing to be gained from such secrecy and much to be lost. The Terms of Service seem to indicate that the pricing terms would be set on a case-by-case basis, but if that is indeed the case, my prediction is that the strategy will be quickly abandoned, as it will prove a major stumbling block to acquiring new merchants.

The Takeaway

The biggest thing Intuit has going for it in its foray into the British mobile payments market is that neither Square, nor PayPal has yet entered it. Furthermore, iZettle's unresolved issues with Visa put the Swedish processor at a huge disadvantage. However, Britons still have plenty of options to choose from and, if our U.K. readers' comments on previous posts are anything to go by, mPowa seems to be quite popular. So it seems to me that Intuit could do worse than making its pricing terms known by clearly posting them on its website. At best, the processor has a few months before either Square or PayPal, or both, enters Britain and it would make sense for Intuit to make the best of its early lead.

Image credit: Intuit.