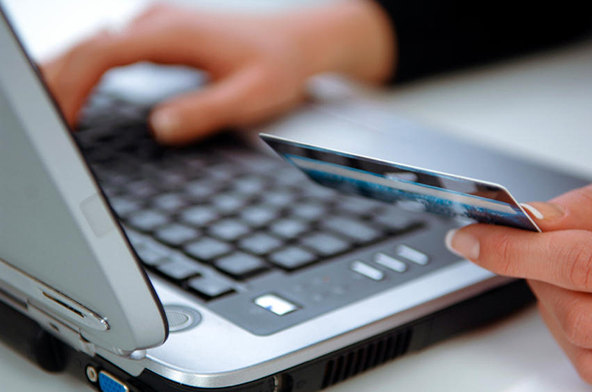 While consumer debt has declined in the U.S. by 8.2 percent from its peak of $11.5 trillion in October of 2008, 54 million American households with credit cards still owe $800 billion in debt to credit card companies alone, according to a new report from Equifax, one of the three national credit reporting agencies.

Despite the overall trend of reducing credit card debt, many American households continue to carry large balances, in some cases as large as 17 percent of their income, Equifax's report said.

Some areas are harder hit by credit card debt than others, the report found. It turns out that the top 50 metropolitan statistical areas (MSAs) carrying largest credit card debt, as a percentage of income owed in 2010, are located in six states across the country: Florida, North Carolina, Ohio, Texas, Washington and California.

These states also have some of the highest total credit card balances for the country:
FL: $47,568,265,541
NC: $22,386,064,118
OH: $28,985,502,668
TX: $48,833,824,544
WA: $18,288,819,367
CA: $90,566,978,302

"The good news is we're seeing Americans paying off their debts and becoming more fiscally fit," commented Dianne Bernez, Equifax's senior vice president for corporate communications. "However, the numbers show that while people's intentions are good, Americans still have a lot of debt to tackle and often don't know where to start."

That Americans' credit card debt burden is quite heavy we already knew. It has to be said, however, that it has decreased substantially since the financial crisis struck more than two years ago.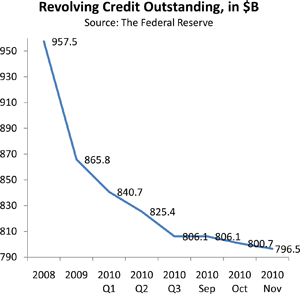 U.S. credit card debt has been falling for 27 consecutive months,?áaccording to the Federal Reserve. Since its peak in August 2008, just before the financial meltdown, revolving credit in the U.S., comprised almost exclusively of credit card debt, has declined by $177.1 billion, from $973.6 billion to $ 796.5 billion, a decrease of 18.2 percent. During this period the average U.S. family with outstanding credit card debt – 54 million by the Fed's count – has reduced it by $3,280, according to the report.

Non-revolving debt, however, is on the rise again, after initially mirroring the downward trend followed by the revolving category. Non-revolving credit includes auto loans, student loans and loans for mobile homes, boats and trailers and it has now been rising for four months in a row. The increase in November was by $5.5 billion from the previous month, according to the Fed. Its current level of 1,606.5 billion is about the same as it was at the end of 2008.

Overall, outstanding consumer credit, the sum of revolving and non-revolving debt, has been rising for four consecutive months. The jump in November was by $1.4 billion, or 0.7 percent, to 2.403 trillion, after a $7 billion increase in October.

So the data show that American consumers are placing a higher priority on paying down credit card debt than other forms of credit. Moreover, a Fitch report tells us that U.S. cardholders are now repaying their credit card balances at a rate above 19 percent, much higher than the 16 percent long-term average. It is likely that this trend will continue until the unemployment situation shows signs of improving, lifting consumer confidence in the process. Whether Americans will return to their spendthrift habits after that is anybody's guess.

Image credit: Donnajinvestigations.com.