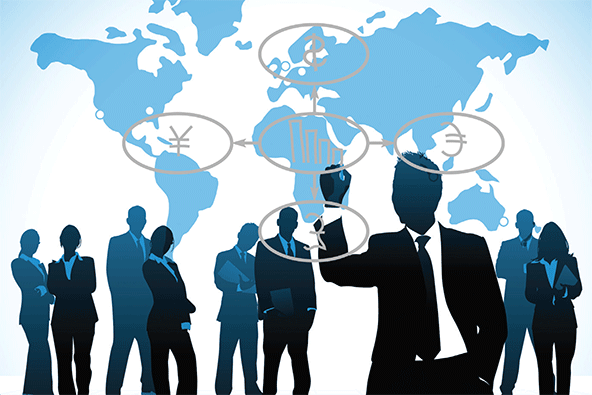 That is the main question tackled in American Express' newly-published Advanced Payments Report for 2014, produced by Edgar, Dunn & Company (EDC) — a financial services and payments consultancy. Having surveyed the public, the authors find that there are several major contending technologies, which all have the potential to successfully drive the adoption of mobile commerce and payments. However, the authors note, there is already a big shift towards cloud-based software m-payments solutions and away from hardware-based technologies such as the mobile SIM.

And this is an incredibly fast-changing landscape. As the authors remind us, last year alone we saw several significant developments that added fuel to the discussion: Apple and PayPal, each a long-term proponent of cloud-based services, announced support for Bluetooth Low Energy (BLE), mounting a fresh challenge to the NFC technology, which powers mobile wallets like Isis and Google Wallet. At the same time, Google enabled Host Card Emulation (HCE) in its new KitKat mobile operating system, further intensifying its push for a cloud-based NFC platform.

Then we have various QR-code-based mobile payments solutions, some of which incredibly successful (and none more so than Starbucks), which continue to evolve quite rapidly. Lastly, at least for now, we have biometrics and sound-based technologies, which are also vying for supremacy. Let's take a look at what the study has found is the current state of affairs.

Who Wants to Dominate Mobile Payments?

When asked which technology will be most successful in driving mobile commerce, the authors tell us, consumers chose NFC by a wide margin over cloud-based BLE and QR codes. This strong support, we are reminded, comes in spite of the fact that the NFC ecosystem is hugely complex and competing technologies continue to emerge. Here is the full breakdown: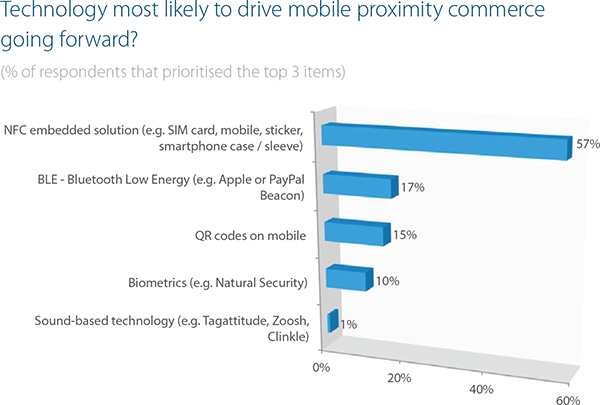 NFC Dominance and Challenges

The continually strong support for NFC and its potential to drive mobile payments, despite years of disappointments, may be a reflection of expectations for advancements in the coming years, the researchers suggest. Many of the mobile network operator (MNO)-led initiatives around the world have either already rolled out limited pilots or are planning to do so. In the U.S., for example, Isis — a joint venture between AT&T, T-Mobile and Verizon, made its nationwide rollout at the end of 2013, following a year-long trial in Salt Lake City and Austin. The Isis app will probably be pre-loaded on phones sold by the three carriers in the U.S. Similar MNO-led initiatives are expected to roll out in China, Germany, France and Japan for 2014, we are told.

Unsurprisingly, and as we've often reported on this blog, Google Wallet, which launched with Sprint in the U.S., has been resisted by the leading wireless carriers who have effectively blocked it from their networks, hugely limiting its possibilities. To address the problem, Google's latest Android OS is now supporting Host Card Emulation (HCE), which offers a way to unblock the wallet's access to users' handsets.

HCE has been available in Blackberry for several years, the researchers remind us, enabling storage of the users' payment credentials remotely, combined with NFC for the final communications to the merchant's point-of-sale (POS) terminal. Hybrid solutions like this one are simplifying the mobile payments ecosystem.

In recent years, we have seen progress in building the infrastructure required for NFC-based m-payments platforms, the authors tell us, with growing deployment of NFC-enabled POS terminals in various markets such as the U.K., Canada, Australia and Turkey.

Furthermore, the availability of NFC-enabled handsets, another major factor in NFC adoption, is also increasing. Yet, we are reminded, the NFC ecosystem remains complex and its implications on the business model are still unresolved. Hybrid models can help simplify it, the authors suggest. For example, a service provider can store the payment credentials in the cloud, bypassing the need for a Secure Element in either the SIM card or an embedded chip in the phone. Such an approach has obvious advantages for the likes of Google in their fight with the carriers.

However, there exist security concerns around a software-only m-payments solution, such as HCE. A possible workaround could be to couple HCE with a Trusted Execution Environment (TEE), which in effect provides a firewalled section of the mobile operating system for secure storage of, and controlled access to, data stored in that environment.

Bluetooth Low Energy (BLE) Beacons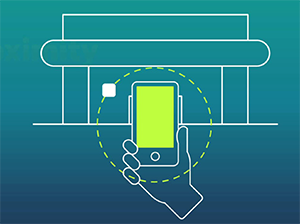 As already noted, both Apple and PayPal are supporting BLE, the technology behind their "beacon" payment products. Beacons are small, inexpensive devices that retailers can easily deploy into their stores to communicate wirelessly with their customers' mobile phones. Communication is facilitated through Bluetooth connections, which can be used to transmit messages about specific deals or product information, while at the same time tracking a customer's location within the store. Beacons are far more precise in pinpointing locations than WiFi geo-location services, we are told.

The BLE technology is currently being tested at Apple stores and at selected merchants. BLE may have significant potential, the researchers note, but it remains to be seen how it will be implemented by its promoters and accepted by its intended users.

Quick Response (QR) Codes

Quick response is a technology that has already met with huge success (at Starbucks) in linking consumers' smartphones with retailers' POS terminals to facilitate a payment. Starbucks has reported, the researchers remind us, that mobile and gift card payments now make up more than 30 percent of the coffee giant's total U.S. payments.

Other QR-based applications, such as LevelUp in the US and FlashIz in Europe, are implementing the technology in a multi-merchant environment. However, to be successful as an open payment system, the authors caution, they must solve the chicken and egg problem of simultaneously recruiting both enough consumers to use their apps and merchants to accept their payments.

Other Cloud-Based M-Payments Solutions

New applications are seamlessly integrating the mobile payment process into the "shopping" experience, we are told. Uber, in particular, is singled out as "one of the first to innovate in the taxi business", by making it easy to order a taxi while automatically incorporating the payment process on the back end.

Other applications are producing similar experiences in the restaurant and bar industry, enabling consumers to check in at arrival, then close their tabs and walk out without having to wait for their bill. Their purchases are then charged directly to the credit card or bank account provided when they registered for the service at issue.

Software vs. Hardware

Finally, the location of the user's payment credentials is critical to the question of which technology will prove to be most successful one. Achieving the balance between security and customer experience is dependent on the chosen technology.

The survey on whose results the report is based indicates that the best candidate for the secure element, by a substantial margin over prior years, is likely to be software-based (for example, cloud-based). A sizable share of the respondents still believe that SIM and embedded chips may be the best candidates, but there is nevertheless a big shift toward software solutions, as seen in the chart below.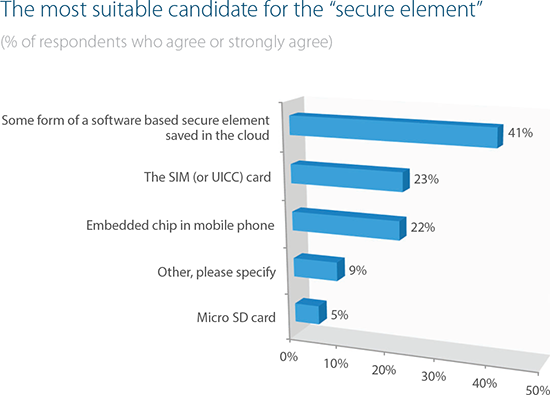 The Takeaway

As the researchers note, perhaps the right question is not which of the competing technologies will win, but how they will interact and co-exist with one another. After all, from a consumer's perspective, the type of technology is completely irrelevant, what matter are things like consumer experience and data security. At the end, the researchers suggest, the technology that offers the best balance between these two considerations will prevail. I agree.

Image credit: Paymentscardsandmobile.com.