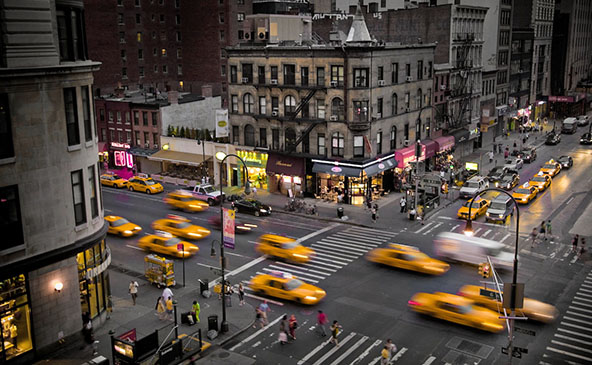 On the face of it, a start-up providing taxi-like services should not be of much interest to a credit card-focused blogger. In fact, one might say the same about the taxi industry as a whole. And yet, this blog has paid a fair amount of attention to cab drivers and the companies they work for, mostly due to their proverbial aversion to taking credit cards for payment and the lengths they are willing to go to in order to prevent customers from using plastic. So, naturally, when I read about a company, which not only has embraced credit cards, but has made them its exclusive payment method, I wanted to take a closer look.

The company in question is Uber, a San Francisco-based start-up, launched in 2009, which has since branched out into other major U.S. cities. Uber is in the news these days, because the New York Taxi and Limousine Commission (TLC) has forced it to discontinue its taxi-like service in the city until further notice. The reason? The TLC has exclusive payment arrangements with Creative Mobile Technologies and VeriFone. However, these contracts will expire in February, which "will open the market to app developers and other innovators", TLC's commissioner has promised. So we just may see Uber taxis in New York early next year. Let's see what makes them different.

What Is Uber?

Uber is an app that allows users to get a ride in a private car. The Economist's Babbage offers the best description of the start-up's service that I've come across:
The company, set up in 2009, contracts with limousine operators and drivers who own private cars and are licensed to ferry passengers. Rules vary from place to place and some taxi commissions have (predictably) raised objections, but [Uber CEO] Mr Kalanick maintains his operation is perfectly legal.


Drivers fire up an app whenever they are able to accept a fare. Like a taxi, but not a private-car service, the driver does not know the destination before arriving, and must accept a fare to anywhere in the covered area. Uber calculates the total fee on arrival, adds tax and a mandatory tip, and then charges the whole fee to a credit card registered with a user's account. No money or cards change hands. GPS tracking prevents driver padding, and passengers can file a complaint about a circuitous route or wrong turns.

…

To engage a ride a user simply launches a smartphone app, and either sends the phone's GPS location or sets a pick-up spot on a map. The app reveals cars in the area for which a driver has told Uber he is available. Tapping a pickup button sends a request to the nearest driver (or drivers). Uber requires drivers [to] respond quickly. It can take just a few seconds for a driver to accept the job, and a message to appear with the driver's name and photo along with an estimated time of arrival. Notification is sent when the driver pulls up, just in case.

It sounds simple, doesn't it?

Payment Acceptance

Now let's take a look at Uber's payment processing set-up. Here is how Babbage describes it:
Mr Kalanick says the firm pegs the rates it charges at 50% above a city's taxi fare schedule, although that is often substantially below typical private car-for-hire rates. In practice, the premium charged varies by region from 30% to 80%, based on what a given market will bear to get the right mix of supply (drivers) and demand (riders). A flat per-ride fee on top of mileage and wait times makes longer trips more cost effective than shorter ones. (Uber offers flat-rate airport trips in many cities, often costing the same as an equivalent taxi ride.) The firm does not disclose its cut, but Mr Kalanick says it is small and in line with similar fees charged in the industry.

What Uber also doesn't do is to itemize its charges. Instead, the start-up bundles the taxi fare together with the gratuity and its own service charge and the total is applied to the passenger's credit card on file with Uber. In order to comply with TLC's rules, Uber will have to offer a break-down of the total's individual components and to make tipping optional. And then there is the issue of TLC's exclusive credit card processing arrangement, which in effect cuts off all newcomers from the NYC market. As the TLC has stated:
Due to contractual obligations, payment apps cannot be used while the existing technology contracts are in place.

So what's an entrepreneur to do? Well, BetaBeat reports that Kalanick has ticked off several possibilities in an interview:
We can offer it for free. Or Uber can help you get the car, but then you'd have to pay normally inside the taxi… But still our attorneys tell us that we should be able to process credit cards, that we're not breaking anything regulatory or in contract.
The Takeaway

As you might suspect, I am in full agreement with Uber's attorneys. There is no plausible justification for giving one company the exclusive rights to process all taxi-related credit card payments in NYC or anywhere else. In fact, such monopolies are causing the cab drivers' aversion to credit cards in the first place. You may remember that earlier this year, cab drivers in San Francisco were protesting against a five-percent credit card acceptance fee charged by their companies. For perspective, Square, which recently ran a test-pilot with selected NYC cabbies, would charge the drivers 2.75 percent. And if you let the drivers to freely choose their payment processors, they will find even lower rates. So the TLC should do just that everyone will be better off.

Image credit: Unclutteredwhitespaces.com.