Americans continued making their credit card payments on time at a record-high rate in September, keeping the aggregate delinquency rate unchanged from the previous month and at the lowest level in more than four years, according to data from Moody's, a credit ratings agency. The default rate fell by three-quarters of one percent from its August level and is now more than 3.5 percent lower than at the same time last year.

Among the six-biggest U.S. card issuers, however, the picture was more mixed. With the exception of Citi, whose September's delinquency rate was reported marginally lower than August's, each one of the other six largest U.S. issuers stated higher levels of late payments in their latest regulatory filings. All six, however, reported lower rates of defaults for the month.

Credit Card Charge-offs Down 0.75%

The most impressive piece of data out of Moody's monthly report is the steep fall in the default rate. The aggregate amount of outstanding credit card balances charged off by U.S. issuers fell by 0.75 percent in September from the previous month, to 5.27 percent, according to the report. Charge-offs (also called defaults) are delinquent credit card balances that issuers no longer expect to be repaid and write off (charge off) of their accounting books as losses, typically 180 days after collecting the latest payment on the account.

The September charge-off rate, Moody's tells us, is 3.63 percent lower than the level of 8.90 percent measured a year ago. That must have set some kind of a record for a steep decline.

Credit Card Delinquencies Flat at 3.04 Percent

Following 22 consecutive monthly declines, Moody's average credit card delinquency rate for September remained unchanged from its August level of 3.04 percent. That is still a 35 percent drop from the 4.65 percent level reported a year ago.

The ratio of credit card payments late by 60 days or more — the late-stage delinquency rate — rose by 0.02 percent to 0.65 percent. The early-stage delinquency rate — payments late by 30 – 59 days — also rose marginally in September, by 0.01 percent to 0.87 percent.

Top Issuers Report Lower Charge-offs, Higher Delinquencies

Five of the six biggest U.S. credit card issuers reported higher delinquency rates in September, but all of them reported lower default rates:
JPMorgan Chase's delinquency rate fell to 2.53 percent in September from 2.48 percent in August, after falling for 20 straight months. The bank's charge-off rate fell for a fourth consecutive month, to 4.13 percent for the period from 4.67 percent. Chase's current charge-off rate is at its lowest point since well before the financial crisis began and is 62 percent lower than the peak of 10.91 percent reached in January of 2010.
Bank of America reported a delinquency rate of 3.99 percent in September, up slightly from 3.96 percent in August. This uptick follows 11 consecutive monthly declines, which brought and BofA's delinquency rate to its lowest level in more than five years. The Charlotte, N.C.-based bank's charge-off rate dropped by 0.80 percent to 5.99 percent, following another substantial decrease — by 0.64 percent — the previous month. While BofA's default rate is still the highest in the industry, it is now 59 percent below the peak of 14.53 percent, registered in August 2009.
Citibank was the sole big issuer whose delinquency rate fell in September — to 3.30 percent from 3.35 percent in August, the lowest level in more than four years. Citi reported a much more impressive drop in its charge-off rate, which fell to 5.87 percent from 6.92 percent in August. Citi still has the second-highest charge-off ratio among the top U.S. issuers, however it is now 51 percent below the peak of 12.14 percent, recorded in August 2009.
Capital One's delinquency rate rose 0.22 percent to 3.65 percent in September. It was the fourth consecutive monthly increase, following the record-low of 3.32 percent reached in May. The rate is still 2.15 percent below the January 2010 peak of 5.80 percent. The bank's charge-off rate declined by 0.20 percent to 3.9 percent for the month. Although it is still higher than the four-year low of 3.77 percent measured in July, Capital One's default rate is now 64 percent lower than the 10.87 percent peak reported in April of 2010.
Discover reported a delinquency rate of 2.50 percent, up marginally from 2.49 percent in August, which marked the lowest level in more than five years. The September delinquency level is 56 percent below the October 2009 peak of 5.72 percent. The bank's charge-off rate for September was 3.17 percent, down from 3.60 percent in the previous month, which marked the first time defaults dropped below 4 percent since October 2007. Discover's current charge-off rate is 65 percent below the peak of 9.11 percent measured in February 2010.
American Express continued to lead its peers in both the charge-off and delinquency categories. The New York-based bank reported a delinquency rate of 1.50 percent in September, up from 1.40 percent in August, but still 72 percent lower than the record-high of 5.30 percent reported in February 2009. American Express's charge-off rate fell 0.4 percent to 2.3 percent, which is 78 percent lower than the peak of 10.4 percent recorded in April 2009.
The Takeaway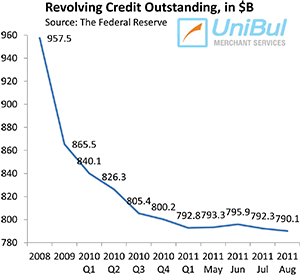 The fall in delinquencies must eventually come to an end. It is unclear whether that end has come in September, but if not we are certainly very close to reaching it. Charge-offs will continue to fall for several months after the delinquencies flatten out and Moody's expects the average to drop below 4 percent by the end of 2012.

Credit standards have eased somewhat in recent months, Moody's tells us, and other reports have shown that both the number and quality of credit card offers are rising rapidly. Yet, Americans are not increasing their borrowing.

Federal Reserve data shows that outstanding revolving credit, comprised mostly of credit card balances, is at a record low. Moreover, whatever they do borrow, Americans are eager to quickly pay back. The current monthly payment rate (MPR), measuring the proportion of outstanding balances cardholders are repaying at the end of each monthly cycle, is 21.29 percent, compared to a historical average in the mid-teens.

There is every reason to expect that this trend of cautious consumer borrowing will continue for as long as the economy remains depressed and unemployment sky-high.