After reaching its lowest level in two years in February, U.S. consumer credit card debt rose slightly in March, in what may be a reversal of a long trend that began in the wake of the Lehman Brothers collapse of September 2008, according to the latest report released by the Federal Reserve on Friday. Non-revolving consumer debt also rose in March, for an eight consecutive month, the report showed.

Credit Card Debt Up 2.9% in March

The total outstanding amount of revolving credit, a category made up almost exclusively of credit card balances, rose in March by 2.9 percent, or $1.9 billion, lifting the total up to $796.1 billion, after posting in February a record for the lowest level since September 2004. Prior to March, revolving credit had risen only once since the Great Recession began, in December of last year.

Overall, however, since August 2008, the month before the financial meltdown began, the total amount of outstanding credit card balances in the U.S. has fallen by $177.5 billion, from $973.6 billion to $ 796.1 billion, a drop of 18.2 percent. On average, each U.S. family with outstanding credit card debt — 54 million by the Fed's count — has reduced its burden by $3,287 for the period.

Overall Consumer Credit Up 3%

The non-revolving portion of the U.S. consumer debt, comprised of auto loans, student loans and loans for mobile homes, boats and trailers, but not including loans for home mortgages and other real estate-secured assets, rose for an eight consecutive month. The Federal Reserve reported a 3 percent increase, bringing the total up to $1,629.4 billion, up $4.1 billion from February.

On the whole, the total of revolving and non-revolving U.S. consumer credit rose by $6 billion, or 3 percent, to $2,425.5 billion in March, after increasing by a revised $7.6 billion in February. It was its sixth consecutive month of increase.

Consumer Credit Card Delinquencies Continue to Fall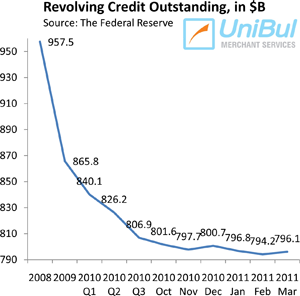 While the overall volume of outstanding credit card balances may be on the rise again, other data clearly indicate that Americans are much more careful with their use of plastic. Both credit card delinquencies and defaults are at record-lows and continue to fall.

The charge-off rate on credit cards issued by U.S. banks fell by 0.21 percent in March on a month-to-month basis, to 7.35 percent, according to Moody's Credit Card Index. Charge-offs (or defaults) are delinquent credit card balances that issuers no longer expect to be repaid and write off their books as losses, typically 180 days after the latest payment on the account. The charge-off rate reached its highest level of 11.5 percent in August 2009.

Credit card delinquencies keep falling as well, indicating that the charge-off rate has not yet reached its bottom. According to Moody's, the rate of credit card payments late by 30 days or more decreased for the 17th month in a row in March, to 3.79 percent.

Credit Card Takeaway

The decrease in credit card debt in the wake of the Lehman collapse was the result of consumer unwillingness to use plastic in the face of uncertainty, coupled with the issuers' reluctance to lend. Both of these trends are reversing themselves, as the economy is picking up and consumer confidence is on the rise once again. Although still very high by historical standards, the U.S. unemployment rate has now fallen by 0.8 percent since November of 2010, according to the Bureau of Labor Statistics, and consumers are clearly feeling more optimistic about their prospects.

The most optimistic piece of data, however, as far as credit cards are concerned, is perhaps the one showing that Americans were repaying the principal amount of their credit card debt at a rate of 21.77 percent in March, an all-time high, according to Moody's. Let's hope we can keep it up.