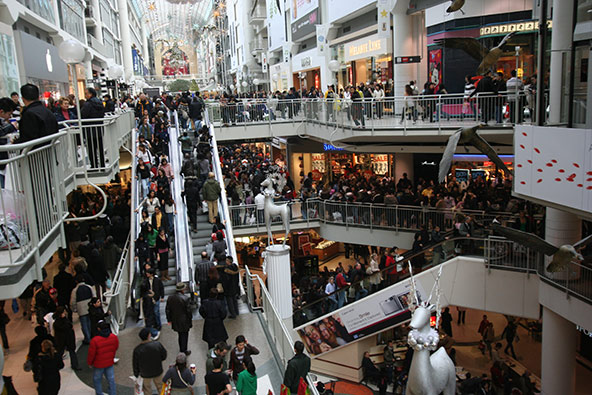 Given the improving economy, falling unemployment and rising consumer confidence, the 2013 holiday shopping season was widely expected to break all kinds of spending records. Yet, the data, which keep coming in, paint a picture of a yuletide buying spree on a truly epic scale. It is difficult to find a metric on which this year's shopping extravaganza did worse than any preceding period. Quite the contrary, by most statistical measures, this year just shattered all previous records.

So today I'd like to share with you a couple of infographics, which nicely illustrate the scale of what just went on. The first one, from payment processing giant First Data, gives us some top-line numbers on the Thanksgiving shopping weekend. The other, from Wpromote — an online marketing outfit — takes a broader view, which includes the run-up to Christmas. Let's take a look at what they have to show us.

A Plump Thanksgiving

First Data declares that the "Thanksgiving weekend shopping extravaganza continued to become a cultural institution as U.S. shoppers bargain-hunted and took advantage of earlier store openings." Much as I dislike the idea of a shopping spree becoming a "cultural institution", I'm afraid that First Data might be right. After all, the numbers speak for themselves:
Consumer spending this Thanksgiving grew by 11.8 percent from the 2012 level.
Retail spending grew by 8.3 percent from 2012.
Children's and infant clothing stores were the top performing retail category with spending growing by 16.4 percent from 2012.
Every U.S. state registered a strong year-over-year growth.
Credit card spending's share of all card spending (i.e., including debit and prepaid), rose to 45 percent from 40 percent in 2012, meaning people were less concerned with taking on more debt.

Here is the graph:

The Yuletide Shopping Surge

"Christmas is a race to see which gives out first — your money or your feet", goes the adage with which Wpromote opens its infographic, noting that, for this holiday season's shoppers, "Black Friday alone is liable to put a strain on both". And they do have a point: this year's Black Friday has generated $1.2 billion-worth of online sales alone — up by 15.4 percent from 2012's level of $1.04 billion. But even more impressive on that measure is Thanksgiving's performance: this year's online sales were $1.01 billion — up by 59.6 percent from the previous year's total of $633 million.

And here is an interesting factoid for you. It turns out that the top holiday gift for 2013 were Ugg products, beating out the likes of PlayStation 4, Xbox One, iPhone 5S and 5C, iPad Air and Kindle Fire HD, among others.

Well, to this blogger at least, Ugg's dominance comes as no surprise, as our blog has for months been the target of a huge, unremitting and intensifying attack from spammers using hundreds of thousands, possibly millions, (I am being literal) of servers located all over the world — the U.S., Canada, Sweden, France, Ukraine, China, Venezuela, etc. Their objective is to post spam comments on our blog, with links pointing back to their sites. What does this have to do with Ugg? Well, the vast majority of these spam comments are about Ugg boots.

And yes, we have been working hard on identifying and blocking the spammers and very soon the issue will be fully resolved (perhaps by the time you'll read this, we'll have put it all behind us). In fact, I've personally learned a great deal about fending off a sustained spam attack and, time permitting, I might share my findings in a future post. It has been a fascinating experience.

Now here is the Wpromote infographic:


Image credit: Wikimedia Commons.