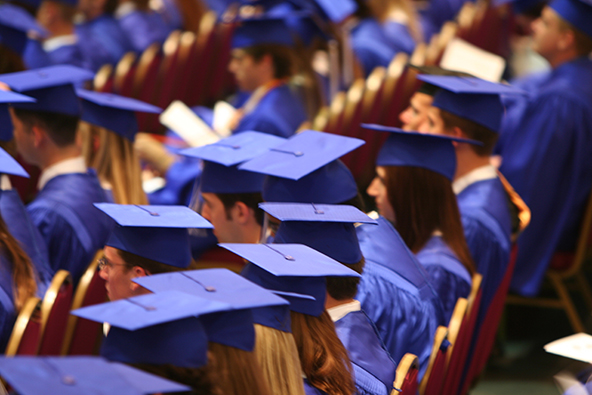 A strong correlation between having a bank account and incurring debt early in college is one of the main findings of a large new survey of 40,000 first-year college students from across the U.S., conducted by EverFi — an education technology company — and sponsored by Higher One — banking services provider for the higher education industry. Perhaps unsurprisingly, the researchers also report that current risky financial attitudes and behaviors strongly correlate with an increased risk of negative financial outcomes, both as students and later in life.

EverFi's is just the latest of a string of recent reports focused on the state of American college students' finances. The researchers' objective is to identify college kids' existing attitudes and behaviors and develop a proactive approach to financial literacy education based on these findings. It's an ambitious goal and one worth pursuing, especially considering how quickly the U.S. student debt problem is deteriorating. Whereas the rising cost of college education is beyond the students' control, teaching young Americans how to manage credit cards and control spending will certainly help their cause. Let's take a look at EverFi's findings.

Having a Bank Account Reduces the Risk of Debt

Here is the gist of the report's findings:
The current investigation revealed a strong correlation between incurring early debt and not being affiliated with a banking institution and an increased risk of negative financially-related outcomes and risky attitudes/behaviors—both concurrently and later on in life. These at-risk students are significantly less likely to be affiliated with a bank, more likely to demonstrate extremely risky attitudes and behaviors towards spending, saving, and debt (e.g. more likely to have problems with their students loans later on in their collegiate career).
23.7% of First-Year Students with a Credit Card Have More than $1,000 in Debt

Considering that the average age of the survey's respondent is 18.2 years, this must be one of the most disturbing results and the researchers are right to be concerned about "the potential for significant negative outcomes". Moreover, 5.3 percent of students who had a credit card owed more than $5,000 in credit card debt, 35 percent said they typically only make the minimum payment, and 7.5 percent have been late on their credit card payment at least once in the past year. These are not good statistics, to say the least.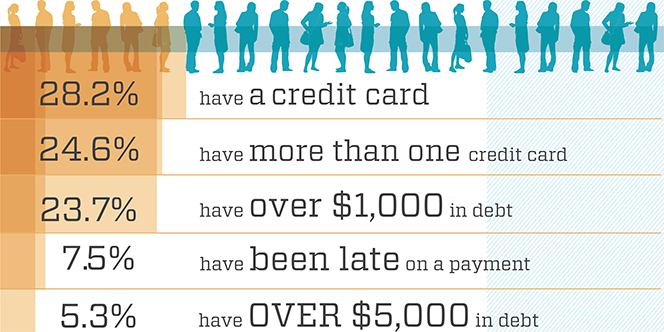 The researchers have also found that, as students' credit card debt increases, so does the risk for a range of negative outcomes and behaviors. The higher the debt total, we learn, the lower the probability that students would be affiliated with a bank or have a job and the higher the likelihood that they would have problems with spending and student loans.

86% of Students Have a Bank Account

This is an encouraging result, the researchers remind us, because students with a checking account are significantly more likely to manage their finances and spending habits in a more responsible way (i.e. buy only the things they need, follow a budget, pay their entire credit card bill each month, and pay their student loans on time and in full).
On Debt and Owning Things that Impress People

When the researchers looked into students' attitudes toward debt, they made findings which, though worrying, I suspect would come as no surprise to many of you. Here is a sample of finance-related statements and the level of student agreement:
"Students have to go into debt" — 40.5 percent at least moderately agree.
"It's okay to have an overdraft fee if you know you can pay it off" — 60.1 percent at least moderately agree.
"I like to own things that impress people" — 60.2 percent at least moderately agree.
"It's better to have something now and pay for it later" — 30.7 percent at least moderately agree.

Yet, even though these results seem to indicate that students are alarmingly insouciant about debt, 79.2 percent of the respondents nevertheless are "frequently" worried about debt.

The Cure: Financial Literacy Education

The researchers have "empirically derived" seven factors of financial attitudes and behaviors that help identify, categorize and assist students at risk. Three of these factors in particular — cautious financial attitudes, debt as necessity and spending compulsion — have been found to play a more consistent and stronger role than others. Based on that analysis, the authors conclude that "equipping young people with the necessary tools to make good financial decisions must come through financial literacy education". Again, I expect few to be surprised with this recommendation. But the researchers offer more specifics:
[I]t cannot be assumed that implementing education at one point in time in an individual's life will have a life-changing effect. instead, it's suggested that educators and policymakers take a developmental perspective on financial literacy education, where curriculum is implemented at multiple times throughout an individual's childhood and adulthood. This approach fosters the need to provide frequent and relevant information during the correct developmental periods in an individual's life.


For example, a freshman in college may benefit most from education around school loans, budgeting while in school, and credit card behavior, whereas seniors in college may benefit more from education around budgeting for life on their own, retirement planning, and mortgages.

Furthermore, the authors recommend that financial literacy education be made compulsory for the nation's youth. I agree.

Finally, here is the excellent infographic the report's authors produced to help illustrate their findings:


Image credit: Babble.com.