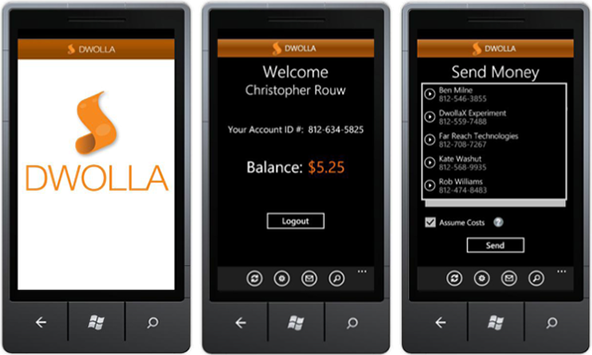 Another mobile payment start-up launches a new game-changing service, we learn from a press release. This time the name is Dwolla (why do m-payment start-ups always have such exotic-sounding names [think about Boku, Zong, etc.]?), based out of Des Moines, IA.

Besides the name, Dwolla has something else in common with the majority of its rivals: it facilitates creditless bank-to-bank payments, in essence electronic cash. The start-up has just secured $1 million in venture capital money to help establish itself.

Dwolla offers e-commerce and person-to-person (P2P) payment services. On participating e-commerce websites, consumers will see a "Dwolla" payment option next to the one for credit cards, which you can select even if you don't have a Dwolla account. Similarly, recipients of Dwolla P2P payments don't need to have an account with the start-up. They get a text message or a DM containing a link with the Dwolla payment amount inside it. To actually get the money, however, the recipient does have to sign up for the service. In the meantime, the amount is held in an FDIC-insured account.

The big news is that Dwolla will be enabled on Facebook and Twitter, according to CEO Ben Milne, giving the start-up access to many tens of millions of potential users. At present, Dwolla is available as a web app and as three different mobile apps (for the iPhone, iPad, iPod Touch and Android).

Dwolla's biggest selling point is its low cost. The start-up charges a flat fee of $0.25 per transaction, paid by the recipient, provided he or she has an account with the service. Otherwise, the sender's account is charged. Compare that to the two percent or more, charged by banks for credit card transactions, and you have a clear winner. Says Milne:
[A]s e-Commerce evolved we were forced to adopt debt-inducing credit cards and other virtual platforms as our only payment options, which – until Dwolla's electronic cash option arrived – created a very heavy financial burden on our economy.

…

Dwolla is the first cash platform – since the dollar bill – that will allow consumers as well as organizations to significantly reduce the amount of fees they're incurring for sending money electronically.

Milne's reasoning is one that is fairly common nowadays. It assumes that, because credit-based payment options are expensive, consumers will flock to cash-based alternatives, once they are available.

However prevalent, the notion that cash will eventually triumph over credit cards, is simply wrong. There is a reason why credit cards exist: they provide consumers with a convenient payment method that is accepted virtually everywhere, while eliminating the need to carry cash.

If used prudently, credit cards can actually make you money. My Chase Rewards card, for example, paid me $600 last year. Yes, I do pay off the balance in full each month, so that I avoid paying interest, but I have a full month after the transaction date to make the payment. With cash, or Dwolla for that matter, you would have to make the payment before you get the product you purchased. So I am sticking with my credit card for now. How about you?

Image credit: Dwolla.