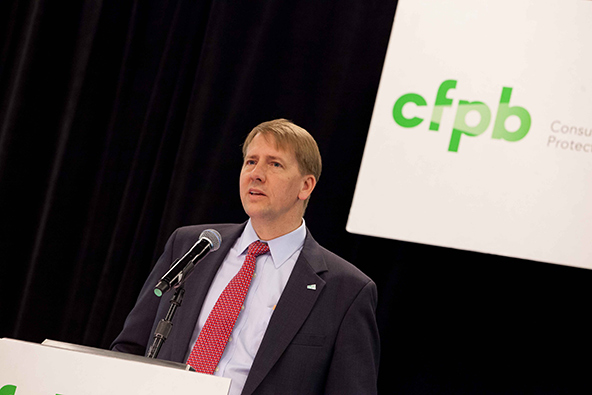 It's been five months since we last looked at the Consumer Financial Protection Bureau (CFPB)'s debt collection complaint database and I thought it was about time to revisit the subject. Back then (in mid-November, 2013, to be exact), the consumer watchdog had just released its first batch of debt collection complaints and had proudly declared that, quickly after it started accepting them, this had become one of the top categories of consumer grievances. However, at 5,625, the number of complaints received during the first four months was tiny, especially when compared to the 200,000 complaints that another governmental agency — the FTC — had received in 2012.

Fast forward to today and the Public Interest Research Group (PIRG) Education Fund is telling us that, between July 2013 — when the CFPB began collecting debt collection complaints — and January 16, 2014, the watchdog had recorded "more than 11,000" such complaints — the second-highest number of consumer complaints, behind mortgage-related ones. The first thing that we notice is that this is still an incredibly tiny number and it doesn't seem as though the rate of newly-filed complaints is accelerating, quite the contrary. Yes, the data reveal some interesting facts, but the main takeaway is that the CFPB is wasting government money and resources dealing with an issue that has already been properly dealt with. Still, let's take a look.

The Debt Is not Mine

A quarter of all consumers (2,700) who complained about a debt-collection-related issue claimed that debt collectors had asked them to pay debt that wasn't theirs. Other major causes of complaint included frequent or repeated calls (13 percent), not being given enough information to verify the debts owed (13 percent) and attempted collection of debts that had already been paid (11 percent). Here is the full breakdown.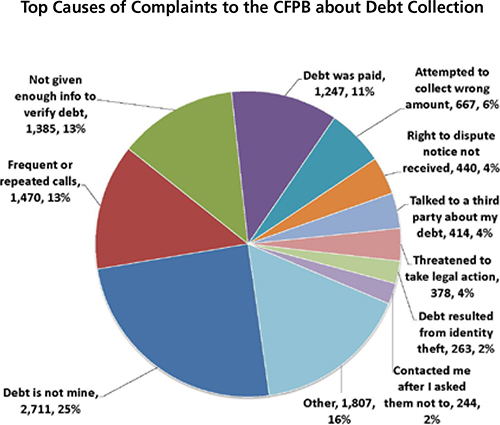 And here is the CFPB's full database of debt collection complaints:
Encore Capital Is the Most Complained-About Company

Encore Capital Group — a third-party buyer and collector of consumer debt — was the most complained-about company in the CFPB's database. Rounding up the top five were Expert Global Solutions, Portfolio Recovery Associates, Citibank and Allied Interstate. Here is the top-ten list, complete with the number of complaints filed against each company: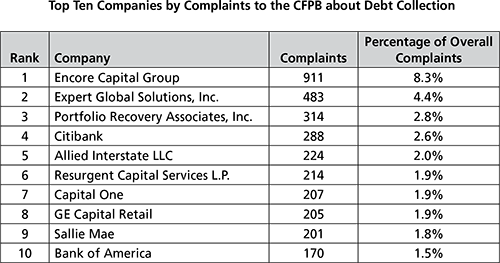 Furthermore, Encore Capital led in 31 states: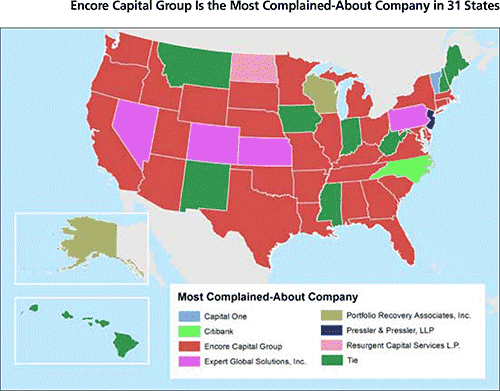 On a per-capita basis, the District of Columbia had the most complaints, followed by Nevada, Florida, Delaware, Maryland, Georgia, Virginia, New Jersey, Arizona and Texas.
92% of the CFPB Complaints Are Resolved

About 7,700 consumers who filed a complaint (70 percent of the total) received an explanation from their debt collection agency through the CFPB complaints process, we learn. An additional 19 percent of all complaints were closed with non-monetary relief — such as modifying collection proceedings or halting unwanted calls. Since July 2013, when the CFPB started receiving complaints about debt-collection-related issues, about 2,100 consumers have had their complaints resolved with some form of non-monetary relief, we are told.

Another 276 consumers (3 percent of the total) have received monetary compensation from a debt collector, while 8 percent of all complaints are either in progress, were not responded to in a timely fashion or were closed without relief or explanation to the consumer. In total, more than 2,300 consumers have received relief, either monetary or non-monetary, as a result of a complaint to the CFPB.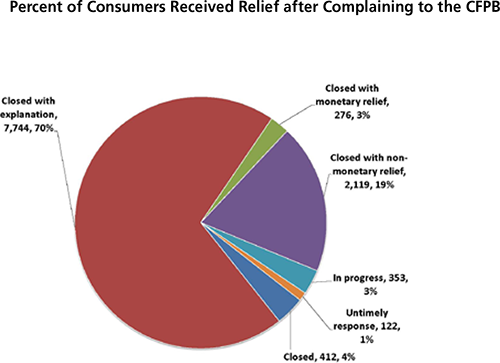 Some Debt Collectors Are More Soft-Hearted than Others

Some debt collectors are more likely to extend relief, either monetary or non-monetary, than others. Of the 20 companies with the most complaints, Allied Interstate and Portfolio Recovery Associates were the most likely to do so, providing relief for 98 percent and 79 percent of complaints, respectively. At the other end of the spectrum, four of the 20 most complained-about companies — Convergent Outsourcing, Dynamic Recovery Solutions, Diversified Consultants and I.C. System — reported providing no relief, either monetary or non-monetary.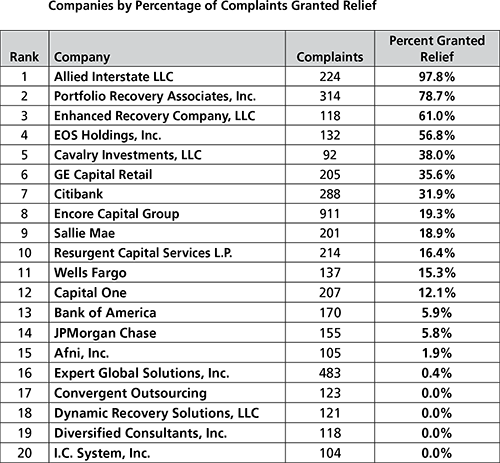 There are significant differences in the ways companies respond to consumer complaints about different debt collection issues. Complaints about frequent or repeated calls, for example, resulted in non-monetary relief to the complainant in 28 percent of the cases, while the same relief was afforded in only 16 percent of complaints about attempting to collect the wrong amount.

Disputing the Response

In about 16 percent of the cases, consumers dispute the debt collector's response to their initial complaint. Once again, Encore Capital Group was the company with the most consumer-disputed responses (195), followed by Citibank (56) and Sallie Mae and Portfolio Recovery Associates (42 each).

In relative terms, Encore Capital was also the leader in this category, with 21.4 percent of the company's responses to consumer complaints ending up being disputed. Expert Global Solutions had the lowest ratio of disputed responses among the 20 most complained-about firms — 5.2 percent.

Consumers have disputed fewer responses involving non-monetary relief than they did other responses. About 9 percent of the complainants who were offered non-monetary relief disputed the company's response, compared with 11 percent of those who were offered monetary relief and 19 percent of consumers who received an explanation from the company.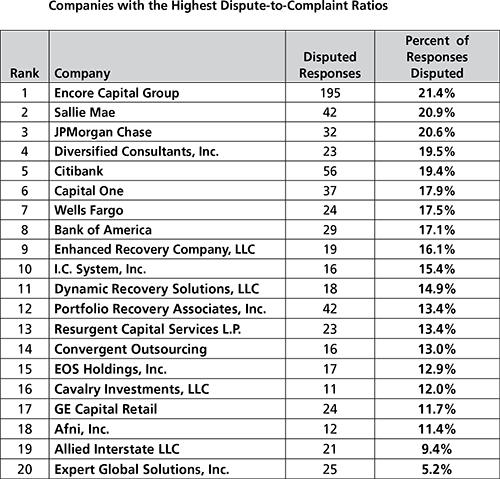 The Takeaway

The report ends with a lengthy list of recommendations, including things like adding "more detailed information to the database, such as actual complaint narratives", adding "a field listing company subsidiaries", publicizing "information about the CFPB complaints process in forums", etc.

Yet, the biggest thing that sticks out to me was the very low number of complaints recorded into the CFPB's database. And, by the way, adding more fields, asking for more information, etc. would almost certainly reduce that already low number even further. But beyond that, the low numbers of CFPB complaints confirm my belief that this ground is already very well covered. As I've said before, debt collection is a perfectly well regulated and monitored area as it is and the CFPB is wasting governmental resources and money here.

Image credit: CFPB.