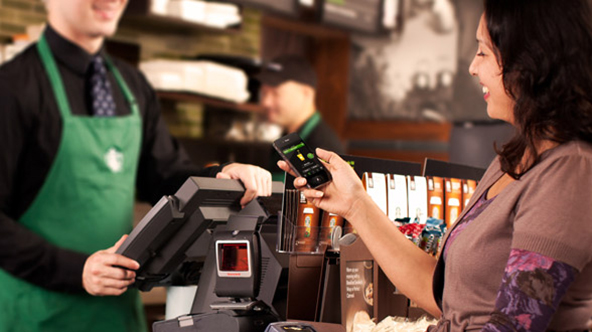 As many of you will remember, back in August Starbucks and Square announced, to much fanfare, a "groundbreaking partnership to stimulate small business growth and enhance payment experience for millions of customers". I can never get over this PR stuff. Who speaks like that!? Anyway, this morning we learn that the first leg of this stimulating process has now taken place. Square users can now pay for their lattes through Square Wallet, the app that was previously known as "Pay with Square".

But the funny thing is that Square Wallet has been customized to Starbucks' specification. Rather than facilitating a "hands-free checkout", as advertised on Square's website, the Starbucks version works by generating a QR code, which is displayed on the user's phone and is then scanned by the barista to complete the transaction. That is precisely how Starbucks' own mobile payments app works. Now, the Square app does come with a small business discovery feature, which is unavailable at its Starbucks counterpart, but I'm not sure how much of a difference that would make for the end user. More importantly, there is no word on the expected transition to Square's payment processing system.

Square Goes to Starbucks

So Square Wallet is now available in all 7,000 or so Starbucks store in the U.S. Here is a video showing how the payment process works:

As you see, the Square Wallet payment process is quite straightforward and identical to the way Starbucks' own mobile payments app works. By the way, I should remind you that Starbucks has been the somewhat unlikely U.S. mobile payments leader ever since it launched its app, which, according to the current announcement, is "used by Starbucks customers more than 2 million times each week".

The two apps differ in the way users fund their accounts. Starbucks, on the one hand, links its app to a Starbucks prepaid card, which is the only available payment source. This is not the most customer-friendly way to do it, as you constantly have to keep tab on the available balance on your prepaid card and add funds to it using a credit or debit card when needed. In contrast, Square allows users to link a payment card of their choice to the wallet and if it is a credit or debit card, reloading is never needed. That's the way it should be done.

Square Directory

The biggest difference between the two apps, the funding sources issue notwithstanding, is Square's Directory feature, which is "the first web-based search engine that enables buyers to discover new places to shop, search menus by item, and find nearby loyalty deals and specials", as the processor describes it. It is a database that featured 200,000 listings at launch, according to the company. Businesses don't need to be using Register — Square's payment processing system — to get listed, although the processor surely hopes that the directory will prove an effective marketing tool for attracting new business converts.

You can access Square Directory by directly launching it from the app, but it also opens up after you make a purchase through Square Wallet. But perhaps the Directory's main attraction is the ability it gives businesses to list their current specials and attract deal hunters. After all, the idea is that, even if you do know where all of your favorite shops are located, you are unlikely to be able to constantly keep track of their specials. So, ideally, the Square Directory offers new opportunities to businesses and convenience to consumers. The two companies tell us that they have made the Square directory available "so customers can discover neighborhood businesses near their favorite Starbucks store". And yet, I just don't see how the directory will make much of an impact. Let's suppose that, once you have paid for your Starbucks latte, the app shows you a nearby pizza place, a candle shop or a public library (I'm actually looking at Directory listings around my location). How many users would actually start following Square's suggestions, running from one place to the next on the list?

The Takeaway

What Starbucks and Square didn't tell us today was when the coffee chain would begin using Square's payment processing system. Starbucks' agreement to do so was the centerpiece of the deal the two companies struck in August and was also a huge coup for Square, roughly doubling the start-up's already sizable annual processing volume and further increasing its lead over the legions of Square killers that keep popping up all around us. Yet, the transition will probably take place sometime soon and it is very likely that Square will then find it much easier to sign up other big-name merchants.

Image credit: Starbucks.