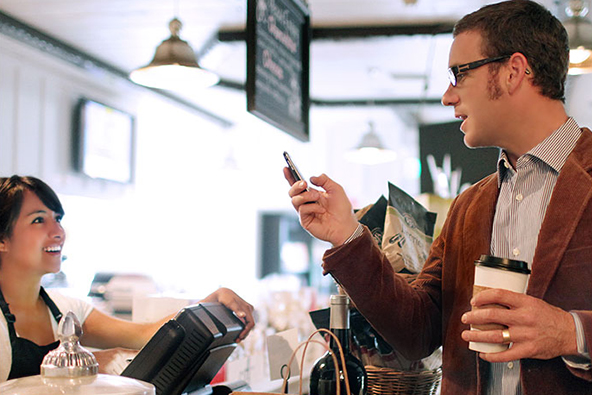 Another start-up has developed a service to enable consumers to use their smart phones as credit cards. Its name is MobilePay and it has won an award at the TechCrunch Disrupt show. MobilePay has not yet launched its service, but it expects to do so in November, according to President Kyle Circle.

So what makes MobilePay stand out from the thick crowd of start-ups promising to relegate credit cards and wallets to the annals of the history? Is it really any better than Square, mophie, FaceCash, Bling, Swipe It or Boku, to name just a few of its competitors?

Well, it is a bit too early to answer this question, considering that MobilePay is not even freely available yet, but its concept is promising. It doesn't require any new equipment to be attached to the user's phone (as Square does), nor does it need near field communication (NFC) technology to transmit information between the user and the merchant (as Visa PayPass does).

Here is how it works.

First, the user needs to set up an account with MobilePay and to provide his or her credit or debit card information. The account data are stored on MobilePay's processing bank's server, not on the phone. If the phone is lost or stolen, the user can log into his or her account on MobilePay's website and turn the app off. In the mean time, a thief can only access the account information from the phone, if he or she knows the account's PIN.

When the user wants to make a MobilePay payment at a participating merchant, he logs into his account from his phone. The app uses the phone's GPS to locate the merchant and directs the payment processor to send the encrypted card information to the merchant. The transaction information is then sent simultaneously to the merchant's point-of-sale (POS) terminal and to the user's phone. The terminal then prints out a paper sales receipt for the customer to sign and complete the transaction.

So far, MobilePay's app is available for download to iPhones only, but the company promises to expand it to include other phone platforms.

Provided it works as advertised, the app promises to simplify the checkout process somewhat, but there is a big hurdle that MobilePay will first need to overcome. It will have to convince merchants to sign up. And there is a big obstacle on the road to achieving this goal – pricing.

MobilePay's website states that the pricing will be "Credit or Debit Processing Fees + 1% + 25 cents." What this means is that, in a card-present setting, a consumer Visa credit card transaction will be processed at a rate of 2.54% + $0.35. By comparison, a typical card-present rate for such a transaction would be 1.65% + $0.20.

It is unlikely that a meaningful number of merchants will agree to pay such a high fee for the service, especially in the current economic and regulatory environment. Just a couple of months ago retailers won a huge battle against the payment card industry. They managed to convince Congress to include a clause in the financial overhaul legislation, charging the Federal Reserve with ensuring that debit card fees are "reasonable and proportional" (read lower). It is hard to believe that they will make an exception for a cool start-up.

Image credit: MobilePayUSA.