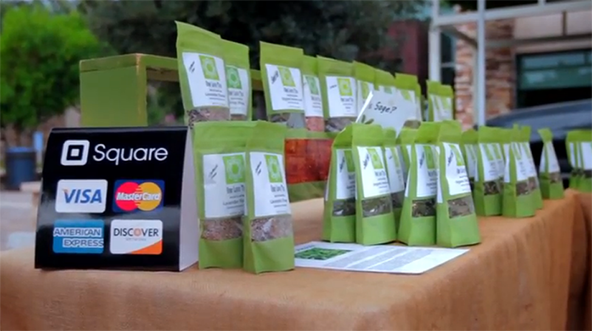 PayPal is moving into the checkouts of 15 more brick-and-mortar retailers, including Toys R Us, J C Penney and Barnes & Noble, following its entry into Home Depot earlier this year, we learn from Reuters. That brings the payment processor very close to achieving the goal of signing up 20 major retailers before the year's end that was set for it by eBay, PayPal's parent company.

PayPal's move into physical checkout territory is fascinating on at least two levels. Firstly, there is the incredibly interesting story about the payment processor's willingness to offer physical retailers below-cost credit and debit card processing to ensure that its overtures are not rejected. Unsurprisingly, this approach is proving quite successful. Secondly, while reading Reuters' account of the latest on PayPal's brick-and-mortar offensive, I found myself contrasting its strategy to the one employed by another very successful new entrant into the physical checkout space – Square.

While PayPal is focusing on the very top end of the physical merchant scale, Jack Dorsey's company is going after its lowest end which, until Square went live in October 2010, was completely unserved. If you think about it, Square is doing for credit card acceptance precisely what PayPal did for online payments when it opened for business more than a decade ago: make the service available to everyone. Of course PayPal recently launched a worthy Square competitor, but that was a defensive move more than anything else, which by the way hasn't done anything to slow down Square's growth. But is either of the two opposing ends of the merchant scale more worth wooing than the other? Let's see if we can answer this question.

Square Is the New PayPal

Since its very beginning, I've seen Square as the new PayPal. Just as PayPal's founders did back when they got started, Jack Dorsey created a whole new subset of the payment industry that catered to the needs of individual consumers, rather than businesses. A mere 14 years after its inception, PayPal has become arguably the biggest bank in the world, serving more than 100 million customers globally. For its part, a year-and-a-half after it went live, Square already boasts more than a million U.S. customers and it's going stronger than ever, increasing its processing volume by a quarter in the month following the launch of PayPal Here, a very strong competitor.

So I still fully expect that Square will end up becoming the PayPal of direct consumer credit card acceptance and it will also win a fair number of very small retailers, of the type of the cupcake store we wrote about a year ago. These are small-volume, high-margin customers, so you need to sign up just as many of them as you can get, and then some. And Square has been doing that quite successfully.

PayPal Moves Up

PayPal, for its part, no longer seems as interested in exploring opportunities at the low end of the market as it once was. These days the processor is going after the big-box, high-volume retailers, whose payments are processed at a fraction of the cost paid by the Square customers. In fact, PayPal has upped the ante by offering below-cost card processing. What does that mean?

Well, just over half of PayPal's transactions are funded by credit and debit cards and for each one of them PayPal needs to pay a fee to the card issuer (that is the so called "interchange fee"). But PayPal is offering retailers to charge them per-transaction fees that are slightly lower than the interchange. The processor can afford to do that, because the other half of its transactions are funded from its customers' bank accounts or existing balances in their PayPal accounts where the company's profit margin is close to 100 percent – more than enough to cover the losses from the card-funded transactions. That is PayPal's unique advantage over the traditional processors and it's a huge one. So I have no doubt that PayPal will manage to find its way into most, if not all, of the 100 biggest retailers, as its VP / GM of Retail and Prepaid wants to do.

The Takeaway

The Square story is one of applying brute force with the sole objective of gaining a chokehold over a brand new industry that the company has created by itself. Fully aware that the competition is getting stronger by the day, Jack Dorsey has been spending enormous amounts of money on marketing, trying to sign up as many customers as he can, before the Intuits and PayPals of the world manage to get to them. And it has worked spectacularly well.

PayPal's strategy for gaining a share of the high-end physical point-of-sale (POS) market has been quite different. Brute force could not have worked here, so the processor has become creative, fully utilizing its competitive advantages. That approach seems to be working just as well, but there is a big question that remains to be answered. Once PayPal gets into the POS terminals, will customers actually be using this option to check themselves out? We shall see.

Image credit: YouTube / Square.