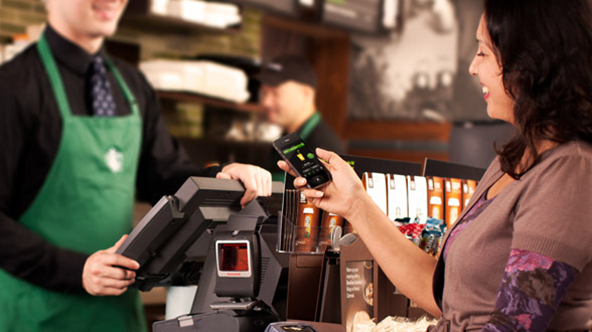 A researcher once skeptical about the prospects of mobile payments in the U.S. is now predicting that their volume will balloon to reach $214 billion in 2015, up from just $16 billion this year.

Boston-based Aite Group LLC, a research and advisory firm focused on the financial services industry, has released a report forecasting that the volume of mobile payments in the U.S. will be growing at a compound annual growth rate of 68 percent between 2010 and 2015.

Aite's study is just the latest one to acknowledge the fast growth and huge potential of the mobile payments industry. What makes it more noteworthy than other reports, however, is that Aite's researchers were for a long time unenthusiastic about the future of m-payments, a fact Gwenn Bezard, Aite's research director, readily admits.

"After years of holding a bearish view on the space, we believe the time has come for all U.S. stakeholders to get serious about mobile payments," Bezard said. "What's driving our change of mind is that the carriers and handset manufacturers are finally, finally moving on NFC chips," Bezard added.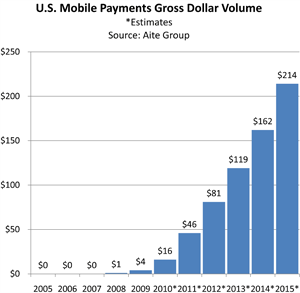 The adoption by carriers of the near-field communication (NFC) technology, mentioned by Bezard, is most conspicuously represented by Isis, a new joint venture involving AT&T, T-Mobile and Verizon. Isis will be processing the payments through Discover's network – the fourth-biggest in the U.S. Barclays – a large British bank – will be managing the accounts.

Isis users will be making payments by waving their phones by a point-of-sale terminal that would be communicating with a NFC chip, pre-installed on the phone, through short-range high frequency signals. NFC-equipped readers are still rare, fewer than 200,000 in the U.S., but their number is growing quickly, according to Aite.

"We were very bearish on [NFC payments] because there was very little value over swipe-and-go payment," commented Bezard. "But today the U.S. has the largest contactless acceptance network in the world."

For all their growth prospects and deep-pocketed proponents, NFC payments will only rank fourth in the mobile payments list of 2015, the researchers predict.

Top Five Mobile Payment Markets by Volume in 2015

| | |
| --- | --- |
| Mobile Payments Type | Volume |
| Bill Payments | $82 Billion |
| Bank Card Acceptance | $54.8 Billion |
| E-commerce over Mobile Phones (M-Commerce) | $27.3 Billion |
| Point-of-Sale Payments (NFC Payments) | $22.6 Billion |
| Person-to-Person Transactions | $13.8 Billion |

The volume of mobile payments will grow by 76 percent in 2012, reaching $46 billion, the report forecasts.

No market segment will be left untouched by the upcoming m-payment wave and companies that choose to ignore it, will be left behind, warns Bezard. "Firms missing the signs that the market is now rapidly shifting will be at a serious disadvantage in the next few years," he says. "Many organizations within the industry remain unaware that mobile payments are in a period of rapid transformation. Those that have any desire to play a role in this market must wake up now."

Image credit: Starbucks.