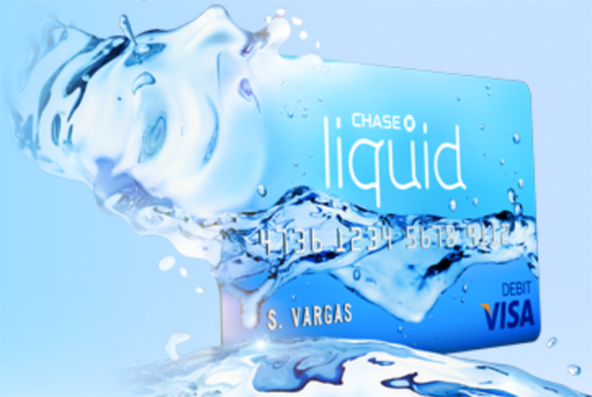 Chase is the latest big bank to enter the prepaid card market in a serious way. Its new entry into the increasingly crowded field — called Liquid — is a worthy competitor to Americans Express' prepaid card, which until now was the undisputed leader. AmEx's product is still the best option for everyone with a poor FICO score whose primary goal is to get back into the credit system, because it offers a path to a charge card. Everyone else, however, now has a choice between two very good prepaid cards.

The Liquid card is very much like a Chase debit card, with the only difference, as far as I can tell, being that it is not linked to a checking account and so its users have no access to checks. Other than that, the two card types are indistinguishable. If there is still someone left out there who is asking "Why would a bank like Chase bother to be issuing debit-card-like prepaid cards?", the answer, of course, is that the Durbin Amendment slashed the revenues big issuers are getting from debit transactions by 45 percent, while leaving credit and prepaid interchange fees untouched. The vastly improved quality of prepaid cards is one of the very few beneficial side effects to come out of this poorly designed legislation. Let's take a closer look at the Liquid.

Chase Liquid

At present, Chase's new prepaid card is in a test mode and can only be applied for in person at around 200 of the bank's branches. The applicants are required to bring a photo ID (i.e. a driver's license or a passport) and their Social Security Card. These documents are needed for identification purposes, not for establishing the applicant's eligibility for the card. After all, this is a prepaid card, so the issuer's risk exposure is very limited. Once the application process is completed, the consumer gets a temporary card and, a couple of weeks later, a personalized permanent one is received by mail.

Liquid can be used at no charge at Chase's ATM network and is accepted anywhere Visa cards are accepted. Refills are free at Chase branches or ATMs, as well as online or by phone. Users can set up direct deposits for their paychecks or government benefits. The card comes with a $4.95 monthly fee and there are virtually no other fees.

Liquid vs. AmEx Prepaid

The two cards are very similar. The most significant differences between them are listed in the table below:

| | | |
| --- | --- | --- |
| ?á | American Express Prepaid | Chase Liquid |
| Monthly fee | $0 | $4.95 |
| ATM withdrawal | One free monthly withdrawal and $2.00 per withdrawal thereafter* | $0 at Chase ATMs and $2 at non-Chase ATMs* |
| Maximum balance | $2,500.00 | n/a |
| Path to a charge / credit card | Yes | No |

*The ATM operator may charge a separate fee.

The main disadvantage of AmEx's card is that its issuer doesn't have its own ATM network, whereas Chase has more than 17,500 ATMs across the country. AmEx may not charge you for your first monthly withdrawal, but the ATM owner will, so even two withdrawals per month will cost you more than the monthly fee paid by Liquid users.

Moreover, ATMs are not used only for withdrawals. A Liquid user can go to a Chase ATM and deposit her paycheck into her prepaid account at no charge. An AmEx user doesn't have this option. Of course, both issuers support direct deposits, but there is a difference here, too. Both companies allow paychecks to be direct-deposited, but Chase also supports government benefits while AmEx doesn't.

On the other hand, AmEx's big advantage is that its prepaid card offers a path to a charge card, which is a form of credit card whose balance must be paid in full at the end of each month. Now, people have different views on credit cards; some like them and others don't. However, whatever you may think of them, credit cards are the only type of payment card that has any effect on your credit history. And you do have to care about your credit history.

The Takeaway

So a direct comparison between these two prepaid cards doesn't produce an undisputed champion. Each of them has its advantages and disadvantages over the other. And yet, I still find myself leaning toward AmEx's card, because of its prepaid-to-charge-card program. Why do I like it so much? Well, for example, you can get one for your college student, explain how and where she can use it and what ATM fees are charged. Then, when and if she shows a usage pattern that AmEx's system likes, she will be offered a charge card and start building her credit history. Of course, there are some under-21 restrictions to be complied with, but you get the point. Chances are that the student would now be much better prepared to handle a charge card than she would have been if her first card was a credit one.

Image credit: JP Morgan Chase.