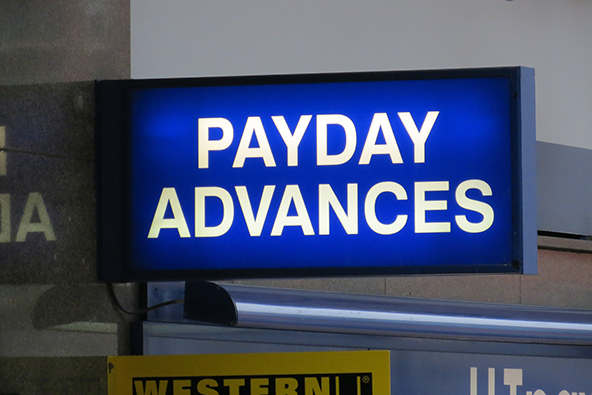 Earlier this week, in my piece about UniBul's merchant account solution for payday lenders, I mentioned the attack that New York's Attorney General Eric Schneiderman had launched against payday lenders operating in his state. Schneiderman charged one of them — Western Sky Financial, which is operated by the Cheyenne River Sioux Tribe — with levying excessively high interest rates of more than 300 percent, in violation of New York state law, which caps interest at 25 percent. In response, that lender decided to stop financing loans altogether and lay off nearly 100 employees, according to the New York Times. The Times also tells us that Western Sky has accused New York State of overreaching.

But two other American Indian tribes whose lending operations have also come under attack in New York have decided to fight back and gone on the offensive, The Times tells us. The Otoe Missouria Tribe, in Red Rock, Oklahoma and the Lac Vieux Desert Band of Lake Superior Chippewa Indians, in Watersmeet, Michigan have sued Benjamin Lawsky, New York State's top financial regulator, in overstepping his authority, arguing that their sovereign status protects them from regulation by New York. And I think that the plaintiffs have a valid point: the borrowers have all agreed to the terms of their loan agreements, which are governed by the laws of the respective tribes. And yet, they can be forced to leave New York.

Compare that to the approach of Justin Welby, the Archbishop of Canterbury, who recently told us that he would like to set up a network of credit unions to compete with payday lenders. However vague the Archbishop's plan might be, if you can call it a plan in the first place, he did tell his new competitors that "we're not in the business of trying to legislate you out of existence, we're trying to compete you out of existence". Evidently, that is not the New York way. Let's take a closer look at the latest.

NY State vs. American Indian Tribes

Here is Mr. Lawski's problem with the tribal lenders, as spelled out in his court filing:
The Department's investigation into the payday lending industry earlier this year revealed that, at present, out-of-state payday lenders like plaintiffs solicit and offer loans at interest rates of upwards of 888% per annum, over fifty times the usury caps set by New York law, directly to New York residents over the Internet.

Now here is what he wants to be done about it:
The Department seeks to stop these illegal and harmful payday loans from flowing into New York and has made efforts to do so by: (1) sending cease-and-desist letters to plaintiffs and other online payday lenders demanding that they stop making usurious loans to New York consumers in New York; and (2) sending letters to third-party banks and a private self-regulatory association requesting that they stop facilitating the flow of unlawful Internet-based payday loans into New York.

And what about the tribes' assertion that their lending agreements are subject to their own laws, rather than the ones of the State of New York? Well, Mr. Lawski, for one, will have none of it:
Contrary to plaintiffs' assertions, the Department is empowered to protect vulnerable New York consumers from the serious economic harms caused by plaintiffs' online lending practices. State laws like New York's usury statutes may validly be applied to economic transactions between Native Americans and New York consumers when those transactions have significant and injurious off-reservation effects — as is the case here, given the crippling debt that payday loans cause to New Yorkers.

Needless to say, the tribes see the matter rather differently and their position is nicely summarized by Katya Jestin, a lawyer representing Western Sky, as quoted by the NY Times:
Consumers voluntarily entered into the loans and agreed when they signed the loan agreements to be bound by the laws and the courts of the Cheyenne River tribe… New York's lawsuit is an attempt to sidestep these agreements.

I suspect that this is one of those issues, on which people have just made up their minds and can't be persuaded to shift, whatever the evidence. But the important question is how people in authority should deal with it. And I think the State of New York can learn a lesson from the Archbishop of Canterbury.

The Church of England vs. Payday Lending

I find Archbishop Welby's stance quite fascinating. See, he obviously shares Mr. Lawski's distaste for payday lenders and yet he explicitly advocates against outlawing the practice. And by the way, the Archbishop's authority extends beyond matters religious — he also sits on U.K.'s Parliamentary Commission on Banking Standards. In a long interview, he gave the Total Politics magazine a taste of what he wants to achieve:
A plan for the church to develop credit unions has been floated, with Welby proud that the church is "putting our money where our mouth is" in developing an alternative to payday money-lenders. The plan, he says, is to create "credit unions that are both engaged in their communities and are much more professional — and people have got to know about them."


It will, he adds, be a "decade-long process", but Welby is ready for the battle with the payday giants. "I've met the head of Wonga and I've had a very good conversation and I said to him quite bluntly we?ÇÖre not in the business of trying to legislate you out of existence, we're trying to compete you out of existence." He flashes that smile again. "He's a businessman; he took that well."

The theatrics aside, why isn't the Archbishop pushing for a New York-type of solution? After all, that would be a much easier task to achieve than outcompete the professionals. Well, I can't know for certain, but a very plausible explanation is that he understands very well that payday lenders provide a service to people who are shut out of the mainstream financial system and have no one else to turn to. He should know it, because he probably meets such people on a regular basis.

The Takeaway

Now, it should be said that competition from the Church of England is the last thing payday lenders would lose sleep over. In fact, I'm not quite sure whether Archbishop Welby truly believes that he can take these guys on or he has some other objective in mind. What is clear, however, is that the Archbishop understands something New York's prosecutors do not: that payday lenders serve a market that is deemed too risky, and is therefore neglected, by the traditional lenders. And you know what? High-risk lending typically means high interest rates. I'll leave you with this question: who would lend to such borrowers, if the State of New York forces payday lenders out?

Image credit: Flickr / HelenCobain.