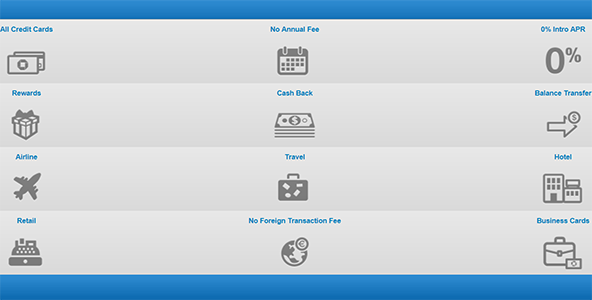 These are the two most salient takeaways from two independently conducted studies on credit card rewards programs in the U.S. One of the sources is American Express' Spending & Saving Tracker and the other — Lightspeed Research's Credit Card Rewards Redemption Study.

It's been a while since we've paid any attention to the topic of credit card rewards on this blog, so I thought I'd share the findings of these two reports. Lightspeed Research's study is based on a nationwide survey of 8,406 rewards cardholders, "as well as actual credit card spending and rewards data", the researchers tell us, whereas American Express' findings rest on the answers of 1,500 consumers. Let's take a look.

More than Half of Americans Belong to a Rewards Program

American Express' study tells us that more than half (57 percent) of American consumers belong to either credit or debit card loyalty programs, and 27 percent of consumers are using their rewards points to purchase gifts. Among affluent consumers, 37 percent expect to use points towards gifts. Here is the full chart: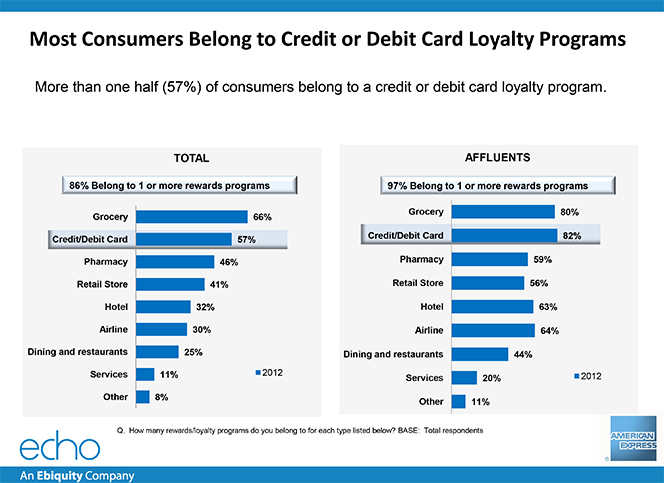 More Consumers Used Rewards Points for Holiday Shopping Last Year than in 2011

That is the other rewards-related finding of the AmEx's study. Yet, at 16 percent of the total, the number of Americans relying on rewards points for their holiday shopping is fairly insignificant. Most consumers (54 percent) would still have used cash or check to pay for their holiday gift purchases, followed by debit cards (39 percent) and credit cards (28 percent). Here is the chart: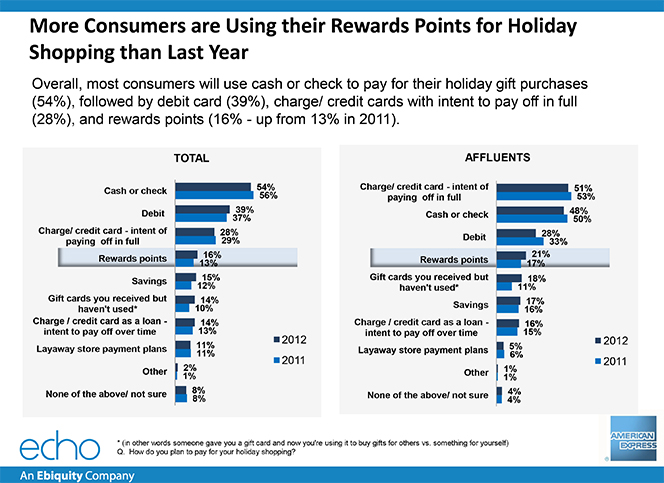 Americans Prefer Cash

That is the main takeaway from Lightspeed Research's study. The researchers tell us that "while cash back… is the leading type of award redeemed on most cash cards, there is substantial variation across leading products." Yet, when you look at the results, the purported variety is difficult to find. Among the examined card programs, the lowest percentage of cardholders redeeming for cash back — 48 percent — is to be found at Discover, in which case 26 percent redeem for a gift card and 17 percent redeem for an Amazon purchase. As you can see, even in the Discover case, cash back is ahead by quite a margin. And the distance only grows much bigger at the other programs. Here is the table:
Source: Lightspeed Research

Interestingly, it turns out that quite a few cardholders need help in redeeming their rewards. Here is what Lightspeed tells us:
Rewards for cash cards are most likely to be redeemed online (81%), but as many as one-fifth of travel program (20%) and points card (21%) redemptions are done through a customer service representative. Notably, however, points cardholders who redeemed by speaking to a person were more likely than those who redeemed online to rate the process as "extremely easy" (81% vs. 71%) — and they were much happier with the process than co-brand travel cardholders (42% rating as extremely easy).
Chase Tops Cardholder Satisfaction List

Chase is the highest-ranked card issuer in the category of cardholder satisfaction with what they receive when they redeem rewards, Lightspeed's study tells us. The issuer's Freedom and Chase Marriott Rewards cards occupy the top two spots, followed by Discover More and American Express with Membership Rewards. Here is the table:

Source: Lightspeed Research

The Takeaway

So there it is. I guess to me the most surprising finding in these two reports was that so many cardholders redeem their rewards by calling customer service. The rewards programs I've used over the years have all been quite simple to manage online. And that has been especially true for the cash-back variety, where the reward is usually redeemed either through a check that is mailed to you or through a statement credit. But I guess things can get more complicated if you were redeeming through purchases on Amazon or elsewhere.

Image credit: Chase.com.