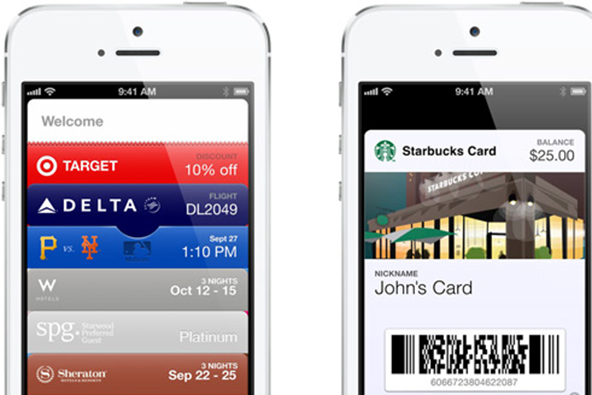 As widely anticipated, Apple is about to wade into the increasingly crowded mobile wallet field. At his company's Worldwide Developers Conference (WWDC) in San Francisco, Scott Forstall, Apple's Senior Vice President of iPhone Software, showed off Passbook, a new application that will be embedded into the new iOS 6 and will enable users to store and manage loyalty cards (for example, a Starbucks prepaid card), as well as boarding passes, movie tickets and retail coupons. Of course, it is all wrapped up in an incredibly sleek package.

Passbook certainly looks like something many iPhone users would find very useful, even in its initial form. By that I mean that while at its core the app is a mobile wallet, judging from Forstall's presentation, at present that main functionality is at a rudimentary stage of development. Although the "loyalty card" category may be used to include credit cards with rewards programs, Forstall seems to have used the term in a narrower sense, in effect referring solely to store-branded prepaid cards (that category includes gift cards). So for now Passbook seems to be a store-branded prepaid card wallet, albeit one on steroids. However, its potential is huge. Let's take a closer look at it.

What Is Passbook?

So the Passbook app uses the 2-D barcode technology, utilized by Starbucks in Mobile Pay, the coffee chain's own mobile payment app, which we have reviewed in several articles before. Similarly to Starbucks' version, Passbook would display a barcode at the checkout, which would be scanned by the retailer to complete the transaction. The sales amount would then be charged to the retailer's loyalty card that is linked to Passbook.

The app could also store its users' coupons, flight boarding passes, concert and movie tickets, etc. Moreover, Passbook would automatically update information when necessary (for example if the flight gate has changed), tell you when your coupons would expire, what balance you have left on your gift card, etc.

One of my favorite Passbook features is its use of the iPhone's geolocation capabilities to automatically bring up for you the relevant payment option at the checkout. So if you are at a Starbucks and pull up your iPhone to pay for your latte, once you unlock it, Passbook would immediately bring up your Starbucks card, so you won't have to look for it. You can watch Forstall's presentation here (it begins at around the 93rd minute).

The Passbook Advantage and Its Challenge

What I like about Passbook the most is that it is a marked improvement over Mobile Pay – its closest relative and, perhaps, its model. For one, whereas Mobile Pay only works with Starbucks-branded prepaid cards, Passbook would presumably allow users to store all and any of their store-branded prepaid cards, regardless of where they can be used. Additionally, the geolocation-powered card discovery feature would eliminate the hassle of locating the right card to use at any given time. For perspective, imagine how different your experience would be if, instead of relying on a Passbook-like mobile wallet, a year down the road you had installed and set up a separate app for each of the stores where you shop. It would feel like carrying multiple wallets, each of them containing only one card. That would be very inefficient, to say the least.

On the other hand, without support for credit and debit cards, Passbook would never be able to compete with the full-fledged mobile wallets of the future. Yes, store-branded prepaid cards are popular and increasingly so, but they will never be equal to credit and debit cards. It is true that, at present, the two major mobile wallets are haunted by the dearth of smart phones and merchant point-of-sale (POS) terminals with support for the near-field communication (NFC) technology on which both Google Wallet and Isis rely, but that will not be the case a year from now. So I expect Apple to be working with Visa, MasterCard and their card issuers on credit and debit support.

The Takeaway

I do like Passbook. Or rather, I do like its potential, because I would not be using its initial version. Why? Because I don't use prepaid card, store-branded or otherwise. I use credit cards, because they give me the biggest rewards when I shop and will only sign up for a mobile wallet that provides unrestricted support for all payment cards, regardless of type and brand. Isis has already announced support for all major U.S. payment cards and Google will undoubtedly follow suit. Again, either of these two mobile wallet services is yet to gain any traction; in fact Isis is still in a test mode. But they will and if Apple is to compete with them on equal footing, it will at the very least need to match their payment capabilities. All other features, cool and useful as they may be, are only secondary.

Image credit: Apple.com.