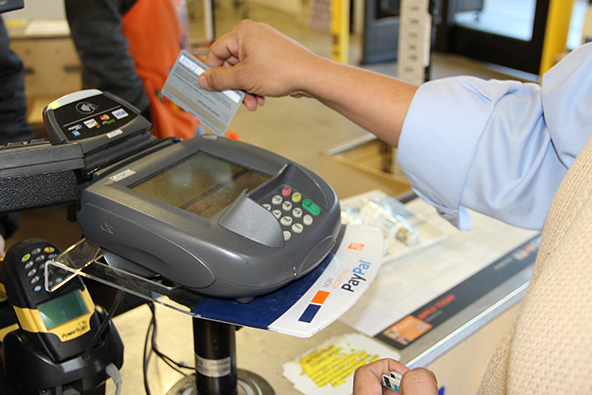 PayPal is everywhere in the news these days. Even as it was launching mobile payments tests at 30 McDonald's restaurants in France, the processor was busy trying to keep up with Square's phenomenal growth on our side of the Atlantic while doing its best to parlay its admission into Home Depot's checkout lines into a broader victory on the brick-and-mortar retail front. And these are only a few of PayPal's initiatives that are not related to its traditional online payment processing line of business (which, by the way, is still growing strong).

This morning we learn that PayPal has allied itself with the fourth largest credit card network in the U.S. to become a payment option at the checkouts of all merchants ("more than 7 million", we are told) that accept Discover cards. We don't know the details of the arrangement, but it is clear that this deal is PayPal's biggest brick-and-mortar triumph to date. For years, there have been speculations that PayPal may at some point launch its own payment network, to rival the likes of Visa and MasterCard, but the alliance with Discover may have allowed eBay's subsidiary to achieve the objective on the cheap. But then, it may also be a dress rehearsal for the real deal. Let's take a look at what took place.

Discover Lends Its Payment System to PayPal

Here is what the two companies are telling us about their deal:
Starting in 2013, Discover will work with PayPal to enable participating merchants to accept PayPal easily through their existing relationship with Discover. Consumers will be able to take advantage of the benefits of PayPal at these merchant locations, providing them with the simplicity, speed and security they've come to expect from PayPal across any channel, any time.

And these "participating merchants" are brick-and-mortar stores. Here is more:
To offer PayPal, merchants will not have to install or upgrade existing point-of-sale hardware or software and consumers will know of this additional payments option through in-store signage.

While merchants cannot be forced to accept PayPal, there would be no downside in having the capability enabled, so it is likely that most Discover merchants will eventually be set up to do so. The big question is whether the processor will manage to convince consumers to actually use their PayPal accounts at the point of sale.

Sharing the Pie

The press release doesn't provide any details on the revenue sharing arrangement between the two companies, but here is what Dow Jones' Andrew R. Johnson has to say about it:
Under the new deal, Discover will use its existing relationships with merchant acquirers — the banks that help retailers process transactions — to set merchants up to accept PayPal. Merchants who sign on will pay processing fees to PayPal for any transaction made with the service, versus fees set by Visa, MasterCard and other payment networks for traditional card transactions.

Let me expand a bit on Johnson's commentary, for the benefit of our non-industry readers. Merchants pay a processing fee for every Discover card transaction they process. A small portion is kept by the merchant's payment processor, as a fee for the service it provides, and the balance is collected by Discover. In effect, Discover's cut of the processing fee is the payment network's equivalent of Visa's and MasterCard's interchange fees, which have been the subject of so much controversy in recent months. All PayPal payments processed through Discover's system will be subject to the same rules that apply to Discover's proprietary transactions. We don't know whether PayPal's fees will be the same as Discover's, but Johnson reports that:
PayPal has said its fees for in-store purchases are on par with the card networks' rates.

Indeed, charging more than the competitors would be a fool-proof way to convince merchants not to sign on to the program. If anything, PayPal may be tempted to offer below-cost processing, as it did to Home Depot, but Discover would never allow that.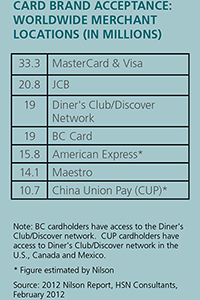 The Takeaway

It is easy to see what PayPal would gain from such an arrangement, but what's in it for Discover? Why would a payment network provide a rival with access to its system? Yes, Discover would be collecting a small fee for each PayPal transaction it facilitates, but it would also help eBay's subsidiary to establish itself as a legitimate offline processor. Is the trade-off worth it? I don't know the answer to this question, but it seems to me that there may be more to that deal than meets the eye. It may be that the two companies are laying the groundwork for a long-term relationship. The calculation may be that together they stand a better chance to make up some ground against Visa and MasterCard. What do you think?

Image credit: Allthingsd.com.