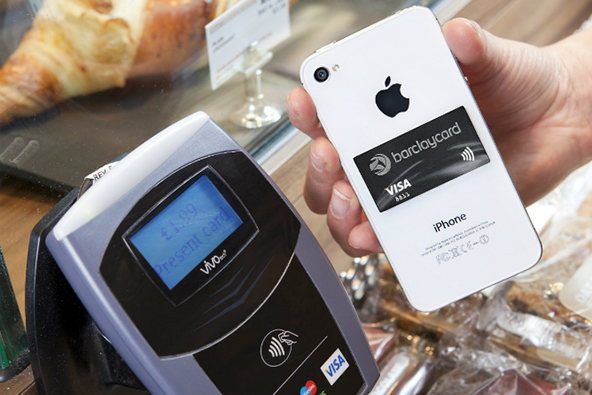 All major credit card payment networks are now involved in at least one, often in multiple, near-field communication (NFC) projects, either by themselves or, which is more often the case, in cooperation with one technology giant or other. All of the major U.S. wireless carriers have also invested in NFC.

NFC is a short-range wireless communication technology that allows the contactless exchange of information between enabled devices with a very short distance (typically less than 8 inches.

The Forecast: 545M NFC-Equipped Phones Shipped in 2015

It comes as no surprise then that iSuppli, the technology research arm of HIS, a business information services company, has just revised upwards its forecast for global shipments of smart phones supporting NFC technology.

iSuppli now expects that globally the shipments of NFC-enabled smart phones will total 544.7 million in 2015. Its projections for the years leading up to 2015 have also been revised significantly upwards.

Only in December iSuppli predicted that 79.8 million NFC-equipped handsets will be shipped worldwide in 2011. Now the forecast is updated to 93.2 million units. For 2014, the company now expects that 411.8 million such devices will be shipped, almost double the original projection of 220.1 million units.

Isis Key to NFC Adoption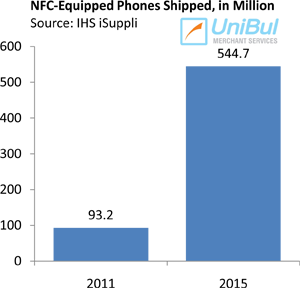 The iSuppli researchers view the recent decision of Isis, a mobile payments joint venture involving wireless carriers AT&T, Verizon and T-Mobile, as well as payment network Discover and British bank Barclays to open up its platform to Visa and MasterCard, the two payment card industry giants, as key in achieving wide adoption of the NFC technology for m-payments. Here is how Dr. Jagdish Rebello, director and principal analyst for communications and consumer electronics with?áHIS, sees the Isis decision:
By partnering with the dominant players – Visa and MasterCard – the wireless carriers are making the right moves to create an ecosystem that will allow consumers to become comfortable with making NFC payments through their cell phones. The carriers hope to leverage the dominant position enjoyed by Visa and MasterCard in credit card payments to ensure a seamless consumer experience when customers use their mobile phones to make payments. Such a move will drive an increase in unit shipments of cell phones with embedded NFC capability in the United States and around the world.
The Takeaway

I agree. The opening up of what promises to be the largest NFC-based mobile payments platform to the biggest players in the payment card world will help convince more consumers that the new technology stands a good chance of becoming mainstream quickly. So consumers may decide that upgrading to an NFC-enabled phone is probably worth the expense.

And we will have plenty of options to choose from. Google's latest Android operating system supports NFC and it powers the first NFC-enabled device available on the U.S. market – the Nexus S. BlackBerry maker RIM, Apple, Nokia (now using Microsoft's Windows Phone 7 OS) and practically all other major competitors in the smart phone field either already have released an NFC-equipped device or will do so in the very near future. My guess is that by the year's end the vast majority of new smart phones will be NFC-enabled and iSuppli may have to revise its forecast upwards once again.

Image credit: Creditvisionary.com.