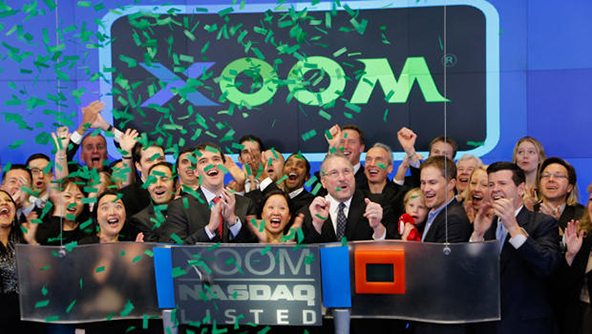 Xoom is the first Silicon Valley-based tech company to go public in 2013, various news reports inform me this morning. Moreover, the money transfer alternative to Western Union and MoneyGram did so quite successfully, as by the end of its first trading day, Xoom's shares jumped by about 60 percent from their offer price of $16 to close at $25.49. Not bad for a company, which has never been profitable since it was founded all the way back in 2001. Yes, Xoom has been around for twelve years and is yet to make a single dollar in profit!

Yet, Xoom's investors obviously believe that they may have spotted a winner and their optimism must at least partly be based on the fact that Xoom is the biggest and most prominent among the many new entrants into an industry long dominated by two giants. It helps that Xoom's value proposition isn't all that complicated—the company does international money transfers cheaper than Western Union and MoneyGram. And whereas I'm always cautious about the prospects of a company whose biggest comparative advantage is its lower price, Xoom's users certainly like what they are getting.

How Does Xoom Work?

Xoom's money transfer process is really simple. First you go to the company's website (by the way, close to a quarter of all Xoom transactions are sent through mobile devices) and create an account. Then you select the country to which you want to send money, the amount to be transferred, the funds' destination (a bank account, the recipient's address for delivery or a location where the money can be picked up), the funding method (the choices are a bank account, a debit and a credit card) and then enter the recipient's information. The cash can be received in local currency or in U.S. dollars. Xoom does not accept cash as a funding source, probably because it wants to make sure it doesn't run afoul of rules on money laundering and terrorism financing. Here is a screen shot of a sample transfer summary: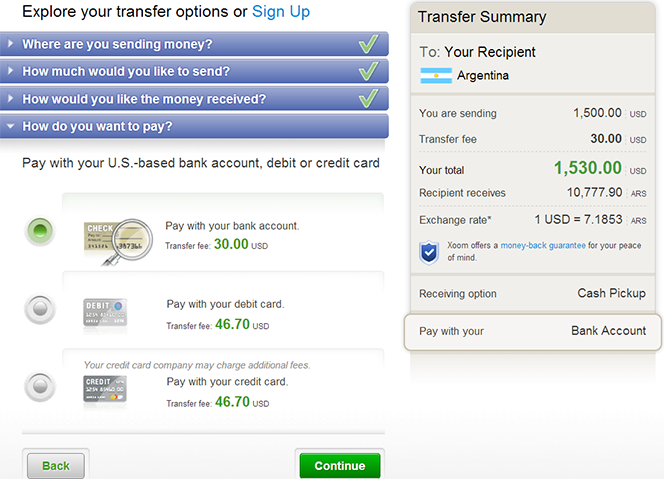 At present, Xoom users can only send money from the U.S. to destinations in 30 countries. Transfers to the Philippines and India accounted for more than a half (56 percent) of the 2011 total and when you add Mexico, the three countries represented about three-quarters of the company's business, according to the prospectus filed with the Securities and Exchange Commission.

At the end of 2012, Xoom had more than 776,000 active customers, of whom more than 405,000 (52 percent) were new for the year. They generated more than 6.6 million transfers worth more than $3.2 billion for the year, according to the prospectus. Here is a graph showing the growth of Xoom's gross sending volumes from 2007 to the end of September of last year.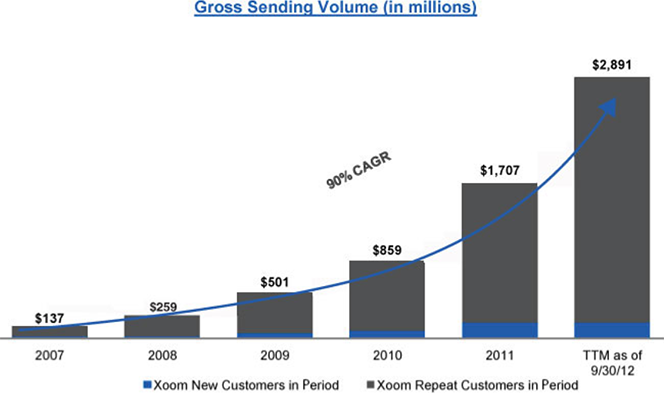 Xoom's revenue in 2012 was about $80 million, up by 60 percent from 2011's $50 million and its gross profit—about $53 million.

How Much Does Xoom Cost?

Now let's move on to Xoom's main selling point—its price structure. And, by the way, that's not something I've thought up, it's what Xoom CEO John Kunze is saying. Here is what he told the Wall Street Journal:
We are a disruptor… We've seen this play out before: An offline customer experience that is highly challenged, and [then] that experience is disrupted by digital properties with a better price proposition.

So let's take a closer look at this "better price proposition"? Xoom makes its money from transaction fees and from the foreign exchange fees charged when the money is received in a currency other than U.S. dollars. Service fees vary by country, funding source, payout currency and send amount and Xoom's prospectus gives us the following example for the top three destination countries:
[T]he majority of our transactions sent to Mexico and the Philippines are funded from a bank account and are disbursed in local currency. For those transactions, the customer pays a flat fee of $4.99 to send any amount up to $2,999. Fees paid for debit and credit card-funded transactions to Mexico and the Philippines to be disbursed in local currency range from $4.99 to $75.99 depending on the amount sent and averaged $10.43 in the Philippines and $5.95 in Mexico per transaction for the nine months ended September 30, 2012. In the Philippines, fees vary for transactions paid in U.S. dollars based on the amount sent and the funding source. These fees range from $7.99 to $96.99 and averaged $9.43 per transaction for the nine months ended September 30, 2012. In India, we only offer bank deposit in local currency and over 99% of the transactions are funded from a bank account where the customer pays up to $4.99 to send up to $1,000 and is fee free if the amount sent is over $1,000. Fees for transactions sent to India averaged $1.31 per transaction for the nine months ended September 30, 2012. [My emphasis.]

Add to that Xoom's foreign exchange fee revenue, which ranges from 1 percent to 3 percent of the send amount. So, yes, the newcomer is much cheaper than either Western Union or MoneyGram and I see no reason why, given the option, consumers would not use Xoom.

The Takeaway

Xoom tells us that it "incurred net losses primarily as a result of long-term investments in our service innovation, solutions and marketing programs to increase brand awareness". And that's fine. The question I have is whether the company would manage to sustain its high growth rate if the Western Unions and MoneyGrams of the world took the threat seriously and decided to combat it by, say, competing on price. But then, who says that they would do that? Anyway, at present Xoom is a much better option than its bigger competitors and that is the only thing end users should care about.

Image credit: Xoom.