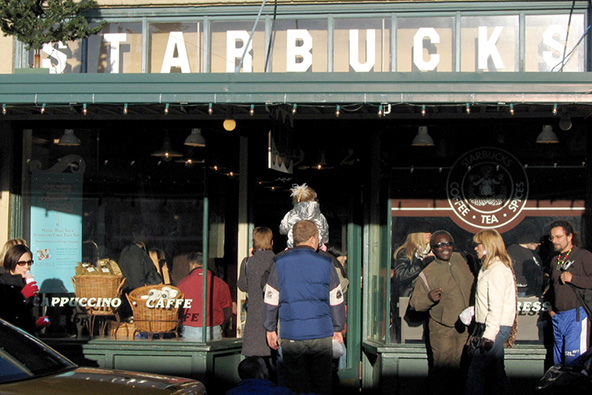 Or to put the question another way: how could a coffee chain, of all businesses, beat the banks, credit card networks, technology companies and high-powered Silicon Valley start-ups (not to mention huge telecommunications companies and giant big-box retailers) at their own game? Well, although I have been following very closely the evolution of Starbucks' prepaid card offerings over the years and their incorporation into the company's hugely successful mobile payments app, I confess to not having an explanation for the meteoric rise in these two payment products' adoption here in the U.S. Yet, meteoric their rise has been.

Starbucks CEO Howard Schultz has just given us the latest numbers for his company's first quarter performance (which includes this past holiday season) during an earnings call last week and they have been staggering. Among other things, Schultz told us that the Starbucks prepaid card now accounts for 25 percent of U.S. tender! Think about that for a moment. So I thought I should share with you some of the payments-related statistics presented during that call and leave you to make your own conclusions.

The Starbucks Card Was the Most Frequently Given Holiday Gift

This past holiday season may not have been the best one many retailers had had, Schultz noted, but "Starbucks' holiday exceeded our own expectations":
This season, and for the first time, a Starbucks card was perhaps the nation's single most frequently given holiday gift, with one in 10 U.S. adults receiving a Starbucks card and $2 million worth of our exclusive first-ever steel Starbucks card selling out on Internet luxury goods retailer Gilt.com in only, believe it or not, six minutes.

Some of you will recall that the steel card in question made quite a splash—and created a great deal of controversy—when it was launched in early December. To refresh your memory, this was a limited-edition prepaid card, which could only be purchased at high-end online retailer Gilt.com for $450, of which $50 was the cost of the card itself and the balance of $400 was available for use as store credit. Only 5,000 of these cards were offered, which is why they sold out as quickly as they did. The fact that the steel card happened to be a very good payments product did little to prevent people from declaring it the card for the "one-percenters" and one that was "[e]xceptionally insensitive to the tens of millions of Americans". But we've already covered all that, so you can just visit the link above for more.

Schultz went on to tell us that
In terms of what happened in holiday in Starbucks card, I must say it was stunning and almost unbelievable. Our Starbucks card had its best holiday season in history, as measured by any metric, with more than $1 billion loaded during Q1, the most ever loaded onto any kind of Starbucks card. Mobile e-gifting also delivered record holiday results, with the most popular days for e-gifting being Christmas Eve and Christmas Day.

And that takes us to the coffee chain's mobile app.

Starbucks' Mobile App

Impressive as Starbucks' prepaid numbers may be, the mindboggling success of the coffee giant's mobile payments app is what I find even more astonishing. See, no other retailer has come anywhere remotely close to replicating what Starbucks has achieved, as summarized by Schultz:
Our Starbucks card is more popular than ever today, accounting for 25% of U.S. tender, and an increasing portion of Starbucks card transactions and sales are being paid by using our mobile payment apps, with mobile payments now accounting for nearly 20% of overall card transactions. Over 7 million customers now use one of our mobile payment apps, translating into 2.1 million mobile payment transactions each week, with hundreds of thousands of additional Starbucks mobile app downloads each week.

Moreover, Schultz told us, by integrating its mobile, web, card, and loyalty program strategies, his company added 1.4 million new members to the My Starbucks Rewards program in the first quarter of 2013, an 86 percent increase over the 778,000 who signed up in Q1 of last year. How significant is that? Well, here is how Schultz put it:
Think about this. We had 86% more customers sign up for a My Starbucks Rewards card in the first quarter of 2013 than in the first quarter of 2012. And it's not that these new card customers didn't know where to find us last year. It's that we are more deeply connected, and even more relevant, to them than any other time in our history. And we can very accurately anticipate the increased traffic and revenue that will flow from the accelerating card acceptance and activity, which we've already seen in calendar Q1.

He's right, people clearly love Starbucks' prepaid card, in all of its incarnations, and the more they use it, the more the coffee chain learns about them. And yes, the wealth of data Starbucks collects will be used to further improve the company's offerings. Given Starbucks' track record, I expect that is precisely what we should expect.

The Takeaway

It is difficult to imagine how Starbucks could have done any better than that. And yet, for all of Starbucks' record-breaking achievements, I remain convinced that there is a better, more consumer-friendly, way to do mobile payments. My biggest issue with the coffee chain's mobile app is the fact that it only allows its users to link a Starbucks prepaid card to it. If you don't have one, you need to sign up for it. A much better alternative would be a mobile wallet that supports all types of cards, irrespective of their brand or issuer, as well as other payment methods, and sets no restrictions on the locations where it can be used. This would truly be a digital version of our leather wallets and I believe that, in time, they would become indispensable. Google Wallet is one of the leading candidates to make this vision a reality and Isis is another, but neither of them is doing well, mostly because the NFC technology, on which their platforms are built, is not widely supported by the existing point-of-sale (POS) systems.

However, it seems that Starbucks may be moving into a more consumer-friendly direction. As Schultz himself pointed out, going forward the partnership with Square may help accelerate the integration of his company's social, digital, mobile and loyalty programs even further. Moreover, Square's digital wallet, which can already be used for payment at Starbucks, supports all major payment cards and does not rely on NFC. It remains to be seen how deep the cooperation between the two companies will become, but it seems a safe bet that they will both benefit from it.

Image credit: Wikimedia Commons.