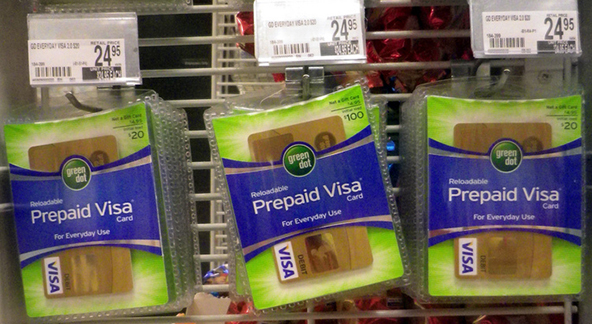 The big issuers have long neglected the market for prepaid cards, which are used primarily by unbanked consumers. This is about to change, however, as the recently enacted CARD Act has made it much more difficult for issuers to make money from traditional credit cards, prompting them to start exploring other options.

Prepaid cards are certainly one such option. Their use has been growing rapidly and is projected to explode in the coming years. The following figures from the Network Branded Prepaid Card Association show how much has been loaded on prepaid cards from 2006 through 2009 and offer projections for the years from 2010 through 2012:

| | |
| --- | --- |
| Year | Amount Loaded on Prepaid Cards |
| 2006 | $1.8 billion |
| 2007 | $3.8 billion |
| 2008 | $8.7 billion |
| 2009 | $18.3 billion |
| 2010 | $36.6 billion* |
| 2011 | $67.7 billion* |
| 2012 | $118.5 billion* |

*Forecasts

Source: Network Branded Prepaid Card Association

So the growth potential is obviously there and issuers surely love the possibility to skirt the oppressive CARD Act requirements. But what makes prepaid cards so appealing to a rapidly growing number of consumers? Actually, what are prepaid cards, anyway?

When using prepaid cards, cardholders draw money from an account they have previously funded. The difference from using debit cards is that prepaid cards are not linked to a checking account, but are drawing funds from an account with the issuing bank. Unlike with credit cards, however, the issuer is not extending a credit line to the cardholder, who is actually purchasing his or her card's spending limit. Once the balance is used up, the card can be re-loaded.

So in the way they are used, prepaid cards are a mixture of debit and credit cards. Perhaps their biggest drawback, apart from their fees, is that they don't help consumers build credit history, because there is no credit that is being used.

What about the fees, though? It is commonly accepted that prepaid card users are charged substantially higher fees than both credit and debit card users. The following table lists the fees associated with three different prepaid cards (data from The Seattle Times).

Fee
Green Dot
First Vineyard
NexisCard
Purchase fee
$4.95
$39.95
$4.95 (current price??)
Monthly fee
$5.95 (waived if you load at least $1,000 on to card, make 30 transactions, or set up direct deposit)
$6.95
None
Fees for transactions
None
None
$1 for credit transactions;


$1.50 for PIN purchases;


$1.99 for purchases with cash back

Inactivity fee
$4.95 (assessed after 120 days)
ATM withdrawal
$2.50??
$2
$2
ATM balance inquiry
$0.50??
$1
ATM withdrawal decline for insufficient funds
$1
Adding money to card
$4.95
Free through direct deposit;


$4.95 via wire transfer

$1 at locations where NexisCard is sold;


adding money via direct deposit: up to 2.5% of the amount loaded, depending on the state

Live customer service
$3 per call (for inquiries that could be answered online)
Statement
$3 per paper statement
$5 per paper statement
Card replacement
$6
$15
$10

1. The card currently charges the fees listed above, but NexisCard president Andrew Siden said the company reserves the right to raise fees to as high as those listed in the cardholder agreement. For example, the purchase fee is listed at $9.95 in the agreement.
2. Free at in-network ATMs. The company partners with the MoneyPass network of ATMs.

Source: The Seattle Times

So yes, using prepaid cards can be expensive, but not necessarily. For example, Green Dot cardholders will pay $4.95 to get a card and then $4.95 each time they add funds to it. However, all other fees can be avoided, including the monthly fee. Moreover, all major banks will charge you a fee if you make a withdrawal from an out-of-network ATM, and most checking accounts have some sort of a catch when it comes to avoiding paying a monthly fee. Now, that does not mean that a Green Dot card is equal to a full-fledged credit card. It is not. But it is a valid option for consumers who have no other choice.

Image credit: Personalmoneynetwork.com.