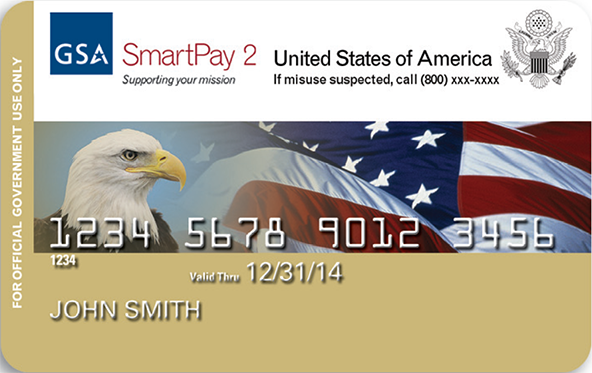 The answer, according to a recently released conference summary by the Federal Reserve Bank of Philadelphia, is an unequivocal "yes". Not only is the government not wasteful, inefficient or doctrinaire, we are told, but it is quite innovative and the "effective use of the payment card system to conduct transactions and to distribute public funds" has enabled its various branches to save billions of dollars of taxpayer money.

The paper, written by Susan Herbst-Murphy, is packed with interesting data and I highly recommend that you take a look at it. To get you started, I will give you some of the most compelling, and sometimes surprising, statistics and conclusions that I found in it.

The Government Runs the Biggest Commercial Card Program in the World

Not only that, but the federal government's commercial card program — called SmartPay — has "driven all the innovation" in the commercial card segment, we are told. This is a category that is made up mostly of corporate travel and entertainment cards, procurement cards and fleet cards. It is big and growing:
Federal programs are currently doing about $30 billion in annual transaction volume; 47 states have purchasing card programs; 42 have travel card programs. Growth of state and local programs is moving an additional $7 billion annually to electronic card payments…

Using commercial cards is much cheaper than using paper checks. On average, "the fully allocated cost of an electronic transaction is $19 versus $50 to $60 for a check payment". Moreover, fraud and misuse rates, while still a concern, "are at a historic low: 0.009 percent of total dollar volume in the private sector and even lower, 0.007 percent, in government programs. About $60 per $1 million of volume is fraudulent…, an indication that fraud mitigation tools are working well."

And here is one specific example of how SmartPay saved billions of dollars in one of the government's travel programs:
As airline tickets are booked, the card number identifies the buyer as a federal agency entitled to negotiated discounts. This generates direct savings of $5 billion to $6 billion annually compared with commercial rates. An additional $1.5 billion to $1.75 billion in cost avoidance is also realized because of the streamlined business processes the card system facilitates. Additionally, rebates on spending volume are returned to the travel office's operating budget.

These are very significant savings.

The Government Is the Biggest Prepaid Card Issuers

We already wrote about that, but Herbst-Murphy's paper provides some additional data. Of particular interest are the data on open-loop cards — prepaid cards, which bear the logo of one of the major card networks (Visa, MasterCard, American Express and Discover) and can be used anywhere that brand is accepted. Such prepaid cards are used for distributing benefits such as unemployment insurance, Social Security and child support and the volume is exploding:
The open-loop segment is projected to quintuple by 2017, according to MasterCard-commissioned research conducted by the Boston Consulting Group in 2009. Citing that study, Rose reported current load volume of $32 billion in open-loop government prepaid cards, a figure that Boston Consulting projects will grow to $162 billion in 2017.

Now, regardless of what one thinks about the explosion of entitlement programs, the point is that prepaid cards offer a cheaper alternative for their distribution than the traditionally used paper checks. The realized saving is $1 per payment, according to one U.S. Treasury official quoted by Herbst-Murphy, who adds that at present the Treasury is making over 1 billion payments annually.

Unsurprisingly, consumers also prefer prepaid cards to paper checks. In particular, the following prepaid characteristics are proving popular with beneficiaries of government payments, according to a survey:
Convenience. Opening up a checking account is not always an option for recipients, while getting a card is much easier and cards are universally accepted.
Immediacy. There is a time lag between receiving a check and having access to the funds, whereas prepaid cards provide immediate access to the recipient's money.
Simplicity and transparency. Even though respondents have rated prepaid cards positively on this count, we are told that the government "would welcome even more transparency about fees". Then again, the government always wants more transparency.
Value. This one was interesting to me. It turns out that respondents who overdraw their checking accounts view the fees associated with prepaid cards as less than the cost of overdraft fees on a checking account.
Budgeting. Prepaid transactions are authorized in real time, which keeps cardholders from overspending and makes it easier for them to manage their budgets, as compared to checking accounts. Forty-one percent of respondents have said that they use prepaid cards to do just that.

Overall, according to another survey, 94 percent of respondents reported that they like their government-issued prepaid card and 90 percent said they would recommend it to family or friends.

The Takeaway

So the Herbst-Murphy paper paints a very favorable picture of the various branches of the government which, on the whole, have been able to take advantage of the payment card system's infrastructure to "make and receive payments and distribute funds in ways that are more efficient, more secure, and more reliable". The days of the paper checks seem to be numbered and that is a good thing.

Image credit: SmartPay.gsa.gov.