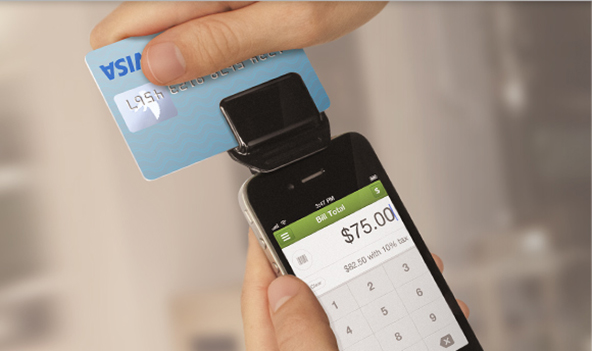 As anticipated, GroupOn is the latest company to launch a Square-like mobile payments service, the Chicago-based daily deal provider told us today. Rumors about GroupOn Payments, as the service is called, have been swirling around the blogosphere ever since the company bought FeeFighters, a comparison website for merchant accounts, back in March.

I have to admit that when I first heard about GroupOn's mobile payments ambitions I was quite skeptical about the project's potential, even though the details leaked in May sounded very interesting. After all, Square copycats have been popping up all over the place for more than a year now, yet none of them has managed to gain much traction, as evidenced by the fact that Square's growth rate, high as it is, seems to keep accelerating. Even mighty PayPal wasn't able to slow Jack Dorsey's juggernaut down. Why would GroupOn fare any differently? Well, while the latest newcomer certainly has a mountain to climb, I think that it does have a fighting chance.

GroupOn Biggest Advantage: Much Lower Rates

When PayPal Here was launched in March, eBay's subsidiary copied Square's pricing structure, with the only difference being that it lowered the headline swipe rate by a grand total of five basis points, from 2.75 percent to 2.70 percent. Evidently, the payments giant had calculated that it could take Square on even without competing on cost. Well, GroupOn has made different calculations. The daily deal site's rates for GroupOn merchants are substantially lower than Square's, as seen in the table below: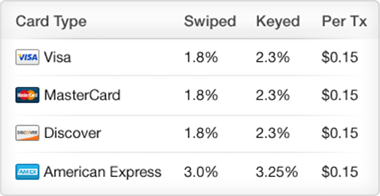 By comparison, Square's swipe rate is 2.75 percent, without the per-transaction charge. So Square provides a better value to merchants processing very small-ticket transactions, whereas GroupOn offers a better deal to retailers selling average- and big-ticket items. So a smart merchant could sign up for both services and put all low-dollar transactions on Square and run the higher-dollar ones on GroupOn. However, while that would be perfectly fine for GroupOn, it would be very bad for Square, which, due to its pricing structure, loses money on small ticket transactions. We did the math quite some time ago, but it's still relevant:
Square is losing money on transactions below a certain threshold that varies by card type. For regular Visa and MasterCard credit cards, the threshold is about $8.50, give or take, and it is higher for special card types, such as rewards, commercial, business-to-business, etc.

Moreover, following the introduction of the new debit interchange structure in October of last year, Square's break-even threshold for debit card transactions rose above the one for regular credit cards.

The rates for non-GroupOn merchants are higher, but still lower than Square's. But GroupOn has gone beyond offering lower headline rates. The company guarantees to "beat any competitor's rate". So, if a GroupOn merchant proves that it currently has lower processing cost than what the deal site advertises, GroupOn will create a custom pricing structure for it. Now, it has to be said that comparing different processors' rates can be very difficult and is often impossible, so such a feature serves primarily marketing purposes.

7-Day Customer Support, Next-Day Funding

One of the biggest puzzles surrounding Square has been the start-up's unwillingness to make available to its users an easily reachable phone-based customer support team. The processor has received, justly, a lot of flak for it and yet, if you go to its website even now, you won't find a customer support number listed anywhere. When PayPal Here was launched, eBay's subsidiary made sure that everyone learned that a live customer support team was available to help anyone who needed help. Now GroupOn has done the same.

The other big issue with Square has had to do with the funding of the customers' accounts. While Square tells us in its legal terms and conditions that payouts will "normally register within 1-2 business days", there is a catch:
If you accrue more than $2,002 in card-not-present sales during any trailing seven day period, Square will defer depositing the amount in excess of $2,002 for 30 days.

That 30-day hold has proved problematic with many users. For its part, GroupOn tells us that:
Merchants will also have their credit card deposits in their bank accounts overnight, which is much faster than the typical experience of waiting two to three business days offered by most credit card processors.

I wasn't able to find any special funding terms on GroupOn's website, but will wait until we know more before I pass judgment on it. See, processors place holds on their riskiest clients' money not because they enjoy the negative publicity that follows, but because they need to mitigate risk. All of us need to do it on occasion and I suspect that GroupOn will be no different. Still, next-day funding for regular customers is competitive.

The Takeaway

So GroupOn's payment processing proposal looks quite compelling. The rates are very aggressive and clearly stated and I suspect that they will get the attention of plenty of merchants. Moreover, GroupOn has built a huge base of existing customers to tap into and I expect that many of these merchants will at the very least be willing to give GroupOn a try. After all, there is nothing they can lose by doing so.

Image credit: GroupOn.