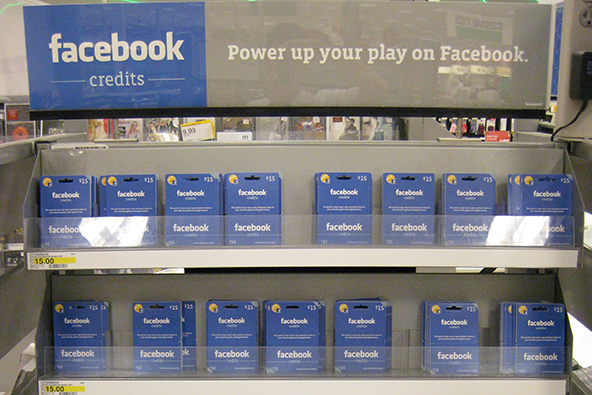 Facebook Credits, the social network's virtual currency, is on its way to becoming the dominant payment choice for buying virtual goods sold on Facebook by the end of the year, writes the NYT's Miguel Helft. But the social network's ambitions go well beyond becoming the master of its own domain. Facebook wants to succeed in becoming the top choice for processing payments on the web, leaving rivals like PayPal, Google and Amazon behind and generating billions of dollars in revenue per year in the process.

Credits were introduced a year ago to be used for payments in some Facebook games, like FarmVille, created by Zynga, the top developer of Facebook applications. This month, Helft writes, Credits became the exclusive payment method for most of Zynga's games. This is big business, as Helft points out, and it's growing fast:
Zynga is expected to have $500 million in revenue this year, according to the Inside Network, which tracks Facebook applications, as millions of users pay real money to buy virtual goods on games like FarmVille and Mafia Wars. Through Credits, Facebook will take a 30 percent cut.


By the end of the year, Facebook expects that Credits will be used to buy the vast majority of virtual goods sold on Facebook. The fast-growing market is expected to reach $835 million on Facebook this year, according to the Inside Network. To bolster that market, Facebook began selling Credits gift cards at Target stores across the country this month.

Once Facebook establishes its rule in its own backyard, it is unlikely to waste any time in expanding beyond it. CEO Mark Zuckerberg is quoted as saying that Credits may be used to do "a lot more" in the future. It is not all that hard to see what these other applications may be. Facebook already has a service, called Connect which, combined with Credits could potentially provide e-commerce merchants with a checkout system for their websites, much like what PayPal, Google Checkout and Amazon Payments do.

"If they can get 50 million registered credit cards, why wouldn't they use them to pay for your newspaper subscription?" asks Alex Rampell, CEO of TrialPay, an advertising company that offers free Facebook Credits to people who buy certain products.

Yet, as Google and Amazon can readily testify, success in the online payment processing arena can be annoyingly hard to achieve, even when you have the technology figured out. In the words of Mark Mahaney, a Citigroup analyst:

"Facebook is a very innovative company, but we have had two large innovative companies, Google and Amazon, that have spent a fair amount of effort on payments," but are yet to gain traction. "I have to think that the odds against Facebook are steep."

Whether Facebook will succeed in making any notable headway into the e-commerce payment processing field or it will become just another technology powerhouse to find out that convincing merchants to sign up is much harder than the actual processing of their payments, is not yet clear. If they do, however, Facebook will become the dominant force on the internet and will deserve it.

Image credit: Wikimedia Commons.