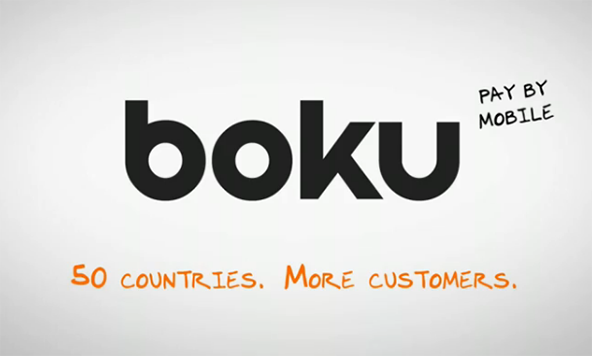 In my review of the new T-Mobile Direct Carrier Billing program last week, I wrote that it was difficult to predict what the future holds for this type of mobile payments service. That got me thinking about the companies that actually facilitate this type of payments for T-Mobile and other carriers and about their own prospects.

Perhaps the most prominent one among the direct billing specialists is San Francisco-based BOKU, so I decided to take a closer look into their business model.

What Does BOKU Do?

BOKU enables consumers to make payments online by entering their cell phone numbers at the checkout. Then BOKU sends you an SMS, asking you to confirm the transaction. You reply with a "Y" and you are done. The sale's amount is then added to your monthly phone bill.

BOKU started early and grew fast. The company claims to operate in "60 + countries with more than 220 different carriers." They have been most successful in facilitating micropayments for virtual goods sold on social media sites.

There are two reasons for BOKU's success with selling virtual products. The first is that these are purchased primarily by very young consumers who typically have no other payment options available to them. The second reason is that the very steep fees merchants are charged for accepting BOKU payments (around 30 percent, compared to around 2.5 percent for credit cards) are in this case acceptable, because of the incredibly high gross margins (in excess of 90 percent) on virtual goods and the lack of alternatives.

BOKU's Problem

BOKU's problem is that it is not in control of its destiny. The company may own its payment processing platform and have established direct relationships with merchants, but its carrier partners own the customer relationships and can dictate the terms of service, including the pricing. That is a big problem indeed.

Neither BOKU nor any of its competitors can in any way influence the decision-making process taking place at the T-Mobiles of the world. So far the carriers have been willing to utilize their payment platforms, but that shouldn't be taken for granted, nor should the present terms.

Moreover, it is difficult to see how BOKU can expand beyond the social gaming websites. No regular e-commerce merchant will ever agree to pay a 30 percent payment processing fee, under any conceivable circumstances.

What about processing credit and debit card payments on typical industry terms (say, 2.15% + $0.25 per transaction)? Well, all e-commerce websites already accept bank cards, so where would BOKU fit in?

The Takeaway

It seems to me that in the long run BOKU will not be able to function as an independent company. Its best exit strategy might be to make itself attractive to as many potential buyers as it possibly can and attempt to trigger a bidding war among them. We got a glimpse of how that may play out last year when Apple and Google were both reportedly in talks with BOKU, interested as much in acquiring the company, as they were in keeping it out of each other's reach.

We don't know exactly why neither tech giant ended up buying BOKU, but it is not difficult to see how things can get much more interesting if we add a few carriers and possibly a large payment processor or two to the mix.

Image credit: BOKU / YouTube.