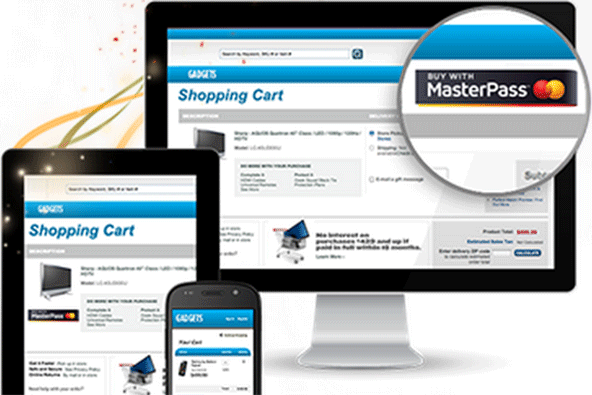 That is what I found myself pondering, not for the first time, this morning while I was reading MasterCard's news release about the card network's latest new-age payment offering. "With MasterPass", as the payment service in question is called, "consumers can easily make secure, device-based purchases from within a mobile app", MasterCard tells us. Crucially, the card network has already secured the partnership of several well-known businesses who have agreed to "power their in-app purchasing capabilities with MasterPass".

Needless to say, MasterCard's in-app payment offering is entering an already-crowded sub-industry and one, moreover, which has long outgrown its infancy. In fact, in-app payments have been around for several years already. A quick search on UniBul's blog tells me that the first time we wrote on the subject was all the way back in November 2010, in an article about Boku — a direct carrier billing provider. And that is no coincidence, as direct billing, in which the payment amount is charged to the customer's cell phone bill, is very well placed to handle payments that are almost entirely for very small amounts and are made predominantly by younger people who, as researchers keep telling us, are increasingly less likely to have credit cards.

So, does that mean that MasterCard is doomed in its in-app payment foray? No, not necessarily. The card network does face a steep mountain to climb, but it also does have an enormous amount of leverage. See, in the payments world, what consumers can use for payment is decided by the merchants at whom they shop. And the merchants' decisions are influenced in a big way by cost considerations. That is where MasterCard (and Visa, for that matter) has a huge advantage over its upstart rivals. After all, merchants are charged up to 40 percent for accepting direct-billing payments, compared to a rate in the low single digits for credit and debit cards. And that is something you can be sure MasterCard keeps reminding its MasterPass prospects. Will that be enough of an advantage to ensure MasterPass' success? No, I don't think it will, but let's take a brief look at what the card network is telling us about its new service.

MasterPass vs. Direct Billing

So MasterPass can be embedded into participating merchants' mobile apps to enable consumers to "complete a purchase with as few as one click or touch on their favorite connected device without leaving the app environment". MasterCard has already signed up a few dozen merchants who offer MasterPass to their customers. Most of them are small and / or unknown, but there are a few larger merchants, such as Forbes Digital Commerce, MLB Advanced Media and Starbucks Australia.

One point on which the press release is curiously silent, however, is what consumers would need to do in order to be able to make MasterPass payments. And this is precisely where MasterPass is likely to face its biggest obstacle. For, as you would have guessed it, before using the service, consumers would have to create an account with it and provide their name, address, credit card number, etc.

See, MasterPass is, for all practical purposes, a mobile wallet, much like Google Wallet, Isis, Square Wallet, etc. (the list is endless). And none of these wallets has so far been able to stoke any enthusiasm among consumers, for good reasons. The biggest issue, I believe, is the one with merchant acceptance: if you don't have a wide enough network of participating merchants, why would people want to be going through the trouble of signing up for your service? Nor are consumers likely to sign up for, and give their credit card account information to, say, a dozen mobile wallet providers, just so that they can be on the safe side and certain that they can check out of each app where they are likely to make a payment.

And this is precisely where direct carrier billing has a huge advantage, for consumers need not create an account, in order to make a payment at a participating merchant. All they need is a cell phone account, which everyone already has and the checkout process is very simple. In the case of Boku, which is the biggest direct billing provider, shoppers can make payments online, at participating websites or apps, by entering their cell phone numbers at the checkout. Then Boku sends you an SMS, asking you to confirm the payment. You reply with a "Y" and you are done and the sales amount is then added to your monthly phone bill. Unsurprisingly, direct billing is by far the most popular form of mobile payment and its simplicity, we are repeatedly being told, leads to conversion rates that are much higher than credit card conversion rates.

So, if MasterCard wants a good-size chunk of the $46 billion in in-app payments it tells us people will be making in 2016, the company has its work cut out for it. How likely is it to succeed? Well, the way I see it, the only in-app payment service that is likely to succeed in the long run is one that can accommodate all of its users' payment accounts: credit, debit, bank accounts, cash, etc. So, MasterPass, on its own, is hugely inadequate. But then, in the long run… In the meantime, here is MasterCard's infographic presenting MasterPass.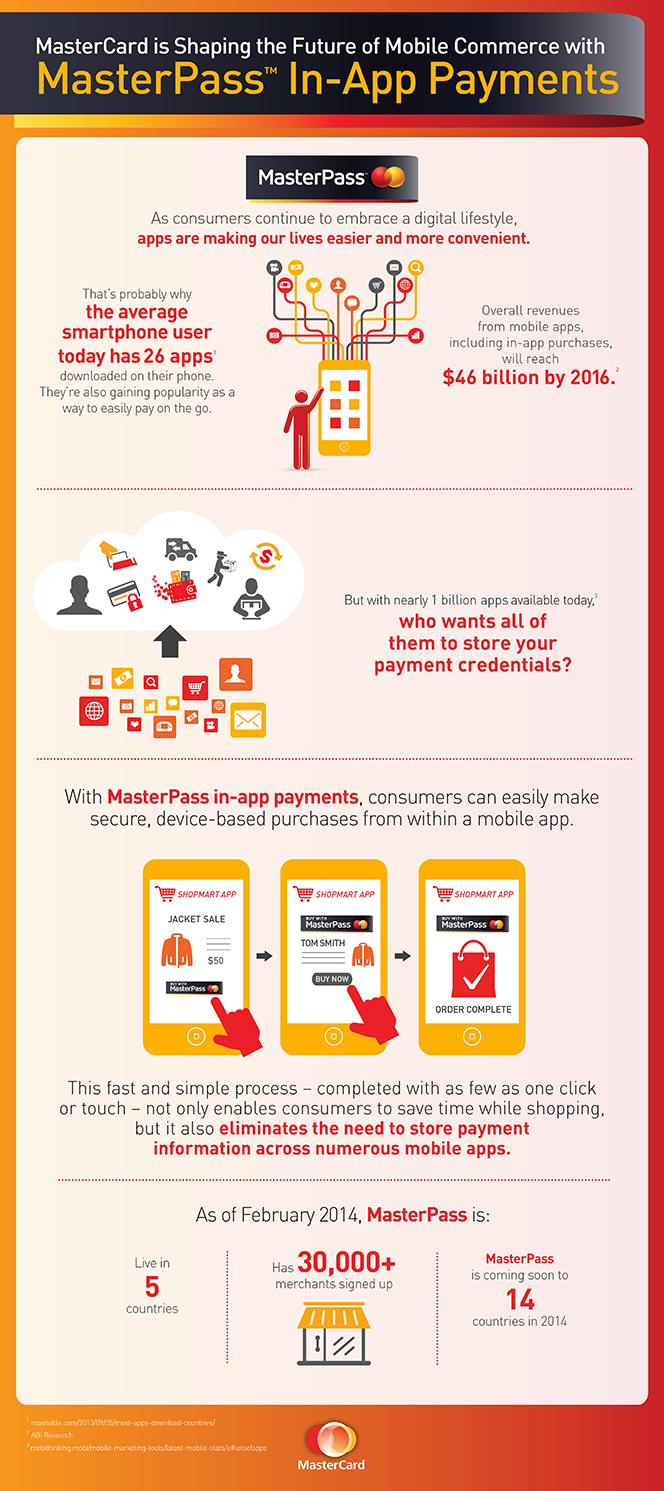 Image credit: a screenshot of MasterPass.com.