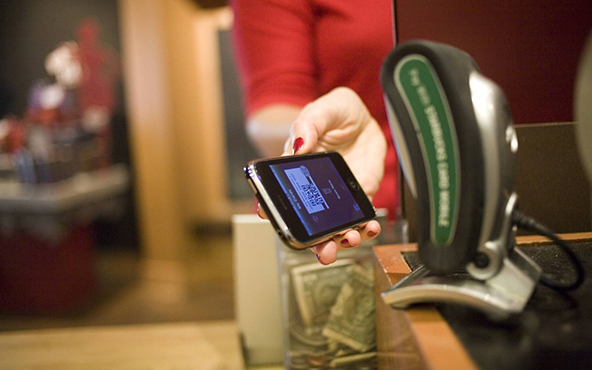 By any measure, the first year of Starbucks' mobile payments program has been hugely successful, as judged by the sales figures disclosed by the coffee chain in a press release. Starbucks was the first big company to deploy an m-payments service in a big way and their efforts are clearly paying off.

One of the unique features of Starbucks' m-payments venture, and one that also may have incidentally contributed to the service's fast adoption by consumers, is that it relies not on the much-vaunted near-field communication (NFC) technology, but on a far more conventional 2-D scanning device linked to the point-of-sale terminal. So Starbucks has been making a very good use of technology that already exists and is inexpensive to deploy (in fact, in many cases it may have already been deployed for other purposes). The contrast with NFC-reliant platforms like Google Wallet and Isis, which are both dependent on NFC-capable handsets that are just beginning to make an appearance in the U.S., and cash registers, which someone has to pay for and deploy, cannot be more stark.

Yet, successful as it is, Starbucks' mobile platform is not the most consumer-friendly one that can be designed. It only allows users to link their accounts to a Starbucks payment card that can only be used in company stores. Let's take a closer look.

The Starbucks M-Payments Program

Starbucks began testing its mobile payments service in 2009 in 16 of its stores. Then in early 2010 it expanded the pilot program to include more than 1,000 outlets located within Target stores. Then in October of 2010, the pilot was further expanded to 300 stand-alone company stores in New York City and parts of Long Island.

The program was officially launched in January of this year and is now available at more than 9,000 locations. To use the service, Starbucks customers first need to download a mobile app, which is currently available for iPhones, iPods and Android-based devices.

Once downloaded, the app links the customer's phone to her Starbucks Loyalty Card, which is a prepaid card. Whenever the user needs to add funds to her account, she can do so directly through the app or through other sources.

Starbucks Processes 26M Mobile Payments in 2011

The numbers reported by Starbucks are really impressive:
Since the launch of mobile payment in January, there have been 26 million mobile transactions to date. In the first 9 weeks of the program, there were 3 million transactions and in comparison for the 9 week period starting in October, there were 6 million transactions, demonstrating a significant jump in customer adoption and use.

…

Since Jan. 2011, there has been $110.5 million reloaded onto Starbucks Cards directly through the mobile app.

Adam Brotman, SVP and GM of Starbucks Digital Ventures, is understandably happy with the way his mobile project is evolving:
The customer response to our mobile apps has been phenomenal. Not only are they using their phone as a wallet, but as a connection point to Starbucks as they manage their Starbucks Card accounts, send eGifts and get into the holiday spirit with the Starbucks Cup Magic app.

On the international front, Starbucks has already made mobile payments available in 1,000 Canadian stores and will make its U.K. debut in January.

The Takeaway

Adam Brotman has every right to be proud with his division's progress. Starbucks moved early and ambitiously into mobile payments territory and consumers are now rewarding their efforts and justifying the investment.

Yet, is Starbucks' platform really all that consumer-friendly? After all, customers are restricted to linking their phones only to a Starbucks prepaid card and then using the service only at Starbucks locations. Here is what we wrote more than a year ago, when we first reviewed the service:
But is this the way mobile payments should go forward? Would you want to have to use a separate app for each retailer and provide sensitive personal information over and over again? It seems to me that a mobile payments service that can be used everywhere would be a much more logical solution.

These still sound like relevant questions. Add to them the issue of enabling consumers to link a bank card of their choosing to their mobile payments account and we are faced with another question. Is it possible that Starbucks' success can simply be a reflection of the fact that we just don't yet have an alternative?

Image credit: Starbucks.