I've been pondering this question ever since the Consumer Financial Protection Bureau (CFPB) first made public the information it collects about individual credit card complaints in June 2012. Capital One immediately jumped to the lead and, we now learn, is yet to relinquish it. But bragging rights were not the only award the consumer watchdog bestowed to the card issuer. No, just a month after it published its complaint database, the CFPB levied a fine of $25 million on Capital One and forced the bank to refund another $150 million to its cardholders for engaging in deceptive practices employed when consumers were calling the bank's call centers to activate their new cards. These practices involved getting cardholders to sign up for services like payment protection and credit monitoring.

Well, I am yet to figure out what it is that makes Capital One stand out among its peers, but rest assured that UniBul's readers will be the first to learn about my conclusions when I do. In the meantime, the U.S. Public Interest Research Group (PIRG) has taken a close look into the CFPB's complaint database and has shared their findings in a newly released report. Among other things, it confirms that, when it comes to consumer complaints, Capital One does stand head and shoulders above the competition, but there is much more in the report than that, which is why I thought I'd share its main findings with you. Here they are.

CFPB's Complaint Database

Before I get going, here is the credit card complaint database under examination:
Capital One Is Still the Most Complained-About Issuer

Capital One accounted for 21 percent of all consumers' complaints, as you can see in the pie chart below. Rounding up the top five are Citibank, Bank of America, JPMorgan Chase and GE Capital Retail. Here is the full breakdown: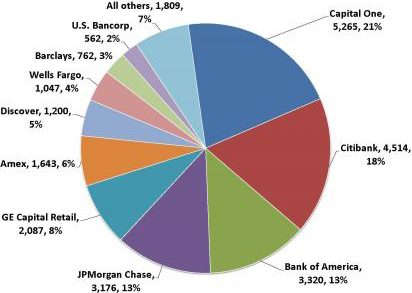 The top 10 credit card companies on the list account for 93 percent of all consumer complaints to the CFPB.

GE Capital Most Complained-About on a Per-Dollar Basis

Now, it is important to point out that Capital One isn't leading on all fronts. In fact, the leader among the top 10 card issuers in what might be considered the most important category — the ratio of complaints to card purchase volume — is GE Capital Retail. GE Capital notched 88 complaints per billion dollars in purchase volume, with Capital One a distant second with 46 complaints and Barclays an even more distant third with 25 complaints per billion dollars in purchase volume. For perspective, AmEx gets only 3.2 complaints per billion dollars in purchase volume. Here is the full breakdown: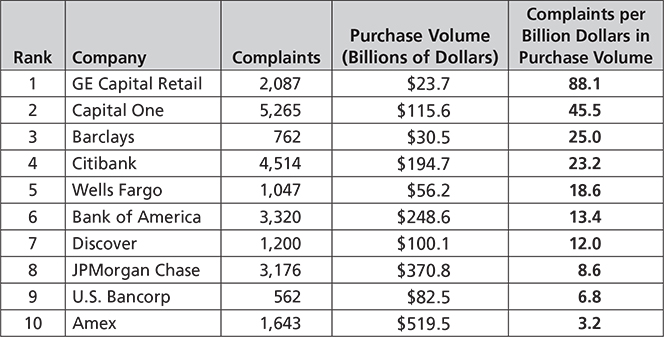 Billing Disputes Lead the Way

Most of the consumer complaints — 16 percent of the total — took the shape of billing disputes, followed by issues with annual percentage rates (APR) or interest rates (I don't know why these are separated) at 10 percent and then three categories — identity theft, fraud or embezzlement, credit reporting and closing or cancelling accounts — share the third place with 7 percent. Here is the full breakdown: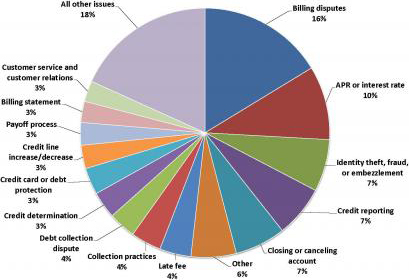 Capital One Leads in 43 States

Capital One was the most complained-about credit card company in 43 states, relinquishing the top spot to Citibank in six states and the District of Columbia and to Bank of America in Alaska. Here is a visual representation of Capital One's dominance: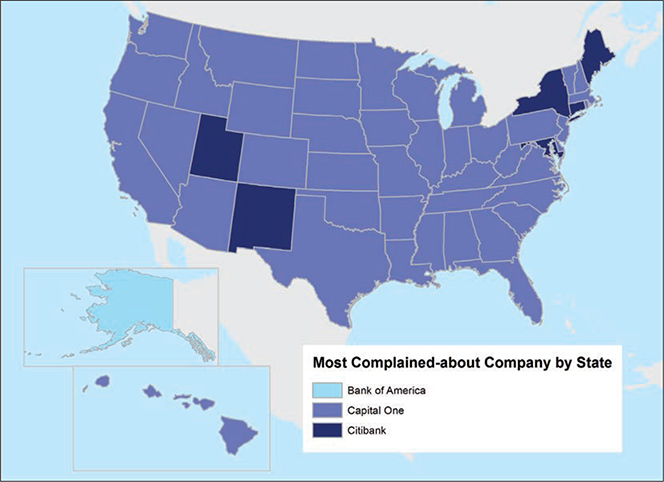 Northeasterners Complain the Most

Residents of Northeastern states are most likely to complain about their credit cards, we learn, while cardholders in the Midwest and the South are least likely to do so. Leader on a per-capita basis was the District of Columbia, followed by Delaware, Maryland, New York, New Jersey, Florida, Connecticut, Massachusetts, Virginia and Maine.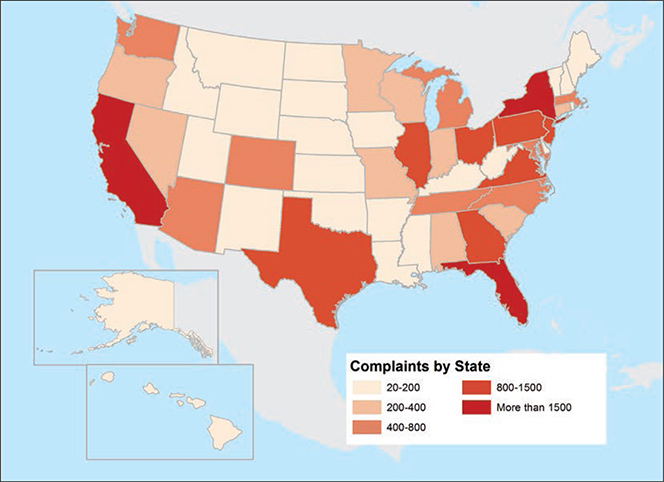 Patting the CFPB on the Back

The CFPB has helped more than 7,300 consumers — close to a third of all complainants — to receive monetary compensation as a result of their credit card complaints, the report has found. The median amount of the monetary relief is estimated at $128. In addition, more than 2,000 of the remaining complaints were closed with some form of non-monetary relief, such as altering account terms or fixing an incorrect submission of information to a credit reporting agency.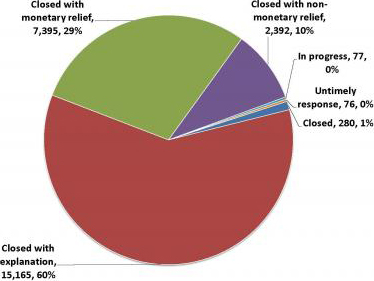 Issuers Differ in Their Handling of Complaints

Of the 10 card companies, which received the most complaints, the one most likely to dispute them was American Express, which did so for just over a quarter of the complaints the CFPB sent its way. GE Capital Retail was least likely to dispute its cardholders' complaints, doing so in only 14 percent of the cases.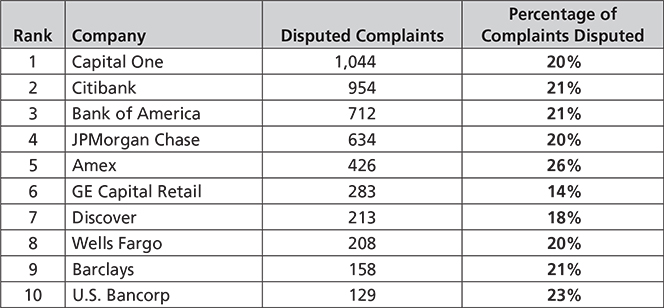 Furthermore, whereas close to 40 percent of the complaints concerning GE Capital Retail resulted in monetary relief to the cardholder, that was the case for only about 20 percent of all complaints about American Express.

On the whole, about a fifth of all credit card companies' responses were deemed unsatisfactory by the consumers who filed them, which led to further disputes. In absolute terms, the issuer which received the highest number of disputed responses was Capital One (1,044), followed by Citibank and Bank of America. You will note that these were also the companies with the highest number of overall complaints.

The Takeaway

The report goes on to make several recommendations on how to "enhance the ability of the CFPB to respond to consumer complaints". Among the proposed actions, the one that stood out to me was the suggestion to "[p]ublicize information about the CFPB complaints process in forums that are likely to be seen by credit card users" and I think that this is a good idea. The CFPB complaint process does work and it makes sense to advertise it to the public. Of course, efforts should also be made to discourage consumers from abusing the complaint process.

However, none of that will help us understand why Capital One is outscoring its peers so decisively, but more data might help us do so. Eventually, we will figure it out, I'm sure of it.

Image credit: Flickr / taberandrew.