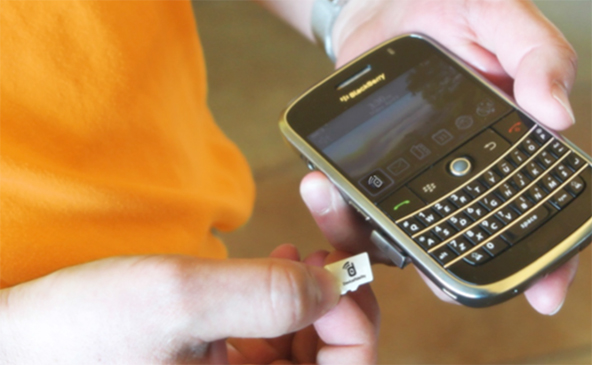 The race for dominance of the fledgling mobile payments market is heating up. Yesterday we read about the latest Android mobile operating system that supports near field communication (NFC), which can potentially be used for making wireless payments. Today we learn that Wells Fargo is launching a pilot program to test Visa's latest NFC-based mobile payments service.

Visa's m-payment solution is based on the In2Pay microSD card, developed by Texas-based DeviceFidelity, which is compatible with the Blackberry Bold 9650, the iPhone 4/3GS/3G and the Android-based Samsung Vibrant Galaxy 5.

The pilot will involve 200 of Wells Fargo's employees who use specific BlackBerry and iPhone devices. BlackBerry users will insert a DeviceFidelity In2Pay microSD chip containing Visa payWave software directly into their phone's SD slot. The supported iPhone models, however, lack a SD slot, so their users will receive an In2Pay case for their device that contains the microSD card.

Here is how Wells Fargo describes the In2Pay payment process and who their target users are:
To make payments, users simply open the Wells Fargo Mobile Banking application, select pay with phone and wave the phone in front of the contactless reader at the point of purchase. The reader will light up and beep, indicating that the payment has been received.


Wells Fargo team members participating in the pilot will be able to use their personal BlackBerry smartphone or iPhone to make payments wherever there are contactless payment readers, including fast food restaurants, taxis, sporting event concession stands and vending machines.

It is worth noting that, according to Visa, Wells Fargo, along with JP Morgan Chase, US Bancorp and Bank of America, has already tested the In2Pay microSD chip. It seems like the current pilot will be more of a test of Wells Fargo's own mobile payment application and its compatibility with DeviceFidelity's technology.

NFC-based mobile payments programs have been in the spotlight for months now and have involved most of the big players in the industries that stand to gain the most of the exponential growth of the nascent industry. Yet, NFC-based payments are projected to only rank fourth in the mobile payments list of 2015, according to the Aite Group, a research and advisory firm.

Top Five Mobile Payment Markets by Volume in 2015

| | |
| --- | --- |
| Mobile Payments Type | Volume |
| Bill Payments | $82 Billion |
| Bank Card Acceptance | $54.8 Billion |
| E-commerce over Mobile Phones (M-Commerce) | $27.3 Billion |
| Point-of-Sale Payments (NFC Payments) | $22.6 Billion |
| Person-to-Person Transactions | $13.8 Billion |

Looking at this table, one can't help but wonder why the big banks are not paying much attention to, say, the bank card acceptance segment of the m-payments industry, which, if Aite's forecasts are correct, will be two and a half times as big as the NFC-based one by 2015? This neglect has allowed Square, a start-up headed by Twitter co-founder Jack Dorsey, to take the early lead. The upstart is reported to be signing up about 10,000 new users per month.

The answer may be that we are seeing a repeat of the events that gave rise to PayPal a decade ago. Just as eBay's subsidiary was perceived when it first appeared, mobile bank card acceptance is mostly seen as a consumer-to-consumer (C2C) type of service, not a business-to-consumer (B2C) one and the big banks just didn't believe the concept was viable. By the time they realized that there actually was money in the C2C payments model, it was already too late for them to catch up with PayPal. You would think the banks would learn from their mistake, but it looks like Square is poised to benefit from the same short-sightedness.

Image credit: Devifi.com.