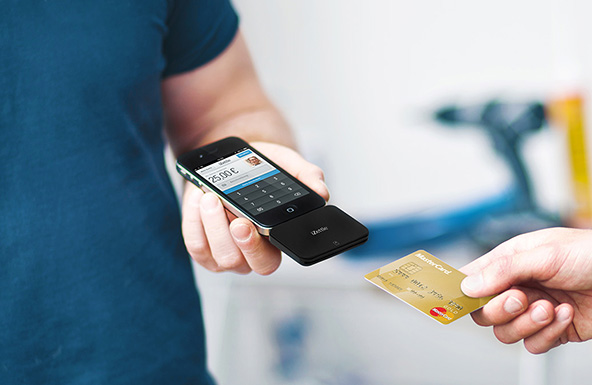 When iZettle officially launched in the U.K. last week, the start-up told us that its users would be able to accept Visa, in addition to the other major European payment card brands. That was significant, because Visa acceptance by iZettle users in Britain was not an option during the six-month-long pilot that preceded the full-scale launch and also because earlier this year Visa had banned the Swedish company from processing its cards in Denmark, Finland and Norway (but not Sweden). Well, yesterday the start-up announced that the ban had been lifted in all three Scandinavian countries.

While these are all good news for the start-up, the Visa issue is not exactly solved. Far from it. Whereas iZettle users can indeed now accept the world's biggest payment network's cards, the process is an incredibly and unnecessarily complicated one. So much so that it will almost surely lead to much lower Visa processing volumes than they would have been if the payment network had applied the same processing standards as its competitors. And one cannot help but wonder whether Visa Europe is not actively seeking to discourage mobile acceptance of its cards or at least do so until its own partners are ready to launch.

How iZettle Users Accept Visa

If a MasterCard or American Express card is used for payment, the customer would just insert her card into the card reader and then sign the receipt to complete the transaction. But "[t]o take Visa," MasterCard-backed iZettle tells us, "the transaction works a little differently. You don't have to use the card reader, and the transaction is completed using the cardholder's phone." Here is the step-by-step process:
1. After entering an amount, tap "Pay" in the app and select the option called "Visa payment".

2. The cardholder enters their phone number in your app.

3. The cardholder receives a text message with a link to a secure web page where they can input their card details in a form.

4. The cardholder receives an immediate onscreen confirmation of the purchase, and you get a notification in the app which confirms that the sale has gone through!

Well, what does this process look like to you? Yes, this is a description of an e-commerce transaction. Now, why should a card-present transaction be processed like a card-not-present one? Here is how iZettle answers this question:
The reason for this process is that in addition to EMV regulations which are used around the world, and with which we have always been compliant, Visa Europe have issued their own guidelines for Visa transactions in certain countries. This process is compliant with Visa Europe's regulations.

Again, note that Visa is the only payment network that has imposed such requirements and that these are only applicable to certain countries.

Where Does that Leave iZettle?

Here is how iZettle's co-founder and CEO Jacob de Geer is pitching his company's service in the U.K.:
The beauty of iZettle is that it's simple to use, totally secure and takes seconds for a transaction… Whether you are a cabbie, florist, tradesperson or a courier, iZettle gives you the flexibility to operate in both cash and cards. The possibilities are endless because hundreds of thousands of small business can now take plastic.

But in reality these endless possibilities are only as bright as de Geer describes them if payments are processed on non-Visa cards. I, for one, can't quite imagine a London cabbie being all that thrilled about a service that would take minutes to accept a Visa payment, and yes, that is how long it would take to go through all the four stages of the convoluted process described above. And, by the way, the more complicated the process, the higher the probability of things going wrong.

The Takeaway

Visa Europe gives no explanation for its hostility to this chip-and-sign-type of mobile payments transactions, nor does it seem that the payment network cares all that much about what people think about its decision. Here is what one of its spokespeople tells Computerworld:
We are continuing to work with iZettle to develop a fully Visa Europe compliant mobile point of sale solution… In the meantime iZettle merchants can support Visa card acceptance through an e-commerce transaction on the cardholder's phone.

So we are told to hang on until things get better and I can't help but wonder what that might mean. Is it just possible that Visa Europe is holding off its approval in anticipation of an upcoming Square launch in Europe? It's a fair question, considering that Visa is an investor in Square, isn't it?

Image credit: iZettle.