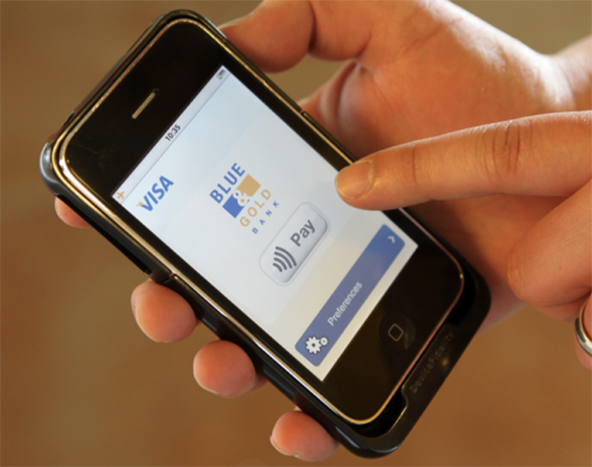 Apple may be staying out of the mobile payments race for now, but that does not mean that others will not use its products as platforms for building their own payment acceptance services. Visa, the world's biggest credit card network, has launched another trial of an iPhone-based m-payments service, this time in Australia.

The News: Visa Tests NFC-Based Mobile Payments on iPhones

The San Francisco-based payment company has partnered with Australia and New Zealand Banking Group (ANZ) in a rather small-scale mobile payments trial involving 50 employees in the partners' offices in Sydney and Melbourne.

The participants will be testing a service that is based on near-field communication (NFC) technology, which allows enabled devices to communicate with each other at distances of up to eight inches and is primarily used for mobile payments.

Here is how it works. The 50 testers get iPhones enveloped in specially-designed cases, built by Texas-based DeviceFidelity. Each case contains a MicroSD card, which stores the user's bank account details. Payments are then made with the help of a Visa payWave application (see video below).
Other Visa iPhone-Based Mobile Payments Trials

A similar test program in the U.S. was announced in December of last year. Back then Visa's partner was Wells Fargo and the hardware was the same.

Yet another NFC-based mobile payments project was launched by Visa in Europe a little over a month ago. This trial also involves Turkish?áYapi Kredi bank and one of the biggest local mobile carriers — Turkcell. The hardware, called iCarte, is built by Calgary-based Wireless Dynamics and a special Visa mobile iCarte app is needed.

MasterCard is also testing similar mobile payments services built around its PayPass contactless payment platform and the two rivals were even involved in a joined NFC-based pilot program last year. The feat was achieved by the New York Metropolitan Transportation Authority (MTA).

Apple Is Out, Its Products Are In

Our recent post on Apple's reported decision to not support NFC-based mobile payments in its next iPhone iteration generated some interesting responses. One reader accused us of using a "misleading headline" by equating NFC with mobile payments. So let me elaborate.

The commenter is, of course, correct that there are other types of mobile phone-based payment services that do not rely on NFC technology. The point, however, is that the only type of payment acceptance over which Apple has any control is the NFC-based one. So its decision not to incorporate the technology into its products clearly amounts to not supporting mobile payments.

The other types of m-payment services use Apple merely as a provider of hardware, on which they build their platforms, either through apps or by connecting additional hardware, or both.

As evident from the examples above, Visa has partnered with two hardware developers in their trials. If Apple had built NFC support into the iPhone, neither DeviceFidelity nor Wireless Dynamics would have been needed and the process would have been a much simpler one.

Image credit: Macdigger.ru.