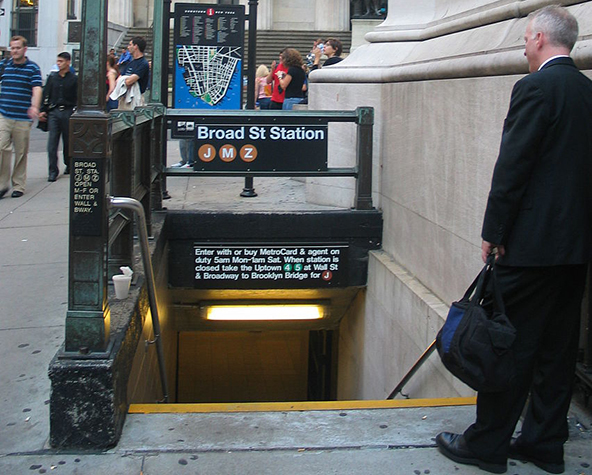 Visa is joining rival MasterCard in testing a pilot program that will allow New York commuters to pay their Metropolitan Transportation Authority (MTA) fares by waving their phones or credit cards by a specially equipped turnstile, we learn from Reuters' Maria Aspan.

Earlier this summer, MasterCard said that the MTA has agreed to allow MasterCard PayPass cardholders to use their credit cards instead of MetroCards to ride certain subways and buses in the city. Commuters in London, Washington, D.C. and Hong Kong have had this option available for years.

PayPass cards have a chip that allows users to tap their cards against a specially designated box on buses or subway turnstiles, instead of swiping them. The chip can also be attached to a smart phone. The chips are using near-field communication (NFC) frequency to communicate with the turnstile. The NFC frequency allows data transmission within a range of less than 20 cm. (8 in.), which limits the risk exposure to threats from hackers.

For the MTA, the end goal of the experiment is the full replacement of the MetroCard by 2014, a project of MTA Chief Executive Jay Walder, who previously worked on implementing London's Oyster Card – an all-purpose transit card. Walder hopes to eliminate the 15 percent cost the MTA incurs in collecting fares.

However, this goal could not have been achieved without bringing the biggest payment network on board. So yesterday's announcement that Visa will enable its cardholders to pay for their MTA fares using contactless technology brings Walder a step closer to successfully completing the project.

Visa's equivalent to MasterCard's PayPass is called payWave and uses the same technology as its rival. Visa has also issued a payWave-enabled commuter benefits card called the TransitChek QuickPay Card, which allows users to pay their MTA fares using the so-called "tax-advantaged flexible spending accounts." Bank of America is facilitating the smart phone payments in New York, according to Reuters.

The chip, used to transmit Visa payWave transaction data, needs to be inserted into a smart phone's MicroSD slot. Users of iPhones need to get an iPhone case containing a MicroSD slot, because the iPhone doesn't have a memory card slot.

Visa payWave and MasterCard PayPass payments are accepted at 28 stops along the Lexington subway line, at most PATH rail stations in New York and New Jersey, on several MTA bus lines in New York City, on select NJ TRANSIT bus routes in northern New Jersey and at Newark Liberty AirTrain Station in New Jersey.

MTA's contactless payment test is a step in the right direction. At the speed communication technology is evolving, within a few short years most of us will be using our cell phones as credit cards and merchants had better prepare for it, lest they are left in the past.

Image credit: Wikimedia Commons.