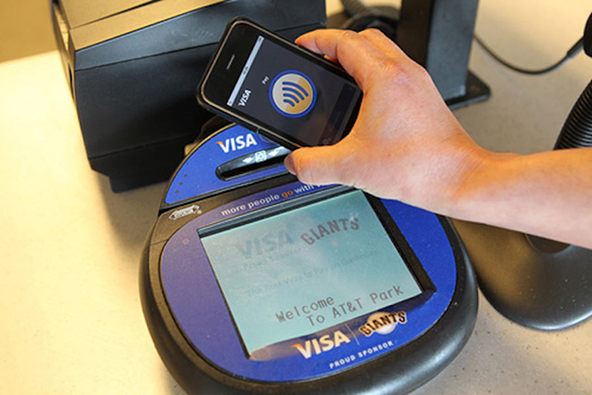 Visa Europe, in collaboration with Calgary-based Wireless Dynamics, has developed a mobile payment service that will allow European iPhone users to make purchases by simply touching their phone to any contactless-enabled point of sale (POS) terminal across the Old Continent, we learn from a press release.

The service is based on near-field communication (NFC) technology, which enables the transmission of data at short distances (up to four inches), allowing NFC-enabled devices to communicate with smart cards and readers.

To use the service, European iPhone owners will first have to attach the Wireless Dynamics iCarte accessory to their device and then download the Visa Mobile application for iCarte App from the App Store.

The service has already been launched in Turkey, on the network of the biggest local mobile phone operator — Turkcell. Details are sketchy, but it seems that the Turkish?áYapi Kredi bank is underwriting the credit card accounts that are being charged each time a payment is made.

Here is how the payment process works. The iCarte accessory, which is a piece of hardware that attaches to the base of the iPhone, contains the credit card information and an antenna. Once the mobile app is downloaded and the account activated, users can make purchases by touching their iPhone to a contactless reader, without the need to enter the credit card's PIN (in Europe, unlike in the U.S., credit cards are mostly of the chip-and-PIN?átype, which require a PIN to be entered before a transaction can be completed), which is stored in the iCarte.

In Turkey alone there already are 40,000 contactless POS terminals capable of accepting iCarte payments, according to the press release. Visa plans to expand the service to Italy, France, Poland, Spain, Switzerland and the U.K., where it is already being tested by Visa staff.

Currently the iCarte accessory is only compatible with iPhone 4, iPhone 3GS and iPhone3G on iOS 3.1 or higher. There is no indication that Wireless Dynamics is working on making it available for other types of phones.

The iCarte Secure Element, which is the fancy name of the piece of hardware that contains the payment account information, can be associated with multiple Visa accounts. Users will periodically be asked to enter their credit card PINs to ensure that they are the account's owner.

Payment Processing Takeaway

The iCarte service is very similar to Isis, a joint venture, involving U.S. carriers AT&T, T-Mobile and Verizon, Discover, a credit card network and Barclays, a large bank. In fact, there have been quite a few of other NFC-based services that have recently made the headlines around the globe.

One trend that begins to emerge from all of these announcements is that the providers of NFC-based payments are tying users up to one particular card issuer. In the iCarte instance, the accounts may be multiple, but the issuer is one Turkish bank. With Isis, the issuer is Barclays. Even in the case of Starbucks, the mobile payments are deducted from a prepaid card.

While having the option of paying with your phone is no doubt a convenience, there is really no reason why consumers should be required to use a specific bank's card to pay at a particular store. Technically, any card's information can be stored on a phone and consumers should be allowed to do that. I will always want to be able to pay with the credit card that gives me the best rewards and will not agree to use any other card simply because it is the one that works with Visa's contactless service, convenient as it may be.

I believe it is only a matter of time before someone decides to offer such a service and the others will inevitably follow. This doesn't mean, however, that it will happen quickly. Chances are that the big credit card companies and mobile carriers will cling on to their monopoly status for just as long as they can get away with.

Image credit: Movilzona.es.