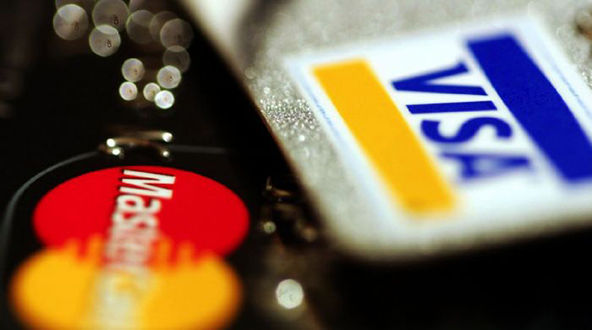 Visa and MasterCard are close to settling an antitrust probe over restrictions the two payment card associations impose on merchants accepting their cards, according to WSJ's Robin Sidel and Thomas Catan.

At issue are a set of rules that merchants are required to accept and adhere to when they enter into an agreement with Visa or MasterCard member bank. According to these rules, merchants must:
Accept all cards bearing the logo of the credit card association they have contracted with. This means, for example, that merchants cannot elect to accept debit cards, but to reject credit cards, which they may be tempted to do because processing fees are typically lower for debit cards.
Not set a minimum sale's amount for customers who want to use a card for payment.
Not charge a fee to customers who use cards for payment.

According to WSJ, DoJ's investigation is focusing specifically on Visa and MasterCard rules prohibiting merchants from charging fees to customers who use types of cards that cost more to accept. For example, debit cards are cheaper to accept than plain-vanilla credit cards which, in turn, are cheaper to accept than credit cards linked to a rewards program which are cheaper to accept that business-to-business types of credit cards.

To give you a better idea of what these differences can be, here is a list of what a merchant can potentially be paying for the acceptance of Visa cards in a card-present setting (for the purposes of this example I am using the interchange-plus pricing model):

| | | | |
| --- | --- | --- | --- |
| Visa Card Type and Category?? | Interchange Fee?? | Processor Fee?? | Merchant Fee |
| CPS / Retail Debit – All Other | 1.03% + $0.15 | 0.25% + $0.10 | 1.28% + $0.25 |
| CPS / Retail Credit – All Other | 1.54% + $0.10 | 0.25% + $0.10 | 1.79% + $0.20 |
| CPS / Retail Credit Rewards | 1.65% + $0.10 | 0.25% + $0.10 | 1.90% + $0.20 |
| Commercial Business-to-Business | 2.10% + $0.10 | 0.25% + $0.10 | 2.35% + $0.20 |

1. Visa and MasterCard publish bi-annually lists of fees, called interchange fees, charged by their card issuing banks for the various types of cards in all possible card acceptance environments.
2. Interchange fees are set bi-annually by Visa and MasterCard and are collected by the card issuing banks.
3. Processor fee is the mark-up above interchange that processors charge for their services.

Under the expected settlement, merchants may potentially be allowed to encourage customers to use cards with lower processing fees, a practice known as "steering." It is not clear, however, whether merchants will be allowed to charge an extra fee to customers who use cards that cost more to be accepted. An alternative option would be for merchants to offer discounts to customers who use debit cards or plain-vanilla types of credit cards.

Whatever the outcome, it will undoubtedly represent another setback for credit card companies that are still reeling from the record losses they incurred during the financial crisis and are on top of that now faced with much stricter regulations, as a result of the recently enacted CARD Act provisions. Moreover, the new financial overhaul legislation has charged the Federal Reserve with ensuring that debit card interchange fees are "reasonable and proportional." The Fed's rules, when enacted, are expected to place lower limits on those fees.

Image credit: Elcivico.com.