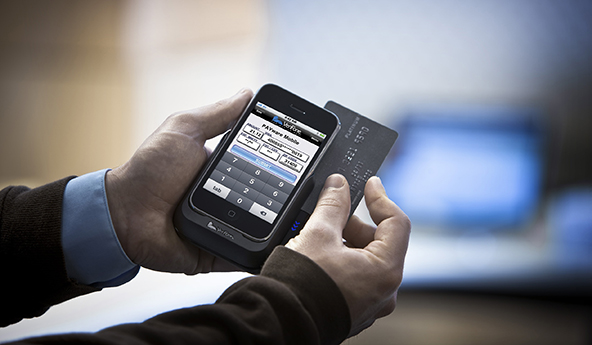 One company that has gone under our mobile payments radar is VeriFone, one of the best-known hardware providers for the traditional credit card processing industry. Perhaps the fact that VeriFone is known primarily as a point-of-sale (POS) credit card terminal manufacturer is the reason we have neglected it for so long.

Well, today we will attempt to make amends and review VeriFone's latest technology, which it hopes will enable it to take on the likes of Square and Intuit in the heated race for mobile payments domination.

Actually, PAYware, VeriFone's mobile payments offering, was first announced about two and a half months ago at PayPal's Innovate 2010 developer conference in San Francisco, where, among other things, PayPal announced a partnership with VeriFone that would enable merchants to accept credit cards directly through PayPal's Mobile Express Checkout.

Additionally, VeriFone introduced its PAYware Mobile card encryption sleeve for iPhone that would accommodate PayPal payments as well as traditional credit card transactions. PAYware was said to support PayPal's Bump technology that enables iPhone users to tap their phones together and transfer money between their accounts.

Earlier this week, VeriFone offered more details, announcing the PAYware Mobile Enterprise in a press release. Here is the gist of the announcement:
PAYware Mobile Enterprise incorporates a PCI-approved PIN debit keypad, which allows merchants to leverage dramatically lower transaction costs, and a 2D bar code scanner for quickly and efficiently performing mobile check out or inventory control tasks. In addition, PAYware Mobile Enterprise features built-in NFC and EMV smartcard capabilities, ensuring North American retailers are ready to embrace NFC-enabled mobile phones and the highly anticipated rollout of EMV smartcards.

So PAYware comes in two forms: an NFC-based service that enables users to make payments by waving their cell phones by a NFC-enabled reader, and a physical one that adds a sleeve to your phone, turning it into a mobile POS terminal.

VeriFone will have plenty of company in both areas, especially in the NFC one, where it seems like every major company in any industry that is in any way connected with mobile payments has launched a service.

The direct credit card acceptance segment, although not yet as crowded, is just as interesting, though, not least because it is projected to be about two and a half times bigger in volume than the NFC market by 2015. Here, PAYware's biggest competitors are Square, who seems to have taken the early lead, and Intuit's GoPayment and Mophie.

Earlier this week we compared the pricing models of Square and Intuit's two platforms. Unfortunately, we cannot add PAYware into the comparison tables, because its pricing can vary. VeriFone, as Intuit, requires that PAYware users set up a merchant account first. Unlike Intuit, however, VeriFone allows users to set up a merchant account with a third party provider, who would set their own pricing.

So PAYware is more flexible than both GoPayment and Mophie, which is good news for business users. For consumers, however, Square is still the better option, because non-businesses cannot apply for a merchant account. At the very least, you need a DBA registration to be considered for a merchant account, which is a step too far for many consumers.

Image credit: VeriFone.