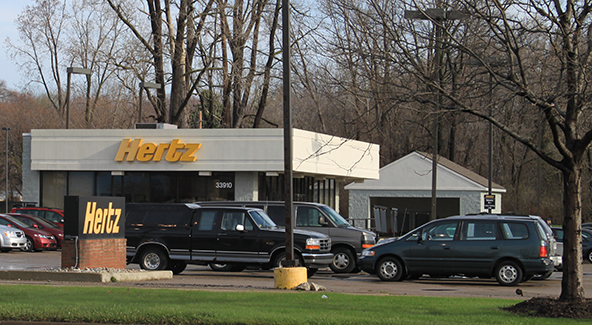 This is a guest post by Michael Germanovsky, credit card expert at Credit-Land.com

Renting a car often goes hand in hand with a summertime jaunt to the beach, or a mid-winter skiing getaway. But rentals can get expensive, when you add in the extras, and most of us are looking ways to save money these days – so why not skip the rental company's insurance fees and just use the insurance your credit card bank offers? It's so much cheaper and convenient that it may seem like a no-brainier. Especially, if you've seen the recent media reports suggesting that when it comes to insuring your rental car, forgoing the primary coverage offered by the car rental company, and using the free insurance coverage provided by credit card companies, can be a real money saver. But hold the presses, and tread lightly — this frugal assumption may be wrong.

Whether it's a good idea or not really depends upon the credit cards you have in your wallet. Taking a close look at the options offered by your credit cards, is key, because these days many cards are offering secondary insurance rather than primary insurance — and there's the rub. While you avoid some upfront costs, you may end up spending more later on if you're unlucky enough to have a fender-bender or your rental car is stolen. Don't assume your credit card provides primary insurance — check in with the card issuer to make sure, because when you use secondary insurance you run the risk of your everyday car insurance premiums going up, and who wants that?

In an independent study performed by credit card experts at Credit-Land.com revealed astonishing results that majority of credit card companies either provide secondary coverage or don't provide coverage at all. Let's look at two examples of these credit card companies and their coverage.

MasterCard MasterRental

While MasterCard may have a great Purchase Protection Program, when it comes to car rental insurance coverage they may not be your best bet. MasterCard MasterRental is mostly available as secondary, supplemental coverage, meaning that it will only cover your automobile insurance deductible.

It rarely offers primary coverage, limited to their World Card Packages. But, even that cannot be taken as a rule-of-thumb, because, for example, if you have CitiBusiness AAdvantage World MasterCard – you're getting a secondary coverage. Some MasterCards don't even have car rental coverage — United MileagePlus Explorer Card is a good example.

The upside of MasterCard MasterRental?«, is that it offers coverage for up to $50,000 per incident, but the downside is that it's pretty much a secondary insurance, unless you don't have a standard automobile policy. In that case it may work for you because it converts to primary coverage.

If you already have auto insurance, and you want to save money by declining car rental coverage, relying on MasterCard?« MasterRental?«, you run the risk of your insurance premiums going up, because you still have to call your primary carrier, to file your claim. In this case, going with the standard card rental coverage, offered by the rental company, may be the better option, because you may end up paying more per month on your car insurance, if you have car rental fender-bender.

Discover Card and Visa Auto Rental Insurance Coverage

Discover is in many consumers' wallets, and it offers lots of rewards, but almost all of their cards don't offer primary car rental coverage, with one exception — the Discover Escape Card. So are the Visa cards, although among them you can find more cards with primary coverage. Visa Auto Rental Insurance coverage, underwritten by Indemnity Insurance Company of North America. Here is a list of cards that offer primary coverage from Visa:
AT&T Universal Business Rewards Card
The J.P. Morgan Select Card
Delta Community CU cards that offer $25K in primary LDW coverage
United Mileage?áPlus Presidential Visa Card

Other than that, the only way to know what your card offers is to read the fine print in your cards terms and conditions, or simply pay of the primary coverage at the car rental, if you are not sure about your card coverage.

American Express and Diners Club

That said, there are credit card companies that can make a very real difference when you are renting a car — acting as primary insurer, so you can save money on not only the daily insurance rate charged by rental companies, but by also avoiding paying those higher premiums in case of an accident. Diners Club offers primary coverage on its Commercial Card and Diners Club Professional Charge Card. It is probably the only company that offers primary coverage on all its cards.

AMEX is another one of these companies, although it offers its primary insurance only through an optional American Express Premium Coverage. The cost of the American Express Premium Coverage is $24.99, for the entire length of the rental, for up to 42 days, where as insurance offered by rental companies is charged by the day. It's not automatically applied to your rental, so remember you have to call AMEX to order it. This card may actually be a great pick for individuals looking for a primary rental car insurance, if they have this card in their wallet, or are planning on get one before hitting the rental car company.

Getting rental car insurance through your credit card can be a great money saver, if you use the right card, like AMEX or Diners Club. However it's really important to know what's in your wallet, and the consequences of relying on a wrong credit card for coverage, so you're not surprised later on. If you're not sure give your bank a call, or check out online resources – it's really just that simple.

And lastly, a nice perk of any primary insurance coverage is that, if you have to make a claim, you don't have to pay a deductible.

Image credit: Wikimedia Commons.