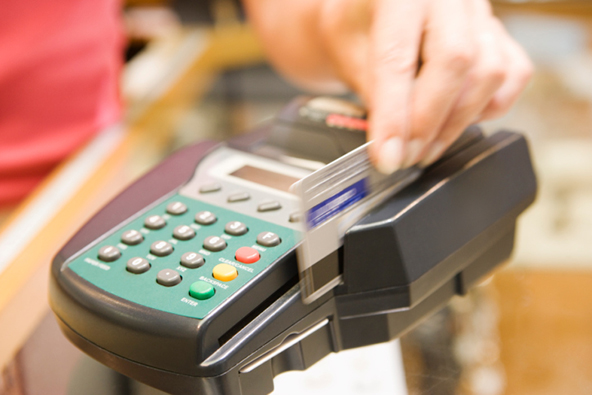 >Aggregate debt held by U.S. households remained essentially unchanged in the first quarter of this year, according to the latest Household Debt and Credit quarterly report, issued by the Federal Reserve Bank of New York. This ends a streak of nine consecutive quarters of falling household debt.

U.S. Households Owe $11.5T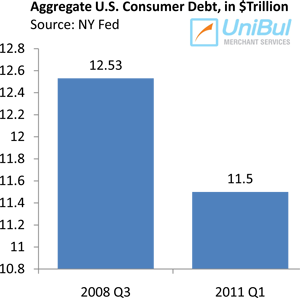 The cause for the flattening of consumer debt was a slight rise in mortgage balances reported on consumer credit files, according to the New York Fed, which uses data provided by Equifax, one of the three national credit bureaus. Excluding mortgages and home equity lines of credit, consumer debt fell by 1 percent, or $30 billion, for the quarter. At $2.29 trillion, non-real-estate debt is now 9.6 percent below the peak it reached in the last quarter of 2008.

Fewer Open Credit Card Accounts

The number of open credit card accounts remained virtually unchanged, at 379 million, in 2011 Q1, according to the report. For the period since the Great Recession began, however, the number of open accounts has fallen by about 24 percent. For the last four quarters consumers have closed 195 million credit accounts, while opening only 166 million.

More importantly, total outstanding balances on these open credit card accounts have fallen quite substantially and are now 20 percent lower than at their peak in 2008 Q4, according to the NY Fed.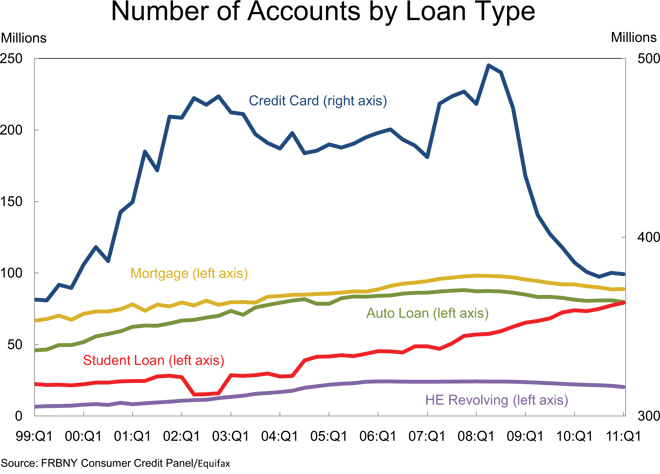 U.S. Credit Card Defaults, Delinquencies Lowest in 2 Years

Credit card charge-offs and late payments have reached their lowest levels in more than 2 years, according to Fitch Ratings, a credit rating agency.

At the end of March the rate of credit card payments late by 60 days or more, the equivalent of two missed payments, fell to 2.93 percent, dropping below the 3 percent threshold for the first time in three years, according to Fitch. This is a substantial improvement from the high of 4.54 percent reached in January 2010 and comes close to the 2.75 percent level that was about the average for the period between 2004 and 2008.

Credit card defaults, or charge-offs, also fell in March, Fitch said. At 7.88 percent, the March charge-off level was the lowest one since February 2009. Charge-offs reached their peak of 11.37 percent set in September 2009.

Credit Card Takeaway

The two reports show that consumers continue to closely monitor their credit card use, more so than they do their mortgages. The rate of credit card debt repayment in March was 21.72 percent, close to a record high, according to Fitch and the agency expects it to climb further up, as credit card borrowing grows and late payments fall.

And credit card borrowing is growing, as shown in the latest G.19 report on consumer credit, issued by the Federal Reserve. Americans increased their credit card balances in March by 2.9 percent, or $1.9 billion. It was only the second rise since the Lehman collapse. It remains to be seen whether Americans will maintain credit card debt repayment discipline as their balances grow, confidence increases and the economic recovery takes a firmer hold.

Image credit: Theshelbyreport.com.