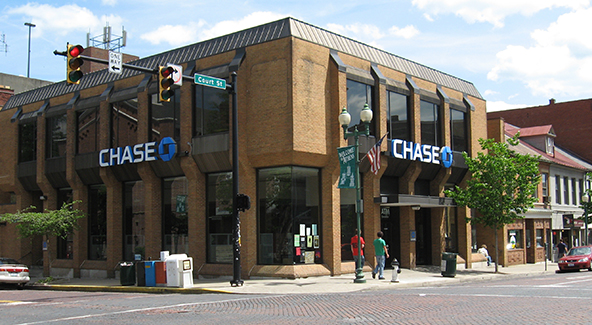 U.S. consumers are increasingly making their monthly credit card payments on time, we learn from a new report issued by the American Bank Association (ABA) on Tuesday. The ABA data reinforce the trend that began in the wake of the financial meltdown of 2008 when Americans gradually began to pay much closer attention to the management of their credit card debt than they have in a long time.

Lowest Delinquency Rate in Decade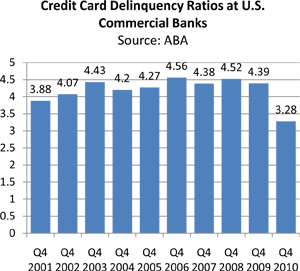 The report's headline news is that credit card delinquencies in the U.S. fell by 0.36 percent in the fourth quarter of 2010 to 3.28 percent of all accounts, after rising slightly in the previous quarter. This is the lowest rate since Q1 2001 and it is well below the 15-year average of 3.92 percent, according to the report.

ABA's delinquency rate measures the ratio of credit card accounts that are overdue by 30 days or more. The industry often uses two separate indexes to measure late credit card payment rates: early-stage delinquencies for payments late by 30 – 59 days and late-stage delinquencies for payments late by 60 days or more.

A report by Fitch, a credit ratings agency, revealed similar numbers for February. Late-stage credit card delinquencies fell by 0.03 percent in February, to 3.20 percent, the 13th monthly decline in a row and the lowest level in 28 months. Early-stage delinquencies also fell in February, according to Fitch, by 0.10 percent to 4.10 percent.

All Top Issuers Report Lower Delinquencies

All of the top six U.S. credit card issuers reported lower rates of payments (on a month-to-month basis) late by 30 days or more in February, the last month for which data are available. Here is how they compare:
American Express — 2.00%.
JPMorgan Chase — 3.29%.
Discover — 3.70%.
Capital One — 3.83%.
Citibank — 4.34%.
Bank of America — 5.09%.
Credit Card Processing Takeaway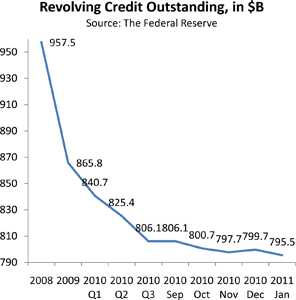 So the ABA data confirm a trend that all other reports showed was under way: American consumers are firmly resolved on paying down credit card debt and do it on time.

Perhaps the best indicator we can turn to when evaluating shifting consumer sentiments towards credit card debt is the monthly payment rate (MPR) — the proportion of credit card debt consumers repay each month. According to Fitch, in February the MPR stood at 20.37 percent, slightly below the January level, but still 26 percent above the historical average of 16.20 percent.

It is not surprising then that the overall volume of credit card debt in the U.S. has fallen by $178.1 billion from its peak in August 2008, the month before the Lehman Brothers collapse. Back then Americans owed $973.6 billion to credit card companies. By January of this year the debt volume had dropped to $ 795.5 billion, a decrease of 18.3 percent, according to the Federal Reserve.

Image credit: Wikimedia Commons.